How to Find Out Unknown Caller Number with Name and Address
Here, in this article, we will highlight the steps that will allow you to trace phone number so as to check the private number that called you. This could be a call from the company or an unnecessary spammer. A majority of restricted or unidentified calls come from telemarketers trying to market products or from someone whose phone number is not saved in your personal phonebook. Occasionally, the connection is spam.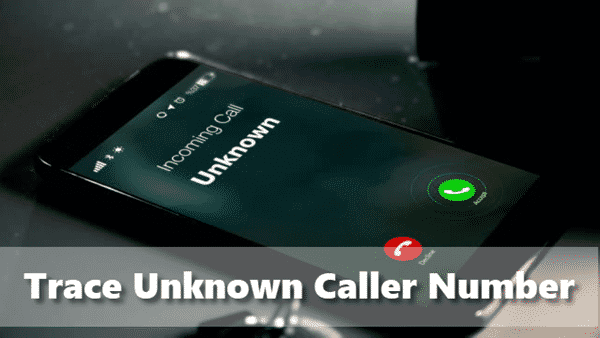 These so-called unknown numbers and private callers give us the worst types of anxiety on a daily basis. It is well known that the smartphone market had taken the path to reach the top of the economy at all costs; this includes providing liberty to receivers being able to identify unknown or private numbers. And some people even find out the way to hack someone's cell phone with just the number.
So today, we will show you some tips on how to recognize the anonymous calls. Here we provide you with the top 10 Mobile Number Tracker Tools that will help you know exactly who is calling you and where he/she is. You just simply need to enter the unknown phone number, and these tools will then offer you all the details you want. However, if you delete the call log accidentally, you have to recover the lost call history from your phone firstly.
Top 10 Methods to Trace Phone Numbers with Name and Address
#1 Using Truecaller
To find out the unknown caller number, Truecaller must be your ideal choice. It currently has 85 million users worldwide approximately. It works with a constantly updated database of millions of previously identified numbers. Once the unknown callers are recognized as spammers, the application blocks them and you can also use some Android call blocker apps to block the unwanted calls. Furthermore, this program also researches over the internet for any information related to the caller. The reason why we pick out Truecaller is that this is the only app that offers correct information based on the real identify, and it always correctly mentions the caller's name, while a majority of the websites available on the market are absolutely fake and only provide you with incorrect information.
Follow the steps written below to find out the unknown caller number on a computer and gain a sufficient amount of information about the unknown caller with the assistance of Truecaller.
Step 1: Visit Truecaller's official website with PC.
Step 2: Select your country from the drop-down list and then click on search.

Step 3: Now a popup will show up and ask you to sign up with your Google, Microsoft, Facebook or Yahoo account before you could know the details of the mobile number you have searched.
Step 4: After you sign up with your account, you will be provided with the complete details of the unknown number you searched, and we can assure you that the information from Truecaller is completely true and 90% to 99% accurate.
So that's it I guess. All you truly need is a Truecaller account to get rid of today's headache, so say goodbye to unknown numbers and say hello to Truecaller. Also, you may benefit from Truecaller with its Android and iPhone app.
 Using Truecaller on Android
If you are an Android user, it will be much easier for you to check a private number that called you with the Truecaller app for Android phone.
Step 1: Simply download this mobile number tracker app directly onto your Android smartphone, and then open it.
Step 2: When you see a notification showing Live Caller ID is on, just tap on "Got it".
Step 3: After the search option appears, you can simply search for your desired number.

Please remember to download the app from the link we given or from other secured sources so as to avoid downloading any fake or malicious app. Otherwise, your phone may get infected by virus and you may lose your important phone data. Fortunately, Data Recovery Tool for Android is available in the market for you to get back the deleted or lost data from Android phone even if you don't have a backup file.
#2 Indiachacha
Indiachacha is incredibly useful for finding out Mobile Number Location and Operator details, you can trace absolutely any Indian Mobile Location, state/circle, Locate service Provider, signaling and other information, mobile number's exact location and also trace the name of the mobile number owner.
#3 Full On SMS
FullonSMS offers an incredibly simple tracking process. All a customer is required to do is enter the specific mobile number in the space and then FullonSMS will track the exact location of the mobile.
#4 Find and Trace
As one of the top web-based mobile number trackers, Find and Trace allows you to search for your Vehicle numbers, phone number, STC Code, Bulk SMS sender and a lot more. You will be able to easily know the telecom circle and many other delightful things. The best part of this is that you can even find the pin code of the particular number you are searching for.

#5 Site 2 SMS
Site2SMS has incredibly cool features like sending text/voice SMS and making free phone call to India. As of now, you can also easily trace mobile phone number details of absolutely any mobile subscriber. With the use of Site 2 SMS, you are able to locate any mobile number details such as the location and subscriber name, telecom operator name, and you can even trace details for as many phone numbers as you want.
6 Trace Phone Number
You simply need to properly enter the particular phone number, and you will easily get all the required results about the location of the number along with the actual network operator. Trace Phone Number will help you find out exactly whether it's a Mobile/Landline number too.

#7 Bhartiya Mobile
Bhartiya Mobile is a web-based mobile number tracking site where you can easily trace unknown callers. This phone number tracker online tool can trace Indian mobile phone numbers with the name of the operator.
#8 Way 2 SMS
When free SMS was a hot topic, Way 2 SMS was one of the most used site to trace unknown caller's location. To do that, what you need to do is simply entering the number into the search bar, and the site will surely find the location of that mobile for you. Also this site allows you to search for as many mobile numbers as you desire.
#9 E Mobile Tracker
To find any details about the number which is spamming you, there is no need to go through the signing up process which is boring and long. On this mobile tracker website, all you need to do is entering the number and solving the specific captcha and you will immediately get the details like name and address of the unknown number that you are searching for.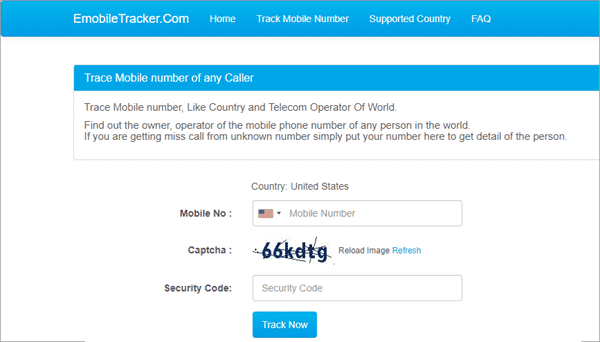 #10 Techwelkin
With the use of TechWelkin Mobile Number Tracker Tool, you can easily trace the exact location of a particular mobile number. You can also find out which cellular operator is providing the particular number. In this way, you will know which city the mobile call has originated from, so that you can take further action. However, this website only support tracking number from the US, UK, Canada and India.
Conclusion:
In this article we have shared with you the easiest ways to find out an unknown caller number, and you can simply make full use of the above tools which provides us with an incredibly simple way to reveal the private number with their name and exact address. Furthermore, this has the power of blocking unwanted and spam calls forever.