How to Type Bold, Italics & Strikethrough WhatsApp Texts on iPhone
WhatsApp messenger is one of the popular social media messenger apps for iPhone. Most users tend to chat with their friends and family on this social media platform for its convenience and compatibility on use. Apart from chatting, you can also call each other via video calling or voice calling feature, and all these features are available for free.
Yet sometimes people may want to customize their texts on WhatsApp, especially when they have something important to inform their contacts, which needs special effect on text style. Previously Whatsapp didn't have any function to change the text style. Whenever you are chatting with your friends, some messages need to be highlighted for better understanding. That's why we may need to make some texts of our text messages different from the rest so that they can be noticed by the reader quite easily. In any case, now WhatsApp gives you a chance to change or alter the text style so that you can make your text messages appear more attractive and obvious than the simple text format.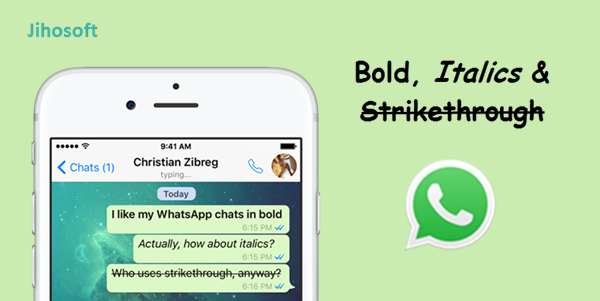 WhatsApp messenger has recently rolled out some new secret features which enables you type your text messages in Bold, Italics, and Strikethrough on iPhone. You will now be able to include Bold, Italics, and Strikethrough content from your iPhone utilizing WhatsApp. Not many users know about the style function, but it's a quick way to give your message a bit of customization and design. So, please read this article about secret WhatsApp text tricks to bold, italics or strikethrough WhatsApp messages on iPhone. This is really interesting and easy to learn. Please go through each step thoroughly so that you won't encounter any problem or issue regarding this task.
Tips: if you lost any chat on WhatsApp, you can always use Jihosoft iPhone Data Recovery to get back deleted WhatsApp messages from iPhone easily.
Step by Step to Type Special Text in WhatsApp on iPhone.
Step 1. Open WhatsApp on your iPhone Home Screen.
Step 2. Select any of your friend with whom you might want to attempt this new feature.
Step 3. Presently to use Bold format, simply input (asterisk) "*" before and after a text message. For instance, *Hola!*. Then hit Send, and WhatsApp will consequently make it bold.

Step 4. With the end goal to type in Italics, you'll have to place (underscore) "_" before and after the text like what shown in the image below. Then WhatsApp will change over the content to Italics after you send it out.

Step 5. Also follot the similar step if you want to use Strikethrough. Type in (tilde) "~" before and after the text message and send it out to see the effect.

Conclusion
Now you get those tricks and can enjoy making your WhatsApp texts bold, italics or Strikethrough on your iPhone. Because of the increasing demand, it is possible that WhatsApp will again roll out some other brilliant features. But till then please stay updated with our website so that you doesn't miss any technology update. You can share your experience or give out any problem you meet in the comments section.