How to Record WhatsApp Audio and Video Calls on Android
As most of our official discussions and one-to-one video calls take place in WhatsApp Messenger, and some of these calls need to be recorded for further check, so a WhatsApp call recorder app is much needed. That won't add up any quality audio or visual effects to your HD calling, but it can be useful and handy at many times. Let us tell you how.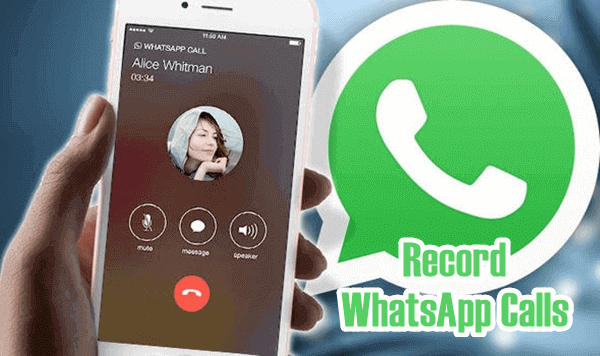 Suppose, the talk between you and your client may carry some important information. If you and him/her communicate through text messages, then you can check the conversation history. However, what if you talk through WhatsApp calls? So rather than asking your client again, you are able to get the information you need by listening the WhatsApp call recording.
Let's take another scenario where you have to prove something and the only evidence could be your WhatsApp call. A wicked person might prefer to call you on WhatsApp or other messengers because call recording is not a commonplace action there. If you have the recorder apps already, you can definitely prove your point easily.
Still wonder about the question "Can you record WhatsApp calls"? Of course Yes! To achieve that goal, you can make use of the best WhatsApp call recorder apps. In this article, we are going to recommend the methods to record WhatsApp calls by using some WhatsApp call recorder apps, and we will show you the detailed steps of how to record both WhatsApp audio and video calls on Android phone. If you also want to know how to record phone calls on Android, you can check out this tutorial.
Manage Your WhatsApp Before Recording WhatsApp Calls
Jihosoft WhatsMate is an one-stop WhatsApp manager that helps you transfer WhatsApp data between Android and iPhone. Moreover, it can also be used to recover deleted WhatsApp data, backup WhatsApp chats to computer and restore the backup back to your phone whenever you want. Just download the free trial version and backup your WhatsApp to PC without charge.
PART 1. How to Record WhatsApp Audio Calls on Android
Below we have listed the best 5 WhatsApp call recorder apps with the detailed steps on how to use them to record WhatsApp calls on Android. Just keep reading to have a check.
As one of the most popular call recorder app, it can be used to download audio calls from WhatsApp Messenger, Facebook Messenger, Viber, Skype and more. The utility of Real Call Recorder supports not only incoming call recording, but also outgoing call recording. It will automatically record all the calls made using WhatsApp and store the recording files in MP3 format. So that it is very convenient for you to play them on your phone at any time. If you want to share a funny recording to your family or friends, this recorder app lets you share your recording directly on social media, such as Facebook, Twitter, etc.
The steps to record WhatsApp calls with Real Call Recorder:
Step 1. Open this recorder app on your phone.
Step 2. In the app's interface, choose the WhatsApp icon so as to enable WhatsApp call recording.
Step 3. After that, the app will go in your background and automatically record whenever a WhatsApp call in progress.
Step 4. Once the call finishes, the recording will also be saved. You can find and play it from the record list.

Messenger Call Recorder is also another good option to record WhatsApp calls. It has many similarities to Real Call Recorder. However, compared to the app mentioned above, this app records WhatsApp calls with high definition sound quality along with less battery consumption and phone memory.
You are able to set the preference for minimum duration of WhatsApp calls to record so as to avoid unnecessary recordings automatically. In the record list, you can easily find a recording you want by using the time and date-wise sorting option, and mark any recording as your favorite.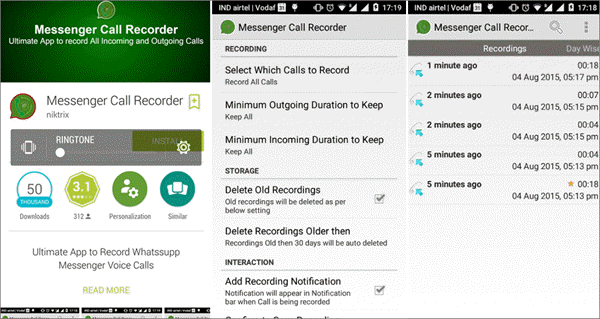 The process to record WhatsApp calls with this recorder:
Step 1. Download the app through the link above.
Step 2. After you install the app on your phone, you will be asked to go into your phone settings to enable the Messenger Call Recorder. Tap "Enable" and you will be directed to Settings to turn on the recorder.
Step 3. Then this app will go on in the background and whenever you make WhatsApp calling the app will record the entire conversation for you.
Step 4. If you want to share the recording, you can just long tap on that recording and tap the Share button. Then just simply select a sharing way of your choice.

This Call Recorder for WhatsApp is a quite simple yet efficient app that enables you to record WhatsApp audio calls and video calls in high quality MP3, MP4, FLV and other file formats. The best part of this recorder is that it provides a wide variety of additional features for its users. For instance, the app allows you to record all incoming and outgoing WhatsApp calls; you can customize configurations on the WhatsApp calls you need to record; and you can modify the output format and audio source.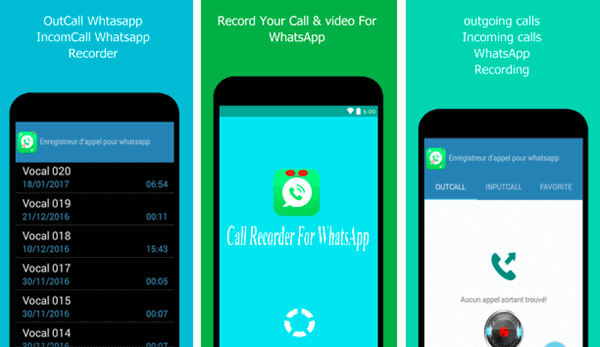 This totally free recorder app is an all-in-one call recorder that works well in recording any incoming and outgoing phone calls as well as recording video calls from apps like WhatsApp, Viber, Line, Imo, Skype, Telegram and so on. It will automatically record each call once it begins. Moreover, it even allows you to make a list of contacts that you want to automatically record.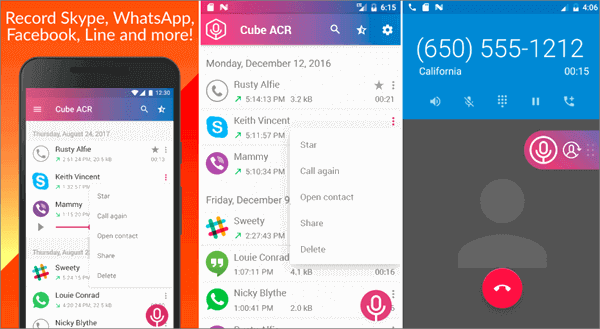 Now record WhatsApp calls or phone calls with these steps:
Step 1. Install and open this recorder on your phone.
Step 2. Then switch to WhatsApp, and make a WhatsApp call with the contact you want to talk to.
Step 3. At this time, if the Cube Call Recorder ACR widget shows and lights up while you are talking, then this app is working normally.
Step 4. However, if it gives you an error messages, then go to the app's settings and select Force VoIP calls as voice call. After that, try calling again.
This is one of the best and most popular call recorder apps that are available on the Google Play Store. It allows users to record WhatsApp call automatically (In the pro version, users can even manually begin the recording by shaking the phone.), and users can set which WhatsApp calls are recorded and which are ignored. What's more, it features Google Drive as well as Drop box to let users sync recordings to the cloud.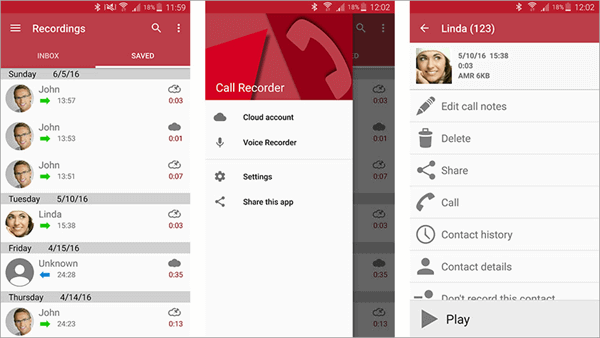 You will know how to use it through the instructions below:
Step 1. Download and install the app on your phone. Please remember to allow the app to access your storage, contacts and others.
Step 2. Run the app and switch on the Automatic Recording button. After that, the app will record all your incoming and outcoming calls. You can ignore specific contacts in Settings menu.
Step 3. Now launch WhatsApp on your phone and make a call to the contact you want to talk to.
Step 4. Once your call finishes, the app will save it to your SD card, and you can also sync it to cloud services.
PART 2. How to Record WhatsApp Video Calls on Android
You can also try capturing the phone screen during the WhatsApp video call by using any Android phone screen recorder apps, which are primarily used to record the on-screen activities on your phone. So that you can use any of them as a WhatsApp video call recorder APK.
Rec. Screen Recorder is one of such apps. This useful screen recording app provides flexible and handy screen recording functions for its users. However, if your Android phone is running Android 6.0 to 10, you must root your Android phone so as to make this app function properly.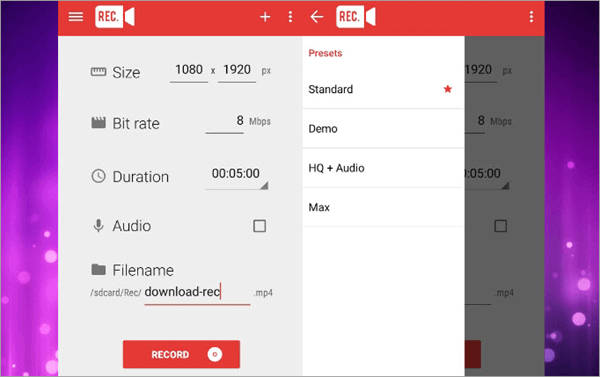 How to record WhatsApp video calls with this app:
Step 1. Download and launch this WhatsApp video call recorder.
Step 2. Set the video formats such as size, bit rate, duration, audio and etc.
Step 3. Then click the "Record" button to start recording your Android screen until your open WhatsApp.
Step 4. Open your WhatsApp and make a video call. Then Rec. will record WhatsApp video calls in background.
AZ Screen Recorder is another recommended WhatsApp video call recorder for Android. It is a reliable and easy-to-use screen recorder which doesn't require root access. The most important thing is that the app doesn't include any watermark in the recorded video, and it provides a number of very useful features, for instance, overlaying video from the front camera, changing the resolution, built-in video editor and much more.
Step 1. Download this WhatsApp video call recorder APK through the link above, and then install it on your phone.
Step 2. Open the app, and then there appears and remains a popup widget on the top of your phone screen.
Step 3. Go to the settings of this app, click on the Audio Configuration and turn on the "Enable audio recording"button to make sure the audio is enabled.
Step 4. Now go back to WhatsApp and call the contact you want to record.
Step 5. When you begin the call, hit the popup widget of the app to open the recorder icon. And once you end the call, just stop the recorder through this widget also.
Step 6. For recording incoming WhatsApp video call, you just simply need to open the app to record the WhatsApp video call on your Android phone.

Note: If your recording files are lost by accident, do remember to stop using your Android phone any more, otherwise the deleted files will be overwritten and unrecoverable. Then try to use this Android Data Recovery software to recover deleted videos and audios from Android device.
Conclusion
If you want to record WhatsApp calls on Android device, you can make use of the above WhatsApp call recorder apps like Real Call Recorder, Call Recorder for WhatsApp, and Messenger Call Recorder, etc to record video calls and audio calls on WhatsApp. Just try out our recommendations and get one step ahead in using the latest technologies for WhatsApp.
If you know any other WhatsApp call recording apps that is not listed in this post, please share it with us by leaving a comment below.