The Best 2 Call Recorder Apps to Record Phone Calls on Android
Call recording is a feature many of us feel the need to have in some situations. Recording a call without the permission of the other person/persons, involved in the conversation, is considered illegal in some countries. Still, there are many situations, where one feels the need to record a conversation to keep a record of it. Many situations can lead to such a need. A journalist may wish to record a phone conversation/interview in order to keep of record of the exact statements and facts when drafting it on paper. Or maybe a businessman wishes to record a call for future legal safety. The use cases can be many.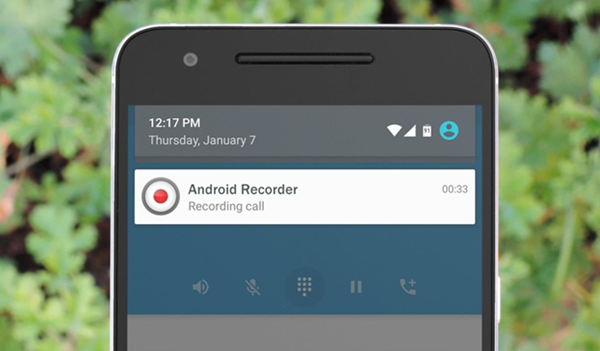 However, since laws in many countries consider recording of a phone call discretely as an illegal activity, most smartphone manufacturers don't provide this functionality natively. An exception is that, a few Chinese Brands, namely Xiaomi, do provide this functionality in their custom Android ROM, MIUI.
But, what about other phones? Or to say, how to record a call in Samsung? Be at ease, thanks to the open nature of Android, there are a few apps that offer this functionality without even rooting to achieve this purpose on your device. But since the majority of the Android users don't indulge in rooting their devices, availability of regular apps is a definite boon.
If you are looking to find out how you can record phone calls on your Android smartphone, and which apps you should use, then you have come to the right place. This guide will tell you which apps you should use to start recording calls on your Android. And if you lost your call logs and want to get them back, this guide can help you go through the steps to recover deleted call history from Android.
Note: Before you start recording phone calls using these apps, be aware of the laws in your country. We are not responsible if recording a call is banned in your country and you are caught doing the same! With that said, let's list down the apps you should use.
1. Automatic Call Recorder – callX
Automatic Call Recorder is one of the best apps to automatically record phone call on Android. It records all incoming and outgoing calls. Just adjust the settings in the app and let the app do the rest.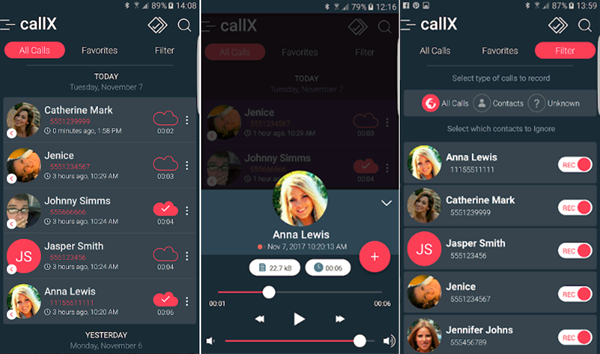 If you do not want to record every call automatically, then you can also setup "Shake To Record". As the name suggests, this setting lets you record a call as soon as you shake the phone. You may be in the middle of the call when you realize that you might want to record the upcoming conversation in that call. Such a feature would be amazing at that time.
After the record is complete, you can listen to the recorded call at any time in MP3 High Audio Quality or sync it with your cloud accounts like Dropbox automatically. All in all, it is a feature packed app with an easy to navigate user interface. Definitely recommended by us.
2. ACR – Another Call recorder
One of the most simplest and easy to use apps is ACR or Another Call Recorder. It has been in the Play Store for more than 4 years now and is loved by all the users of this app. It has the functionality to auto record all incoming and outgoing calls. You can also manually select which calls you wish to record every time you make or receive a call. It has a very simplistic UI based on Google's Material design.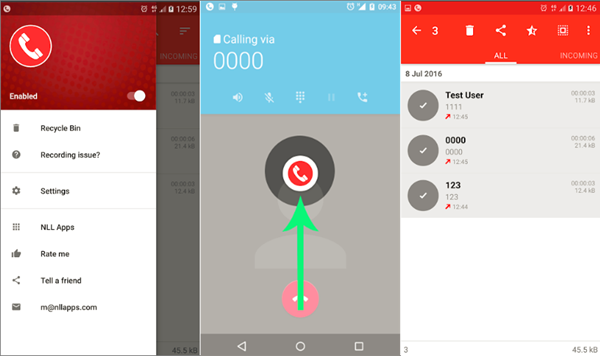 Accessing and managing the recorded calls is also easy and laid out beautifully. The app also has a built-in functionality to backup the recording to any cloud platform of your choice like Google Drive, Dropbox, and etc. It also supports multiple audio formats for recording calls. The audio quality of the recorded calls is also top notch.
For those looking a lightweight and simple to use, no-nonsense call recorder, this app is a must.
Final Thoughts
The above two apps are more than sufficient for all your call recording reeds. They support great quality audio recording, multiple audio formats, cloud backup support, password protection and what not. You can easily start recording all your phone calls or even specific call from today using these apps.
However, we would once again like to warn you to check your local laws that deal with this feature, if you plan to share these recordings with someone else. Or if you wish to keep it personal and private forever, feel free to use these best phone call recording apps on Android without any tension or issue.