How to Schedule Text Messages On Android
Since the time, the mobile phones were introduced to the world, SMS or text messaging has been the go to means of passive communication between two or more people. It has allowed people to communicate easily, even when they are unable to make or receive calls. It was this concept of passive conversation that has now led to the creation of numerous messaging apps, in the current smartphone era, that work using mobile data. Since SMS is sent over mobile network whereas other apps use mobile data, SMS is chargeable separately. Due to this, it has lost lots of its popularity and user base to these new apps.
However, using SMS still has its own charm and advantage. In situations when mobile data is not working, SMS comes in handy. Even during festive seasons, the newer app networks get choked due to numerous greeting messages. Even in that scenario text messages come in handy.
For users of text messaging, there are plenty of situations when they feel the need to send a message at a particular time, but can't. This can be when they need to wish someone on their birthday or anniversary or send greetings on a festival right when the clock strikes 12. But not many stay awake till that time. In such situations they feel the need to have a feature to schedule text messages on Android.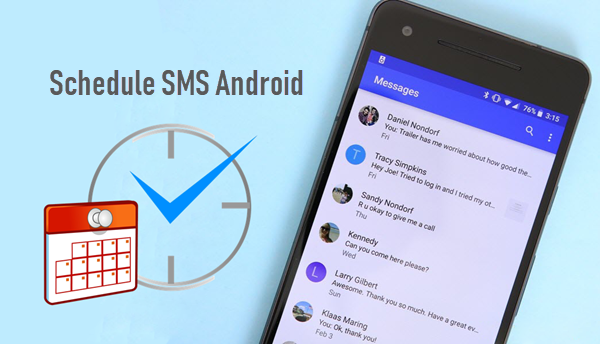 A scheduled message would automatically be sent by the mobile phone to the receiver at the set time. Some Android smartphones like the Samsung Galaxy phones have had this feature built inside their SMS app for many years now, therefore Samsung users are able to schedule a text messages on their Galaxy phones.
But if you don't have this feature in your Android smartphone, then in this post we will tell you how you can get it. Also you can learn from here to schedule WhatsApp messages with ease.
Schedule Text Messages with SMS Scheduler for Android
Android operating system is a very open operating system, so that it allows you to choose your own default app for any task. Then you can set a different SMS app as your default app and use it to schedule your messages.
Textra SMS
Textra is one of the best text message scheduler apps for Android devices right now. The app not just has the option for scheduling your text messages, but it also provides the tools to modify the look and feel of the app as per your liking.
Scheduling a text message through Textra is very simple.
Open the application and Tap on the Message sign.
Select a contact, and write a text message you want to schedule.
Now, Tap on the Schedule Message and set the date and time for when you want the app to send the message.
The app will schedule the message for the set time and will automatically send it once the clock hits the time.

Pulse SMS
Pulse SMS is more than just a text scheduler. It provides users with many cool and innovative features to enhance their messaging experience. You can schedule the message while in the conversation only.
Open the app and tap on the "+" sign.
Now, select the contact for which you want to schedule a message.
Enter the text content you want to schedule.
Just click the three vertical dots at the top-right corner of your screen to access a drop-down menu. Then tap on the "Schedule" option.
Select the date, time to send the scheduled SMS messages in Android.

Schedule SMS
Schedule SMS is another popular tool for scheduling text messages on the Android devices. This app is made just to send automatic text messages on Android and nothing else, so it is better to use it as an add-on. The best thing about this app is it does not eat up a lot of storage space on your device.
Just start the app and click on the "+" for beginning the scheduling process.
Compose your message you wish to send.
Now, provide the date and time for sending the message.

All these options are more than sufficient to schedule text messages to anyone for anytime. So the next time you, or any one in your family or friend circle, want to schedule a text message on their Android phone, use this guide. And sometimes, you may find your messages missing for no reason, just hurry up to recover the lost text messages from Android without hesitation. It will surely help you achieve your goal.