How to Erase Data from Android Securely and Permanently
With the development of Android recovery tool, many Android smart phones users are concerned for their data safety especially deleted ones. Michael once asked:
"I want to sell my old Samsung, so I delete all the data on it. But I still wonder if this can prevent my data from leaking. Any suggestions?"
You're supposed to read on this guide if you have similar doubt about how to securely erase data from Android phone and tablet.
Option 1: Erase Android Phone with Jihosoft Mobile Privacy Eraser
As you can see, there are many professional Android Data Recovery tools in the software market. They can retrieve lost data due to factory reset, system update, virus attack, screen broken and etc. So using Android Eraser is the most safe way to erase all your data from Android permanently. Here Jihosoft Mobile Privacy Eraser is recommended.
Reasons Why You Should Choose Jihosoft Mobile Privacy Eraser:
100% Unrecoverable. Erased data can't be recovered by any tool.
100% Secure. No data will leak during the process.
Follow the Easy Steps to Erase Data on Android:
Download and run the software on your computer.
Connect your Android device to the computer via an USB cable and enable USB debugging.
Choose the erase type you want. After scanning, you should mark the categories.

Select the erasing algorithms and type "Erase" to confirm the process. If you have any important data, back them up in advance.

Note: The higher the algorithmic level, the less chance you can get your data back after erasing them.
After the process finished, you need to perform a factory reset on your Android in order to wipe the system settings completely.
There is no data you can recover from your Android after using this Android Eraser. You will be relieved to sell it or protect personal information.
Option 2: Erase Data on Android Devices by Factory Resetting
It is a common way to erase Android phones or tablets by factory reset. This inbuilt option is always the first choice for Android users. There are some steps you can take to secure your personal data by performing a factory reset instead of just deleting.
1. Encrypt your Android
Before you wipe your Android phone, you need encrypt it at first. This process will scramble the data on Android. A special key will be required to unscramble it even if the wipe is not complete enough. Go to "Setting" -> Choose "Security" -> Click "Encrypt phone".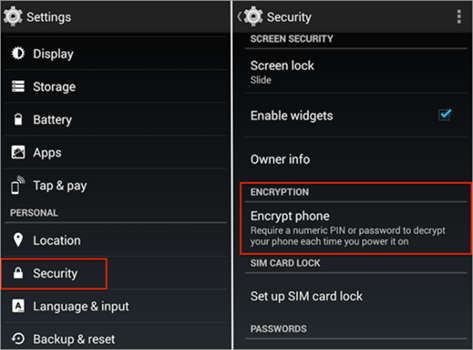 2. Factory reset your Android
This will delete all your Android data, so you'd better backup something important to you like contacts, photos and so on.
Go to "Setting" -> Select "Backup & reset" -> Hit "Factory data reset" -> Tap "Reset phone".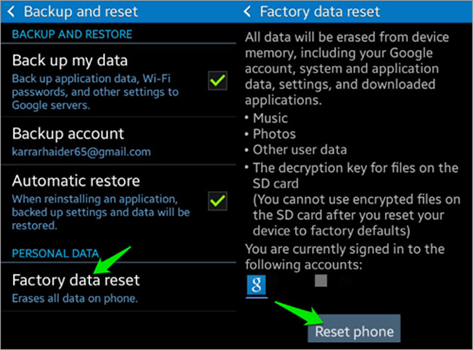 3. Load fake Android data
If you are still unsatisfied with the above two steps, you can load some dummy data by transferring or downloading. The data should be big enough to fill most Android space.
4. Reperform Factory reset Android
After loading fake data on Android, you should do another factory reset. All your previous data will be buried under all the fake ones. So it will be much harder to reach your real data.
Note: If you forget to backup your Android before factory resetting, you can also recover data after factory reset Android.