How to Mirror Android Screen to TV with Mind Blowing Solutions
This generation is crazy about getting bigger screens. The Android phones are getting bigger, with the latest Dernier cri being a 100% screen coverage. Take a pause and think, what has the biggest screen in your house? Right! Your television. How awesome would it be if you could broadcast a favourite movie to your TV and watch it with your friends/ family while you sit comfortably on your sofa. We will tell you how to do it. Keep reading this blog to know how to stream your Android screen to TV.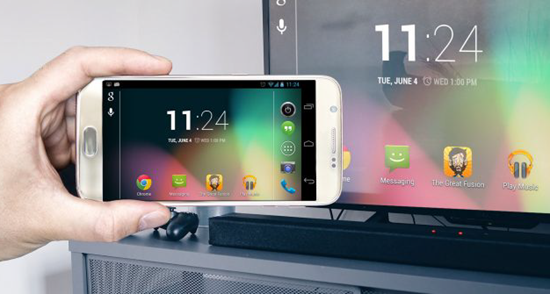 Apply Latest Technology at Your Convenience
Imagine it's Sunday afternoon and your family is looking forward to watching a movie with you. You have the perfect movie downloaded at your phone, but too many people cannot watch a movie from a 6″ phone screen. When you have a giant TV screen where you can project your favorite movie, why will you compromise to a smaller screen?
Hanging out with friends? Once you figure out how to connect Android phone to TV wireless, you can play Netflix, amazon prime, Hulu, YouTube, HBO, anything you want. All you are asked to do is connect your Android to TV, and you are ready to go!
Facing difficulty to connect a projector in an important meeting? Time is precious, so without wasting a moment cast your presentation on a giant LED screen with the backup from your Android phone. You can browse pictures, view files, perform any action on your phone and it will be projected on the TV smoothly.
What is Screen-Mirror?
Screen-mirror or screen-cast is one unique advantage in the Android mobiles which allows you to project the display of your mobile identically onto your television screen. Apple iPhone users can use this feature only if they have an Apple TV. However, any Android user with Android version 4 (Jellybean) and above can do that effortlessly. It will act exactly like a projector works for a computer. But it is even better, because you are getting a High definition display on your Smart TV. Nowadays, most of the new-generation TVs come with a handy HDMI port. If you have a Smart TV that can connect to WiFi, you are all set.
You can connect the Android device with TV in two different ways:
Use HDMI wire to connect the TV with Android mobile
The wireless process to stream Android to TV with WiFi connectivity
These two primary ideas have variations in their applications. You are free to choose any process that is accessible to you and easy to perform at the same time. We have discussed them in details in the sections below.
How to Mirror Android Screen to TV with HDMI Port?
This is a very easy method. If your TV is less than 10 years old, it must have an HDMI port. HDMI or high definition multimedia interface signifies the wired connection which enables you to play HD video and audio altogether. You need to plug the wider side of the USB to your TV and the other end to your Android device. Now, set your TV input mode to HDMI port, and you are good to go!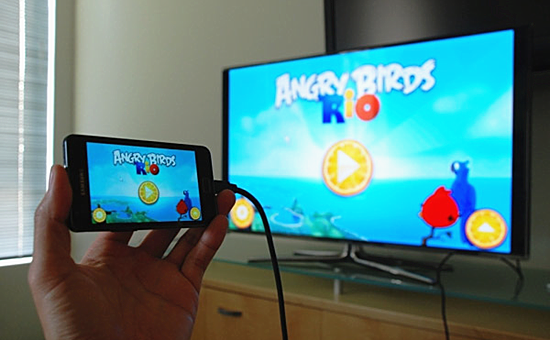 Tip: If your Android screen is broken and you can not control the screen to cast the it to the TV with/without wire, you may need to use USB OTG to control your broken Android.
How to Connect Android Phone to TV Wirelessly?
There are more that one way to connect Android phone to TV without HDMI cable. However, in every method you need to own an active WiFi connection.
Tool 1. Miracast
Miracast is a wireless protocol that builds a network between your TV set-top box and your Android device. If your set-top box supports Miracast, it is a matter of no time to connect them. At present most of the latest set-top box manufacturers are incorporating Miracast facility into their products. The two advantages are, firstly, you can stream Youtube, Netflix with Miracast; secondly, it requires no additional hardware. Most of the Android devices with Android version 4.2 and above supports the option "Screen mirror", which means you can perform Miracast with your device.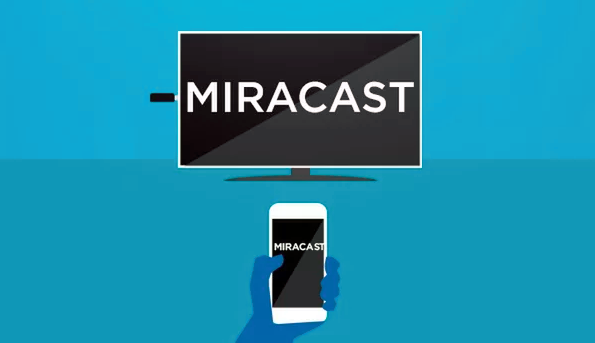 Tool 2. Samsung Allcast Share Hub
This is another technology that answers your concern "how to connect Android phone to TV without HDMI". If you are using a Samsung mobile or tablet, you will need to buy this tool from Samsung store or any tech market. Although, if you own a Samsung Smart TV that connects to WiFi, you won't need this gadget. Allcast share will let your smartphone screen beam on your television with distinct Video quality.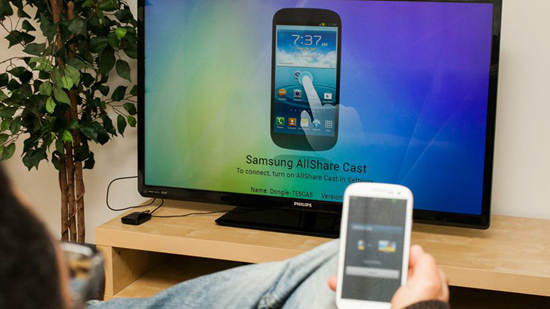 Tool 3. Google Chromecast
Chromecast steals limelight the most among all the methods that we can apply to stream Android phone to TV without HDMI. It is a tiny dongle which is easily portable and is available in a very reasonable price. Usually Android devices with their Android versions above 4.4 are compatible with Chromecast. You need to plug the dongle into the HDMI port of your TV, and you are good to view any action you perform on your mobile. The Chromecast comes in another variant of Chromecast Ultra.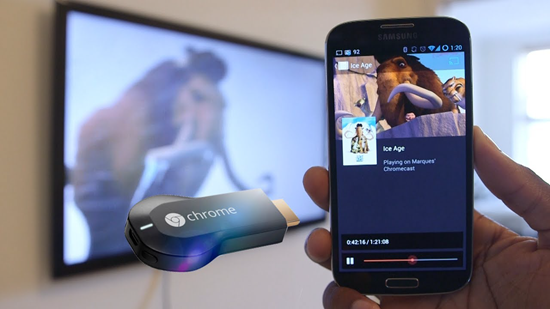 Take care of these factors while using the gadget:
Turn off the power saving mode of your mobile, or plug it in when its battery level is high.
Activate the option for Microphone in the Google Play services app.
Connect Chromecast to the same WiFi network in which you have connected your Android mobile.