10 Solutions to Fix Windows 10 Does Not Recognize Android
As part of the Windows NT family of operating systems, Windows 10 is a personal computer operating system developed and released on July 29, 2015 by Microsoft. There are some reasons you may update your computer to Windows 10. Now in 2018, the semi-annual update to Windows 10 is coming soon, and this update could possibly be called Spring Creators Update. Are you ready for it?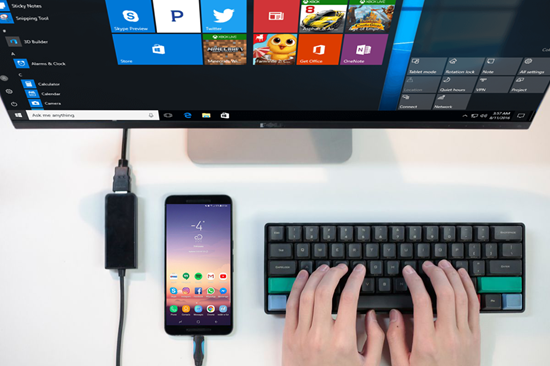 Can You Update to Windows 10?
Still stay in Windows 7 or 8, but hope to update to Windows 10 for free, even in 2018? Officially, the free upgrade offer of Windows 10 already expired on July 29, 2016. Don't panic, you can still get a free copy of Windows 10 directly from Microsoft. We don't know when this offer will vanish, so it is recommended to download it soon.
Windows 10 Does Not Recognize Android Phone?
The reasons why you may need to connect Android phone to Windows 10 computer are going to be variable. Maybe you need to access and browse Android files from PC, or recover Android data with computer, but it can be a pretty frustrating moment knowing that no Android device was found by the computer, because your Windows 10 is not recognizing Android phone.
The good news is that you can easily fix this problem with some viable solutions in almost no time. If you have the similar problem in connecting Android phones or tablets to PC, you will have interest in the 10 solutions below:
Solution 1: Restart Android Phone/Windows 10 Computer
Sometimes the best solution is the most obvious one. Many software and even hardware related issues can be easily fixed with this simple refresh. And some users have reported that after restarting their Android device or computer, they finally managed to solve the problem that their Android device was not detected by Windows 10. So it doesn't hurt to try.
Solution 2: Use a different USB cable
Are you using the original cable of your phone? If not, this might be the culprit. Also, some USB cables are designed for charging only. That means you can not connect your Android phone to computer for file transfer with this kind of USB cable. So you'd better try a different USB cable.
Solution 3: Check USB Computer Connection Settings
In order to manage Android files on your computer, you need to connect your Android phone as a media device (MTP).
Go to "Settings" on your Android device -> "Storage" -> click the icon "More" -> select "USB computer connection" -> choose "Media device(MTP)" -> connect your Android to computer again.
Sometimes you have to switch between the various connection options several times before you find your Android phone on the computer.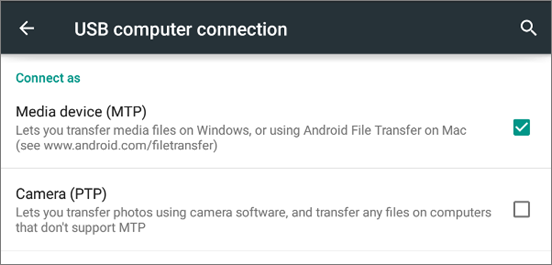 Solution 4: Enable USB debugging
According to the previous experience of many Android users, enable USB debugging can sometimes help with this issue. Here's how you can do it on Android 4.2 to Android 8.0:
Go to your Android "Settings" -> press "About phone" -> hit "Build number" seven times -> go to "Developer options" -> turn on the developer options and USB debugging -> press "OK" when the warning message appears -> check if your Android is recognized.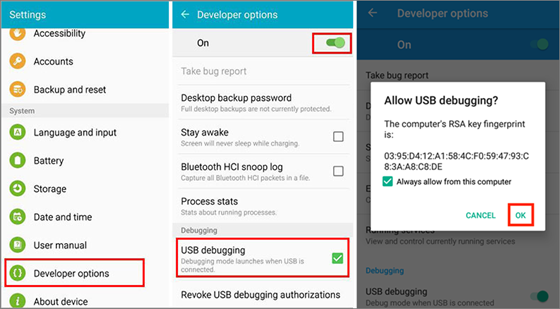 Solution 5: Install the Correct USB Drivers
When you connect the phone to Windows computer, your computer will automatically install the correct USB driver for your Android, so as to make the phone work properly on the computer. But sometimes, your computer may fail to do that. Hence, you should download and install the right USB driver manually to fix the issue that computer doesn't recognize Android phone.
Solution 6: Turn on Airplane mode
Some users had tried switching on the Airplane mode on Android, and it was successfully recognized by the computer and they managed to transfer files without any problem. So that you can try this trick and just turn off the Airplane mode after finishing file transfer.
Solution 7: Reinstall Android Drivers
Sometimes you might not have the latest drivers, which will result in recognition problem, so it's suggested that you should reinstall your Android drivers.
Uninstall current Android drivers:
Connect Android to computer -> open Device Manager -> locate your Android device -> right click the device and choose Uninstall -> disconnect your phone.
Reinstall Android drivers:
Reconnect your Android -> wait for Windows 10 to install its drivers again -> check if your phone is detected by the computer.
Solution 8: Update MTP USB Device Driver
Sometimes your Android phone isn't recognized due to driver problems, so you need try to update your MTP USB drivers. This way can solve this problem at most cases.
Press "Windows" key and "X" -> select "Device manager" from the list -> choose your Android device, right click it and select "Update driver software" -> pick "Browse my computer for driver software" -> hit "Let me pick from a list of device drivers on my computer" -> choose MTP USB Device from the menu and click "Next" -> your phone should be detected after MTP USB driver installed.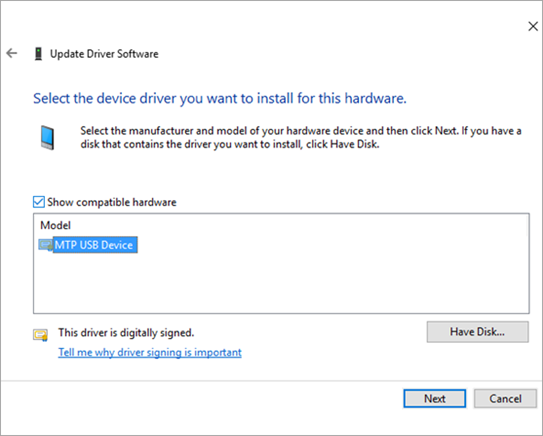 Solution 9: Install Media Feature Pack
If you want to transfer Android files to Windows 10 computer, you need to connect your phone to PC in MTP mode, which is related to Windows Media Player. While the N and KN versions of Windows 10 don't have it, you have to go to Microsoft's official site to download the Media Feature Pack for your computer running Windows 10 N or Windows 10 KN editions.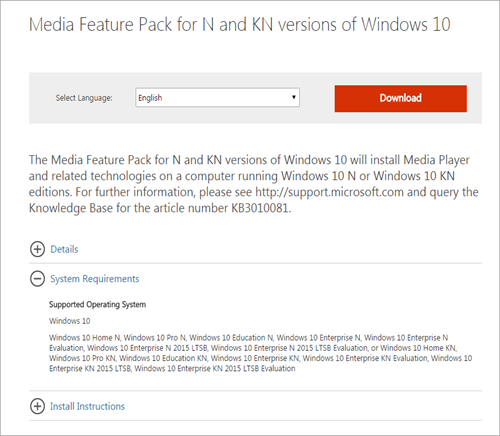 Solution 10: Reboot Phone into Odin Mode
This solution can only be applied to Samsung mobile phones, because it is only Samsung phones that come with Odin Mode, also known as Download mode. To enter into Odin mode, do the following:
Step 1. Press and hold Power + Home buttons together to turn off your Samsung.
Step 2. Press and hold the Volume Down + Power + Home buttons together until the Download mode screen appears.
Step 3. Press Volume Up button to access the Download mode, then connect the phone to the computer.
Step 4. The computer should now install the compatible drivers automatically for your Android.
Step 5. Reboot your Samsung phone and check if it is detected as normal by your computer.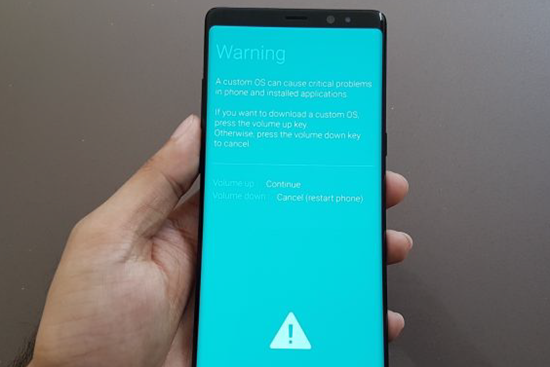 There are various reasons why Windows 10 computer will not recognize Android phone, and in most cases, this issue can be fixed by the solutions above. We hope that you are able to solve this problem successfully. If you have any problem, feel free to give us feedback in the comment section.
Related Articles