Tips to Backup and Restore Samsung Galaxy S7/S6/S5 on PC or Mac
To take good care of important files on Samsung, it is wise to regularly backup Samsung to computer. However, some of Samsung users don't know the importance of backup unless they accidentally deleted or lost significant data on their Samsung Galaxy. Anyway, it is never too late to keep your data safe. Read on, the following part is going to tell you 2 easy ways on how to do the Samsung backup and restore.
Part 1: Backup and Restore Data with Samsung Smart Switch
Samsung Smart Switch is the easiest way to backup Samsung Galaxy S7/S6/S5/S4/Note 5/Note 4 etc (run Android 4.3 or later). Its desktop version can backup the precious files like contacts, messages, call logs, photos, music, notes and more from your Samsung to PC/Mac, as well as recover the lost data from backup to Samsung. Meanwhile, it also allows you transfer data between Samsung devices.
To start with, go to samsung.com/us/smart-switch/ to download and install desktop version of Smart Switch for PC or Mac according to your needs.
Section 1: Backup Content Using Smart Switch
-Connect USB cable to your Galaxy S6 or S7, then to your computer.
-Launch the Samsung Smart Switch on your computer.
-Tap "MORE" > "Preference", you can change the backup folder location and select file types to backup.
-After you set the preferences, go back and hit the "Backup" button to backup Samsung Galaxy to computer.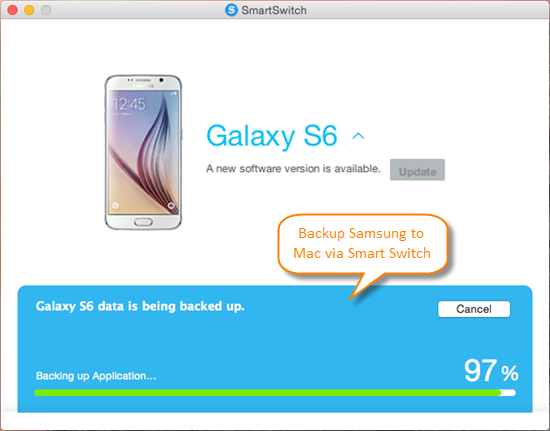 Section 2: Restore Backup Using Smart Switch
-Plug your Samsung Galaxy device into computer then start Smart Switch.
-Click the option "Restore" to continue.
-Hit "Change data to restore", and choose the specified backup folder, file types.
-Tap "OK" to go back, then tap "Restore now".
-That's it, just wait a while, the selected files will be restored to your Samsung Galaxy S6/S7 Edge.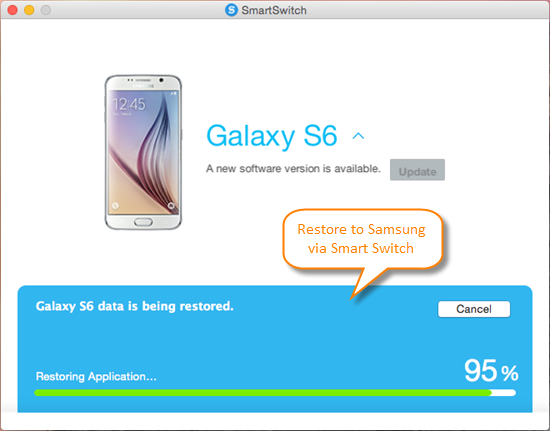 Part 2: Backup and Restore Samsung via Jihosoft Android Manager
You may have noticed that the backup made by Smart Switch is saved in unreadable file, and there is no way to read the backups on your computer. That's why Jihosoft Android Manager comes out. It is a great Samsung Smart Switch alternative to transfer, copy, view, print, backup and restore data on Samsung Galaxy S7/S7 Edge/S6/S6 Edge/S5/S4/Note 5/Note 4, etc. on PC/Mac.
Before you get started, download the Jihosoft Android Manager, and then follow its on-screen wizard to install it.
Section 1: Backup Samsung with Android Manager
-Start the Jihosoft Android Data Manager and connect your Samsung device to computer.
-Navigate to "Backup Your Phone", when the device is identified, you will see it displayed as "Source" on the left.
-Select the contents to backup and click "Start Copy". Then choose backup folder location.
-When backup process finishes, you have successfully backed up Samsung data to computer.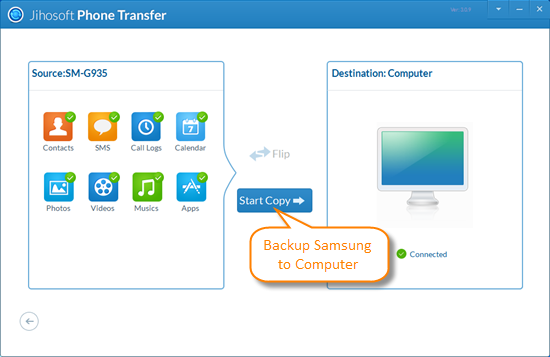 Section 2: Restore to Samsung with Android Manager
-Connect Samsung to computer, and run the software. Then go to "Restore Data" on the upper right.
-Select "From Phone Transfer" and the specified files you want to recover, and tap "Start Copy".
-Wait for a while for the restoring completed. That's it. The contents are back to your Samsung Galaxy phone.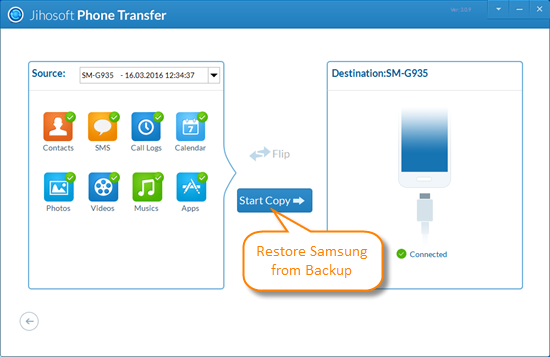 Useful Tip: If you failed to restore data from Samsung in above ways or you don't have backups, try Android Recovery tool to get lost files back.