How to Backup Android Phone And Tablet to Cloud?
As you all know, precaution like backup is a perfect way to protect your data. You can backup files to your phone or computer, but if something happens to your device, backup files will be gone. As a matter of fact, android phone/tablet cloud backup would be a better option as it will keep your files on the cloud safely, and allow you to access your data at any time from any device even if your device is lost or damaged. Therefore here below will share some useful tools to backup android to cloud.
This application can backup messages, contacts, call logs, documents, settings, images, WhatsApp chat, Viber photos and videos, etc from all kinds of android smart phone and tablet. What's more, it only needs three steps to finish backup android. Create an account, then install G Cloud at your device, and opt files to backup.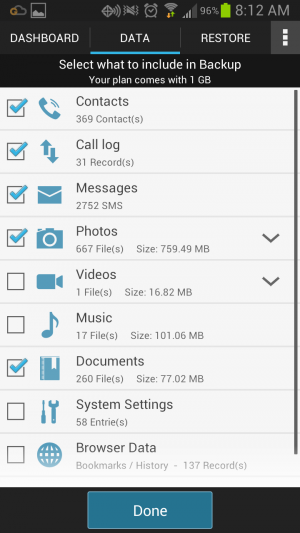 Hint:
1. This app can backup all of your data from Samsung, Huawei, LG, Motorola, HTC, Nexus, etc without root.
2. The app will automatic upload files when the WiFi is connected.
Google drive is a cloud storage tool which offers excellent data management. It provides 15 GB free storage to backup files from android phone and tablet. And also powers you to sync and share files at any time. Meanwhile, it is super easy to operate. Just log in your Google account at your device, launch Google drive at your android device, then upload file to the Google Drive.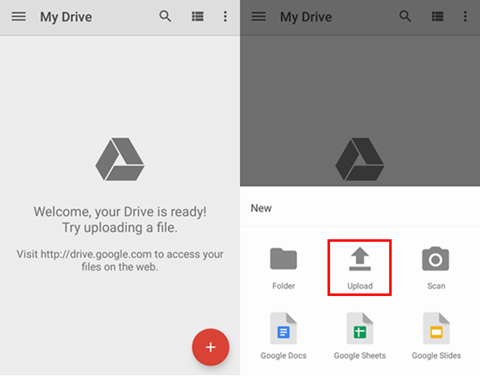 Hint:
1. Make sure there is enough space for you to to install Google Drive and create backup.
2. Make sure Google Play service is installed at your device.
This app permits you to backup app, SMS, MMS, call history, Calender, bookmarks, dictionary and contacts from Samsung, Huawei, HTC, Sony, LG, Motorola, Oneplus, ZTE, etc. In the mean time, the procedure is not complicated at all. First, click backup at the interface, select the file type you need to backup, then, choose SD card, Gmail, Dropbox, Google Drive or Box to keep backup files.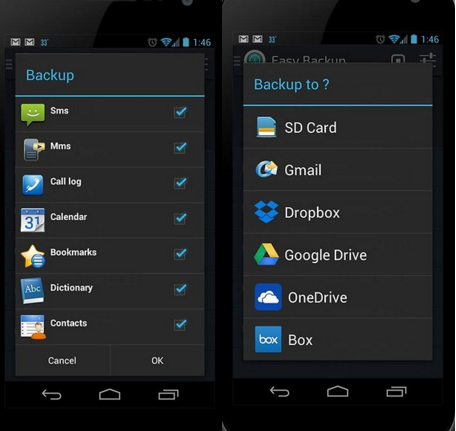 Hint:
1. The device needs to root for backup and restore app's data.
2. You can set automatic backup or create backup manually.
3. Support android 2.3 and higher.
This powerful tool authorizes you to backup Contacts, text messages, MMS, call logs, system settings, secure system settings, Wifi passwords, user dictionary, APN, calendar events, user applications, bookmarks and browser history. You can choose to preserve data at SD card, device memory, Google Drive, Dropbox, or OneDrive.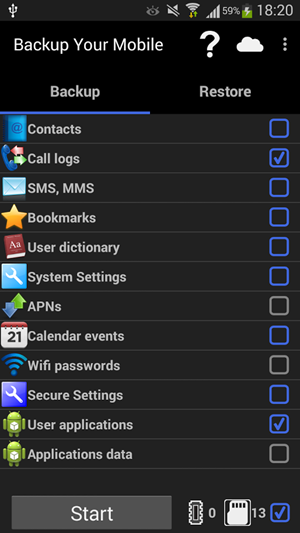 Hint:
1. The app supports Android 4.0 and higher.
2. Root is required to backup Wifi password and secure system settings.
3. APN restore will only be feasible if you retrieve and backup at the same network.