How to Backup HTC Droid DNA SMS to PC
HTC Droid DNA is the best phone from HTC in a long while, especially on Verizon. Full reviews of HTC Droid DNA from CNET:
The good: The beautifully designed HTC Droid DNA features a quad-core processor, Android 4.1 Jelly Bean, 4G LTE, a sharp 5-inch screen, an excellent camera and long battery life.
The bad: The Droid DNA's large size makes it tricky to fit in tight pockets, and it lacks both an SD card slot and a removable battery.
The bottom line: With quad-core power, 4G LTE, a lonely 5-inch screen, and a stunning design, the $199,99 HTC Droid DNA is currently Verizon's best Android deal.
The HTC Droid DNA organizes your text messages into "threads", which are groups of text message conversations you've had with different people. After a thread reaches a certain length, the Droid DNA starts to delete each old message when a new one arrives. To preserve your SMS messages, you can backup and transfer HTC Droid DNA SMS to computer with an SMS Backup app.
Some tool such as SMS Backup+ enables you to backup HTC Droid DNA SMS to Gmail account using a separate label. Other application like Jihosoft Android SMS Transfer has more beneficial functions, you can save your backup SMS in .db file format to transfer to computer, you can also use the restore option to put conversions backup on to your HTC Droid DNA or transfer them to a new Android phone.
Other than that, you can manage the backup SMS directly on your computer with the management tool included with the app to view SMS by contact, edit SMS number, date and content, delete unneeded text messages, export SMS to local computer and save as .txt or .csv file format.
How to Backup and Transfer SMS from HTC Droid DNA to PC
1. Install Android SMS Transfer on your HTC Droid DNA.
Download and drag the Android SMS Transfer .apk file from your computer to HTC Droid DNA. Hit to install and run it. Then you will see its interface as below: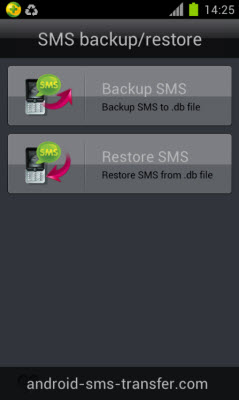 2. Backup HTC Droid DNA SMS on Phone
Click on "Backup SMS" in the main interface to backup your text messages to a .db file.
Note: If you have bought our software, just input the License mail and License code for a full version, if you are trying to use our software for function evaluation, hit "Trial" button to proceed. (Only 10 SMS are allowed to backup with the trial version).
When you hit "Trial" button, you will see the following screenshot. Input the file name for the backup SMS, click "OK" to start SMS backup process.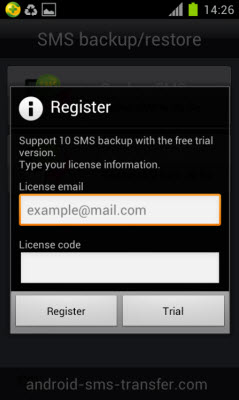 3. After the backup completes, all SMS will be backup to the root of your phone's internal storage card.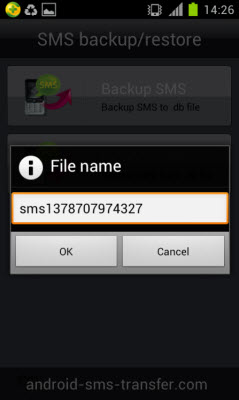 4. Transfer HTC Droid DNA SMS to Computer
Copy and paste the .db file you backup right now to your PC. Import it to the PC Port of Jihosoft Android SMS Transfer. Then you will be able to view, edit, delete, and export HTC Droid DNA SMS on computer. Click here to see how to do it.