How to Backup Sony Xperia Z1 SMS to Computer
The Xperia Z1 is Sony's Android flagship for the second half of 2013. Sometimes, there are text messages that you don't want to lose from your Sony Xperia Z1. Unfortunately, your phone can only hold a certain number of text messages, so if you reach that limit, it will begin to delete them. In addition, there are no built-in apps on your Sony Xperia Z1 for backing up your SMS. The good news is that there are still some third-party Android SMS Transfer applications to help your get around this limitation.
Jihosoft Android SMS Transfer is such a simple to use application to transfer and backup Sony Xperia Z1 SMS to computer. The program is integrated with a Phone Port and a PC Port.
Phone Port: The phone Port tool should be installed on your Sony Xperia Z1, you can use this app to backup Sony Xperia SMS as a .db file to your phone's internal storage card, and then use the same application to restore the SMS back to your phone's messaging box later.
PC Port: The PC Port enables you to transfer Sony Xperia SMS to PC. Then you can view the text messages on computer, edit SMS, deleted unwanted messages, print SMS out or export SMS to local computer as .txt or .csv file.
How to Transfer Sony Xperia Z1 SMS to PC
1. Install and launch Jihosoft Android SMS Transfer phone port on your Sony Xperia Z1.
2. Hit "Backup SMS" icon on the main interface to backup SMS to .db file, skip the pop out "Register" window and input the file name for the backup file in another window, then hit "OK" to start the SMS backup process.
3. When the backup completes, you can locate and find the backup .db file in your Sony Xperia Z1 internal storage card.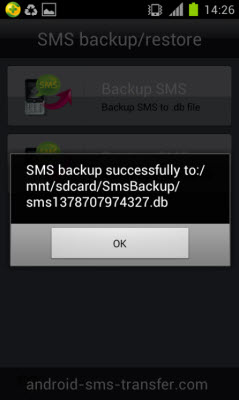 How to Use the Backup SMS .db File
1. Transfer the .db file to computer or external SD card.
If you want to do a factory reset on your phone or desire to switch to a new Android phone, you can transfer the backup SMS .db file to your computer or an external SD card so that you can restore them later to your phone or another new Android phone.
2. Import the backup .db file to PC Port.
The backup .db file is a database file that not readable on neither your Android phone nor computer, but you can use the PC Port of the program to import this file to view, edit, delete, print and export out the messages directly on your computer.