Best 11 Free Android Email Apps You Should Try Out 2019
Technology has been deeply ingrained in our lives. Nowadays, besides communicating through scheduled SMS, the most important conversations are made through your email. However, your inbox is also cluttered with spam emails, as well as promotional offers, which can make it difficult for you to parse through and find what is really important.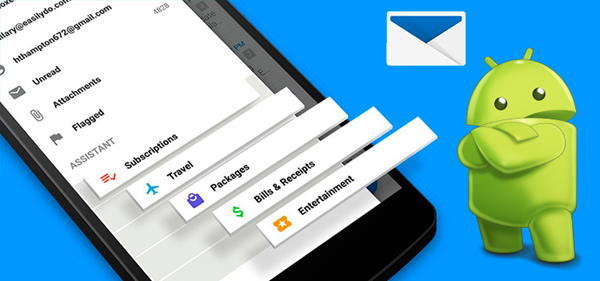 This requirement is especially true if you are someone who has multiple email accounts or has to manage different accounts on different platforms. Whether you use Yahoo or Gmail, you will want a best email app for Android that will help you sort through all your accounts in on place itself, and eliminate the need for you to jump back and forth between one application and the other. Your need for a best Android email app is the same as the need for the best Android contact apps. Those all will help your organize your emails/contacts well.
When looking for the best email app for Android, people search for apps that make sending and receiving emails a lot smoother an organized. When you are using your mobile phone or your tablet, it can sometimes be a little difficult to email attachments, and keep your inbox organized. Hence, applications that help your inbox stay sorted are the first priority. To this end, here is a compiled list of some of the best Android email apps that can be used on your Android device.
# 1 Gmail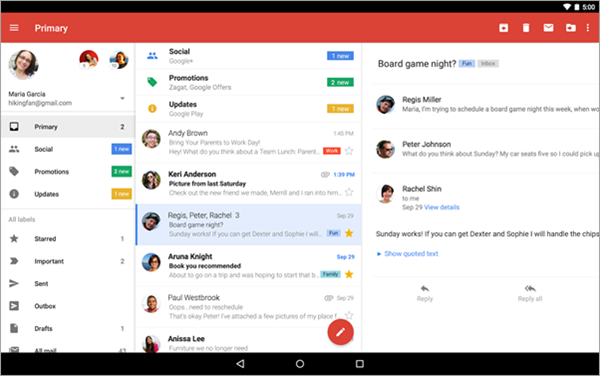 If you have a Gmail account then you know that its filtering prowess is like no other. Just as the desktop version of Gmail provides you with several tabs and labels to organize your email, the mobile version allows you to do the same. With this free Android email app you will receive the ultimate clutter-free experience, and what's more is that you can use it for multiple accounts at once. The search options as well as the snooze, flag and labeling option gives it a lot of appeal to users who need to use their email application throughout the day.
You don't have to worry about missing messages on your old addresses from other email clients, as the current Gmail version on Androids enable users to add other email accounts. Your messages can be shown in just one inbox. Gmail is much more organized than other email clients as well. You can easily group your messages into folders. You can mark some emails as archived or spam as well.
#2 Edison Mail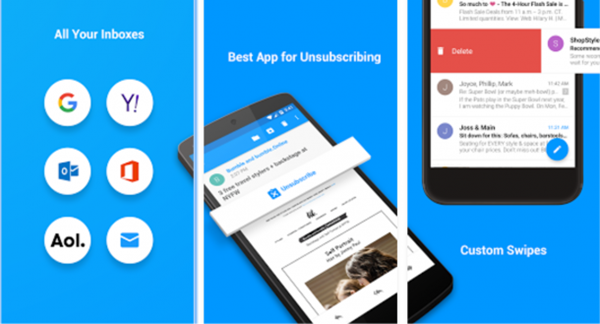 Available on both Android as well as iOS, this email application will help you keep everything in place when it comes to your emails. This is a free Android email app that lets you organize your emails on the basis of whether it has a tracking number for any packages, and whether it is a subscription email or a promotional email. This email application also provides users with an Undo Send button which makes it attractive to a large number of users. The developers of this app also offer apps like Edison Assist that help you beyond your emails as well.
#3 Hop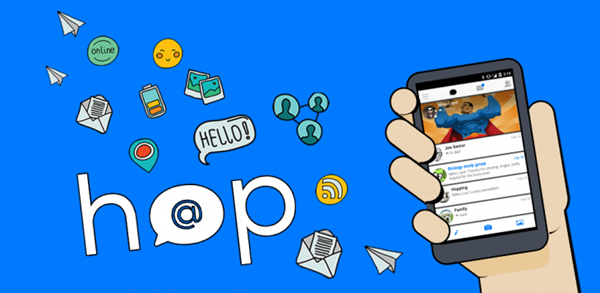 This free application has a new take on presenting you with your emails. Instead of the traditional outlay, Hop displays your email threads as chat conversations. This makes it easier for many users to select the correct thread as well as gives the conversation a more relaxed look and feel. It even lets you organize your emails according to a particular subject and works even better when you use it to communicate with people who are also using this application.
#4 Newton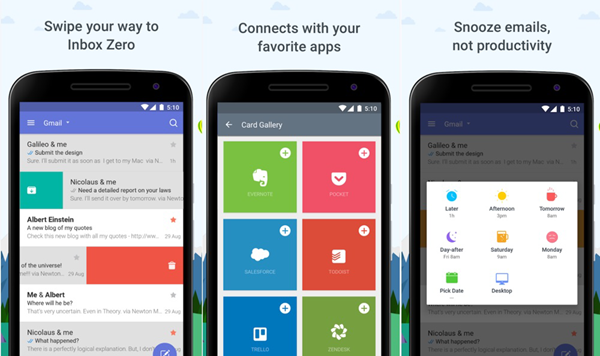 The developers of this app always work with the users' need in mind. They have created their application in such a way that their layout is sleek and smooth without any frills. With this email app for Android, you will receive a lot of benefits, without any of the clutter on your screen. You do not need to parse through tons of options and folders to access your email, instead you can do it all with just one click.
This application offers a useful feature which are the read receipts which help you stay informed about whether your email has been opened or not. It also has something called a "tidy inbox" feature that automatically transfers all newsletters to a low priority inbox. In fact, in the low priority inbox, you have the option of bulk deleting as well as an unsubscribing option which gives you freedom from promotional emails in the future as well. While you do have to subscribe to this application after your free trial is over, it is definitely worth it.
#5 Blue Mail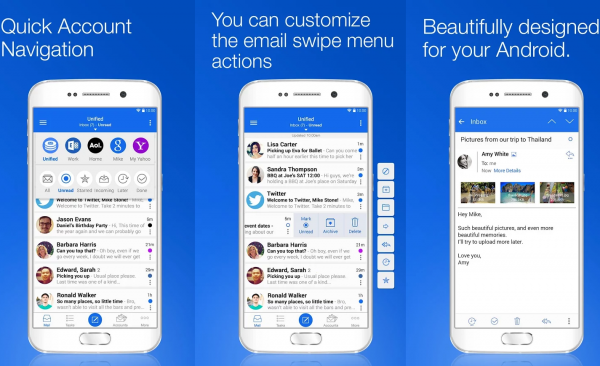 While it does not have as much of an organizational power as the others, it does have a lot of useful features. With the Blue Mail app, while you may not have the ease of separate folders for essential emails and newsletters, you do have the option of switching to a mode known as the People mode which quickly organizes your inbox so that you can only see emails sent by actual people instead of websites and robots. With this application, users have a lot of freedom when it comes to customizing the look of their inbox as well as their preference. They can create custom gestures to make responding to emails easier. With this application, you also have the ability to unsubscribe to any newsletter with a single button which makes it easy to get rid of those pesky emails from your account forever. This application is available for Android as well as iOS, and it is completely free.
#6 ProtonMail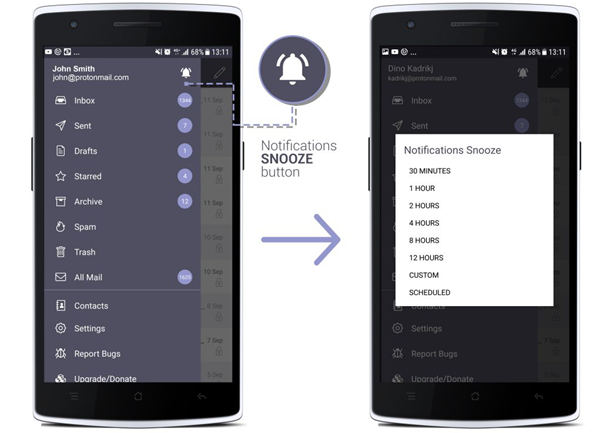 If security is a big consideration for you, ProtonMail would be a good option. With topnotch client-side encryption, you can send and receive encrypted and secure emails. In fact, the email service's servers are located in Switzerland, where the U.S. and the European Union have no jurisdiction. The only downside to this application is that you have to pay to link an existing account (such as say your Yahoo or Gmail account), but you can create a free proton mail ID as well. This application takes privacy with your email to the next level; you can send emails that have an expiration date, and even password secured email to those who do not have a proton email ID.
Sure, its features may not be as extensive as the others on this list. But the fact that it does not keep your personal information makes it appealing. While it is fairly young software, a fair amount of people are already using it. It is especially popular among activists and civil society organizations. Perhaps the biggest downside is the fact that you can only access 500 MB if you are on the Free plan.
#7 Boxer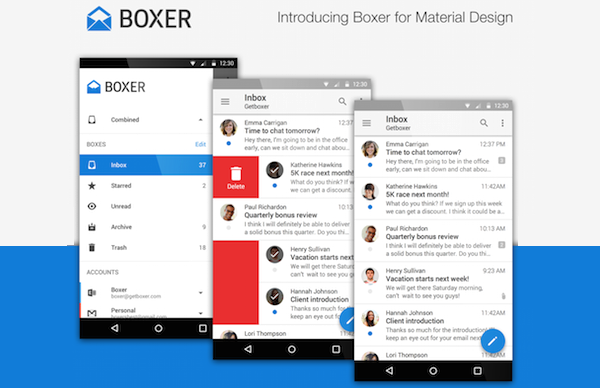 You may not have heard of Boxer yet but it is one of the up-and-coming Android email apps right now. Hailed for its productivity features, it supports Office 365, Gmail, Yahoo Mail, Hotmail, iCloud and Microsoft Exchange. You can also integrate Boxer with other apps like Dropbox and Evernote. You will also see that there is a built-in to-do list portion in the interface.
One thing you will like about the app is its convenience. You are able to use shortcuts to do a variety of actions and activities on the app. There are also options to customize.
Boxer has three versions for users. Exchange is for exchange support through ActiveSync while Pro is for multiple account support and custom signature. Pro + Exchange is a combination of both.
#8 WeMail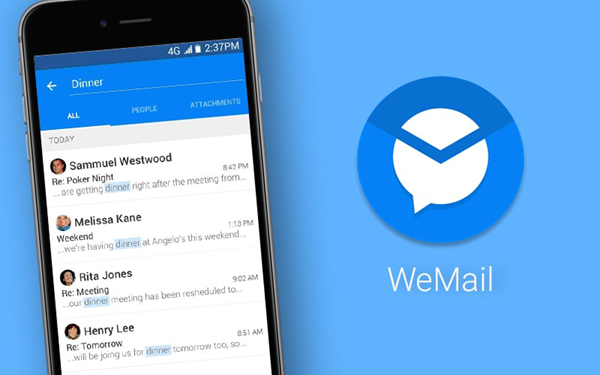 WeMail organizes your messages in such a way that it looks like you are just chatting with others. This can not only help reduce the size of your inbox by as much as 50 percent, but also will assist you in finding emails easily.
WeMail is also praised by many Android users due to its speedy performance and advanced search capabilities. It also utilizes the dictation functionality of Android phones rather well.
#9 K-9 Mail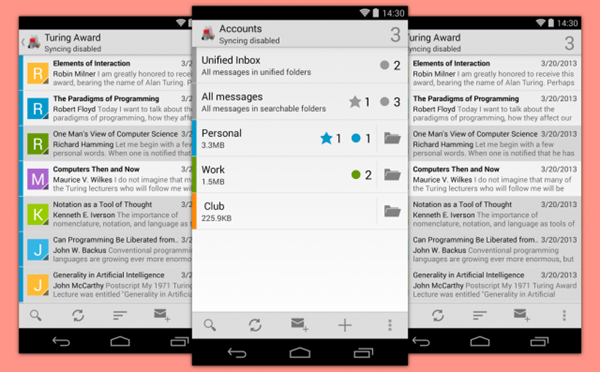 Of the items on this list, K-9 Mail is one of the oldest ones, serving as one of the alternative Android options during the first few years of the mobile OS. One of the reasons why it is appealing is its open-source nature, which means that a dedicated community helped in its development.
It also has many other handy security features, such as PGP support, which helps ensure personal privacy and security.
#10 Microsoft Outlook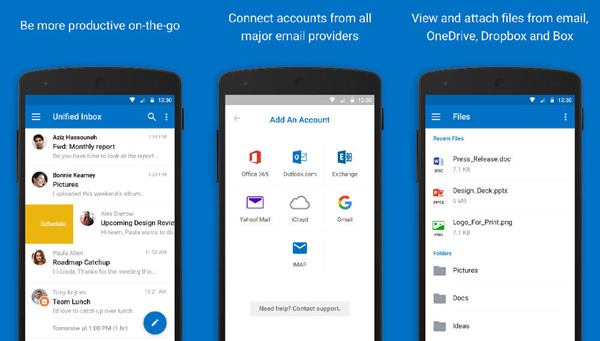 Previously called Hotmail, Microsoft Outlook is one of the better competitors that can go head-to-head with Gmail. Outlook is mainly used through the form of web applications but its apps are also quite sleek.
If there is one thing that should convince you to try out Microsoft Outlook, it is its Focused Inbox principle. Through this feature, the most important messages in your email address will be kept at the top so that you will not miss anything. Another great thing about it is its versatility. You can utilize Gmail, Yahoo Mail, Outlook.com, Hotmail and even Office 365 accounts on it.
It also helps you become more productive. The design enables users to check out files and calendars from within the inbox.
Summary
There is a growing need for Android email apps that help your inbox stay organized. When you are in a rush, you do not want to parse through tons of unnecessary emails to get to the conversation that you really want to access. With the help of email applications, you can access all of your accounts with just one click, and even unsubscribe to unwanted newsletters easily. As communication becomes more and more electronic-based every day, it is useful to have a best Android email apps that help you stay sorted.