9 Best Traffic Apps for Android to Make Through the Jam 2019
In this fast moving 21st century, the most annoying thing is being stuck in traffic. Whatever age you might be in, being stuck in traffic is always painful. There are some best traffic apps for Android out there that make travelling much easier and simpler. Though traffic apps are not always that much reliable, but most of the time these apps help save you a lot of time and fuel. A good traffic app will not just help you reach your destination in time but also relieve you from going through extensive struggle of getting stuck in a jam.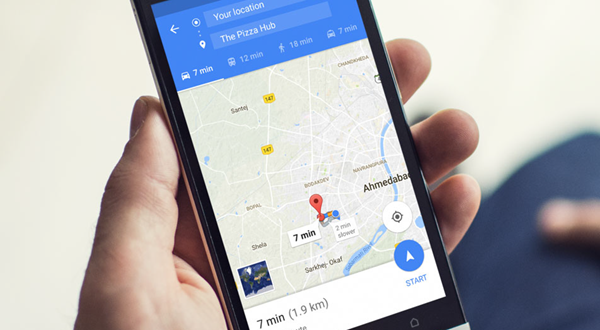 We know that Google Maps is one of the world's best traffic management cum exploration app. But, except that there are lot of other Android apps that helps you to manage the traffic efficiently without wasting your precious time.
So, here are our 9 best Android traffic apps for you to avoid traffic:
If you do not want to get stuck in some bad traffic situation while you're on vacation, Voyager app for Android will cover you. It might not be a traffic app, but the app does have some great navigation qualities. A well optimized route provided by this app is what makes it handy.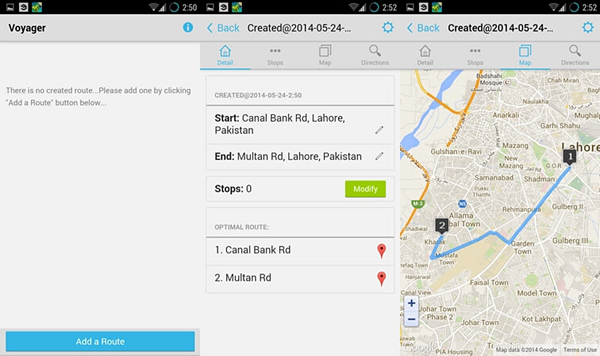 Top-notch features:
Minimalistic and neat user interface.
The app is intuitive and very easy-to-use.
The maps provided in the app are just great.
The app is completely free without even showing ads in the app
#2. Waze – Free
Waze is a unique traffic app available for Android that has an interesting concept that works better if more users gets to interact with it. The app basically helps you to become a Good Samaritan and tell others about the traffic condition.
This live traffic app for Android features a live routing totally based on community generated alerts. Like if you see a traffic jam ahead, with this app you can give a quick update so that the newcomers get automatically warned. This Give and Take Relationship of the app works quite well.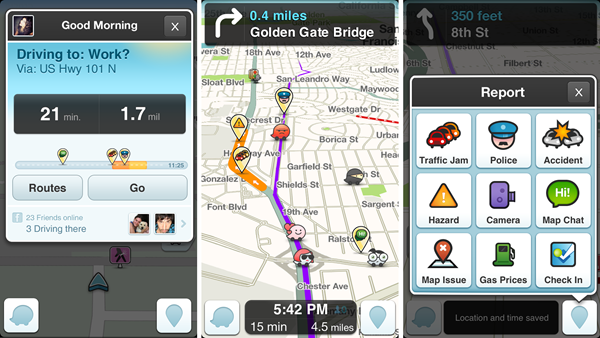 Top-notch features:
The alerts generated by the community and their warnings are unique and work well.
The app gives you a clear voice guided navigation.
The app automatically learns your frequent destinations and is handy enough to help your for the next journeys.
It automatically searches the cheapest gas station in your route.
More you contribute to this app, more will you earn points. Convey good, solid information and you will get more points. By this way you can be recognized as a good and worthy guy that will help people a lot. As you help others, you'll also get helped by them too.
As the name suggests, this app is not essentially a traffic app to be precise, but it comes close. This app as named, shows you the camera views of the streets of USA.
With the app, you will get to consult before walking down the street to avoid congestion. The fact is that this app actually helps you see what's happening on the road. The unique features provided by the app makes it one of the best traffic apps for Android.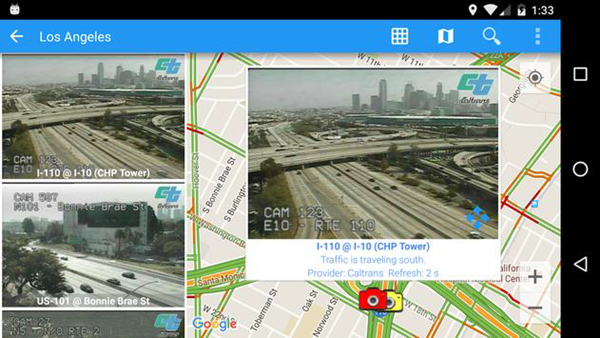 Top-notch features:
The Grid view of the app provides access to lot of cameras.
The inbuilt map makes it easier for you to locate the camera.
You can view images in full screen.
The cameras, that show clips, are responsive and they provide you the intimate details about the traffic.
This Android app is just more than a normal traffic app because it's a great service provider. Even if you are middle of nowhere and your car just breaks down, AA Breakdown app will help you to give your exact location to the professionals and they will get there as soon as they can.
As expected app also provides you enough information about the nearby traffic so that you can manage traveling with utmost ease.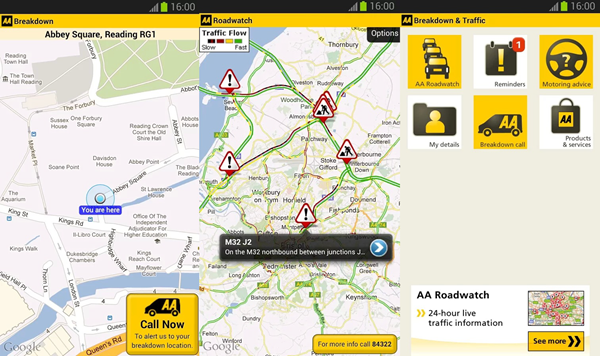 Top-notch features:
Simple and neat user interface.
The maps provided are very detailed.
Your exact location is traced and is given to the service.
The app gives you real-time traffic and road works updates.
You set reminders of important vehicle related alerts with this app. For example, you can set an alert for your car service and the app will inform you at the time.
As the name suggests, Driving Route Finder one is the best traffic Android app that lets you find places all around the world and gives you directions to them quite effectively.
The app has a very intuitive and simple user interface. The simple drag and drop controls on the app makes it one of the most effective navigation and traffic app. The best part of the app is that, it lets you view the route in text format as well.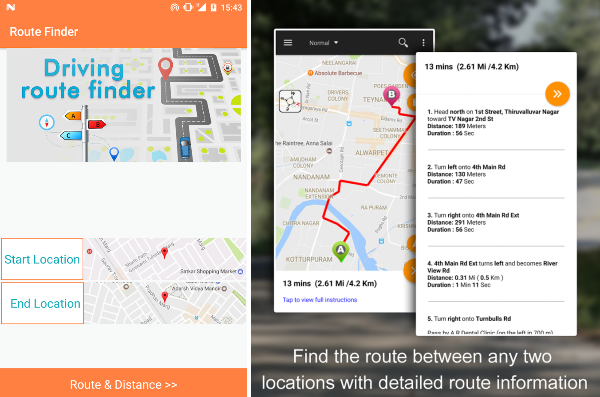 Top-notch features:
The app shows you both the traveling speed and the distance covered.
The Driving routes gets precisely plotted.
The travel modes of the app can be toggled between driving and walking.
The pin system Driving Route Finder makes it easier for you to avoid traffic and plot routes. You only need to place the green pin at the start and mark the red pin at the destination spot and you will find the best route possible.
#6. INRIX – Free
INRIX is worthy traffic app for android that comes with some great features. The app is accompanied by a separate traffic news section that always keeps you updated. The news section gives you information about current traffic conditions, nearby constructions, accidents and even road closures.
The app gives you a neat map route to your destination, which makes things much easier. Once you save your daily route, you will also be able to get personalized alerts about that particular route.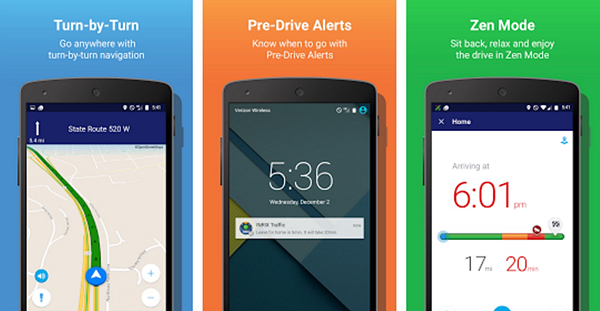 Top-notch features:
The Cloud sync feature makes everything easier.
The Traffic camera feeds are quite effective.
Traffic map provides you all the information you need.
The share arrival time feature helps you share the time it will take to reach the desired place with friends and family which is a unique way to inform someone about the time that you will require to reach them.
Michelin Navigation also is a free traffic app available for Android which is your perfect companion for your day-to-day travels. The app shows you the real-time traffic information which makes you aware to take which way to avoid traffic. The app also informs you about any particular route that is closed and also suggests you other alternatives.
The schematic presentation of the app is one of its most notable feature. The only reason for this app to be at number 7 in this 9 best traffic apps for Android list is that this app is available only for the residents of United States of America.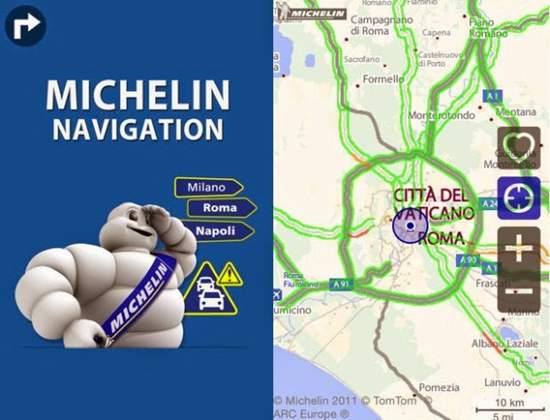 Top-notch features:
You get visually alerted if you cross your speed limit.
The app continuously displays speed limits on-screen for your benefit.
The app gives you simple directions while travelling which are much easier to follow.
The best part of the app is that it truly calculates the amount of traffic on any road. It even gives you an estimation of the time required to reach your destination.
If you are a citizen of New Zealand, then this is the best Android live traffic app for you. From any traffic webcam view to congestion issue this app provides all of that to the citizens of New Zealand.
The app's greatest advantage is that it lets you view live traffic camera from all around the country which even include big cities like Auckland, Christchurch, Wellington, Hamilton, etc.
NZ Traffic app's inbuilt map makes things much easier for easy selection of cameras. This means that you can now view the traffic sitting at home even without being stuck on the road.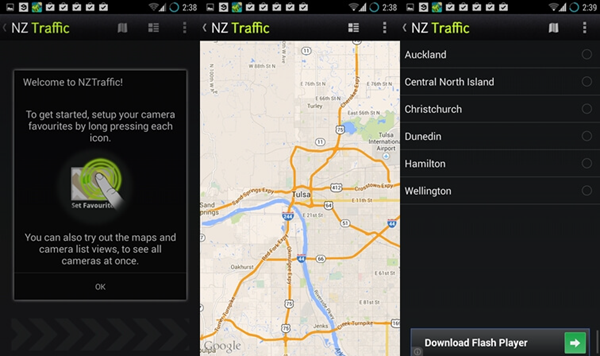 Top-notch features:
The inbuilt map helps you save a lot of time.
Big cities of New Zealand are well covered.
This app can even be moved to SD card to save more space of your phone.
This app gives you all the congestion information of each camera if it is available.
UDOT Traffic is an amazing Android traffic management app. The given map in the app can be zoomed in or out. Scroll around the app easily to see what's exactly happening on the road of the state. The current traffic condition of the freeways and main surface streets is presented in a unique way.
One of the greatest disadvantage of the app that it is only available for residents of Utah. This traffic app provides direct access to traffic information for Utah roadways from the Utah Department of Transportation. UDOT free traffic app for Android is the last on our list because it's only available for one state.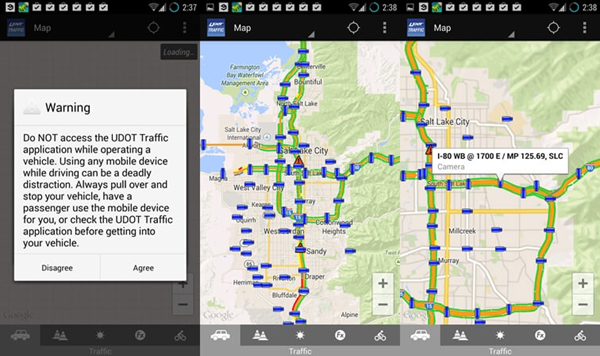 Top-notch features:
The travel alerts by TravelWize are great.
All the list of activities like construction activity, fire or any type hazards and accidents are mentioned in the app.
Weather forecasts based on each road is available.
This app even informs you of any festival that has affected the traffic or even of any special event which impact the traffic flow. If there is a high voltage football or cricket game going on, the app will notify all of that to you.
All the apps mentioned above are all available at the Google Play Store. You can download any of them and avoid getting late always. Each of them has its own specialty, so you need to use all of them wisely and get the most out of them. Now, from the next time you step outside the house, always refer to these apps to make your journey fruitful and effective. Don't forget to bring these Best Android Camera Apps with you to capture the beautiful moments during the journey.
Also these apps help you to navigate to any place you like and give the shortest and the best route according to the traffic. So, forget getting late from the next time!