Top 10 Best Camera App for Android Phones?
Mobile camera has seen a huge evolution in the past decade. From VGA camera to Single lens camera and then from Single camera to four camera. There has been a huge evolution to the camera in the mobile industry.
On the other hand, mobile camera apps have seen a huge bump as well. From single tap & shoot to AI mobile camera app. These days, with loads of filters, AR stickers, camera apps are now the top priority for smartphone users.
Features like bokeh mode, AI beauty mode, food mode, AI based filters & AR stickers, are just must for any smartphone user. From Retrica to Candy Cam, or from B612 to YouCam Perfect, with days new & better Android apps have been available on the Play Store. Well, these days there are loads of such camera apps to choose from.
best-free-android-camera-apps.png
So, after a lot of comparisons and based on user ratings, we have made a list of the best video camera apps for Android as below.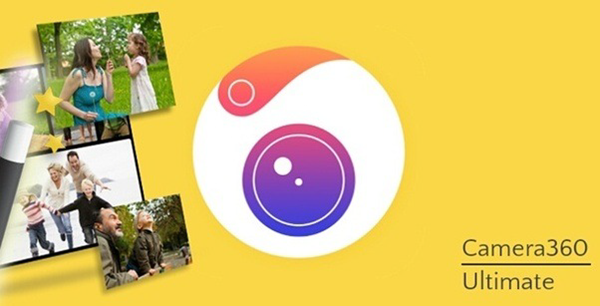 The Camera360 – Photo Editor has been one of the most popular camera app for 2019 for different regions worldwide. It has a loads of customizations with the camera and filters. Also, you get a photo editor with the app that features funny stickers & motion stickers, art filters, poster templates and other video effects.
Tip: You must want to know these Snapchat Like Face Filter Apps for Android too.
Though it's not that trending these days, but with it's great effects, filters and photo editor, this app deserves a place in the top chart.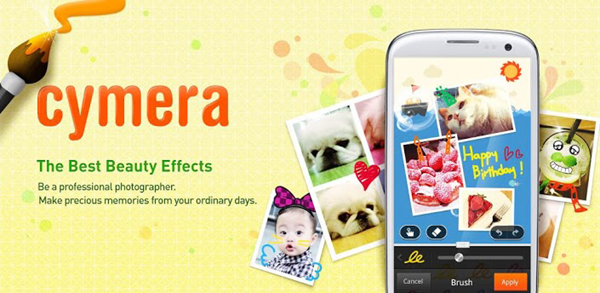 This is another fresh and free camera application for Android. This app is primarily selfie based and so has lots of customizations for the selfie camera. It has Real-time Selfie Filters & beauty makeup tools to help you look bright in any selfie. Apart from having loads of face filters, it has Body and Face Editor as well. Also, you edit any photo with the built-in photo editor.
The app has grossed 330 millions of downloads for 2018 and is highly rated by users at the Play Store.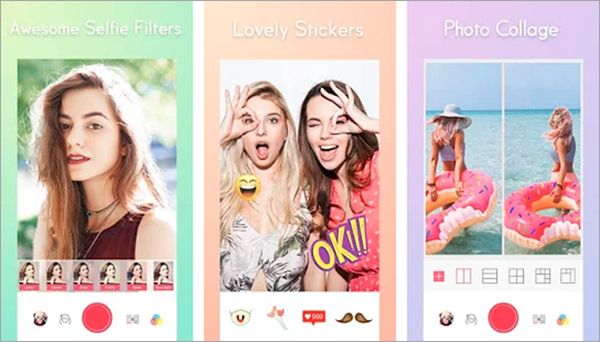 This is the lighter version of the famous app Sweet Selfie. Well, this one is smaller than its original app yet has almost all the required features for a camera app. It has simple user interface for users and has lot of features. The Sweet selfie light has all kinds of visual effects and awesome filters. Also you get to add frames to your image, make collages and edit them according to your need.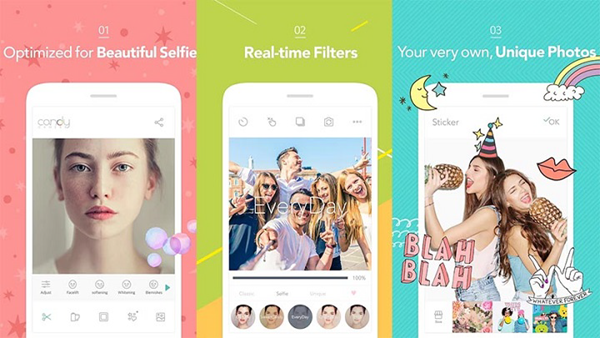 Candy camera is another very famous camera application that helps users to click, edit and share easily. It has a diverse range of filters especially designed for selfie. Another great feature of the app is that it lets you use a variety of Stickers, for every mood, for every occasion and with constant updates you get more of them to use further.
Like all other apps, this one too features Beauty mode to help you look pleasant in selfies. The collage mode helps you to take images and make a collage of them with just a tap, which gives an effect that you truly took the pic at any photo booth.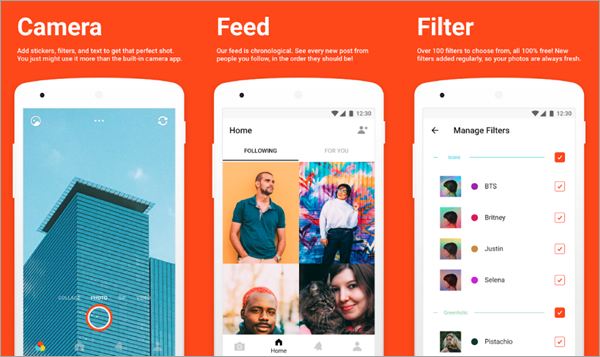 Retrica is another by far most popular app available for Android. Well, this app focuses on both front and rear camera, and has lot of options for you. Like all others, this one too has 100+ filters, different looks, funny stickers, doodles and much more. Another great advantage of the app is that you can create videos and GIFs with i t(You can make GIFs from videos here).
Apart from having a photo collage mode, it also features a chronological feed. Retrica has become more like Instagram, you can follow someone on Retrica, see all of their post, like them and send a direct message to them.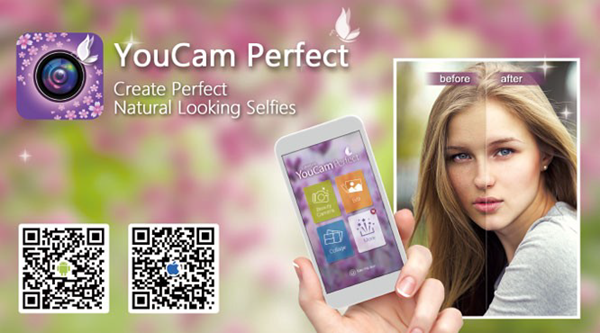 This is another Editor's Choice camera app for Android that is known for its selfie camera. It features Real-Time Skin Beautifying Effects that helps you to look brighter for selfies. Interestingly, you can also click Video Selfies as well. Like all other apps this one too has lot of filters and a Full Editing Toolkit. So, with the toolkit you can try various effects and one-touch filters, photo crop and rotate, mosaic pixelate to blur the background, vignette, and put HDR effect to images.
The YouCam Perfect is unique in its own way and has been highly rated at the Play Store as well.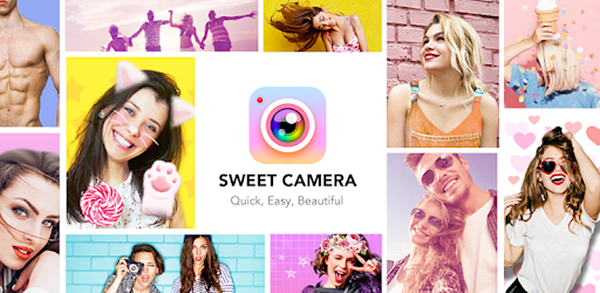 It is one of the the top-rated free beauty camera editor makeup camera. It features Real-time beauty camera selfie effects & makeup camera, so that you can click rich selfies from wherever you are. Like all other camera apps this one too has photo collage maker, photo & selfie editor. Interestingly, this app has live stickers & motion sticker & live filters, so that you can click some cool selfies. The AI beauty mode also automatically brightens your skin tone.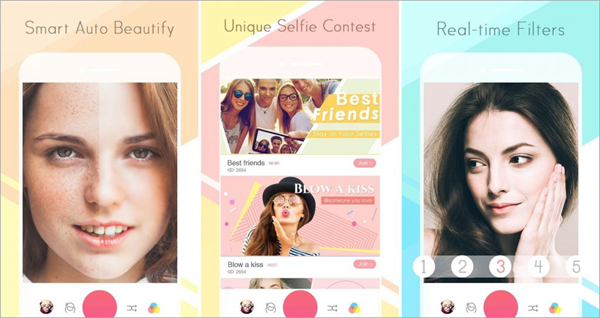 Sweet Selfie is one of the best selfie camera app available at Play Store. This app lets you click perfect selfies with its smart auto beautify technology. Apart from collage making feature feature, this app lets you take portrait selfies by making the background blur.
With the app also you get vignette & retro feature to boast off. Another major advantage of the app is that it has some of the richest stickers to use while taking selfies. Ranging from animal stickers to occasional ones, you also get other fashionable stickers like hairstyles, tattoos, wings, etc, with every update you get some more stickers to use while taking selfies.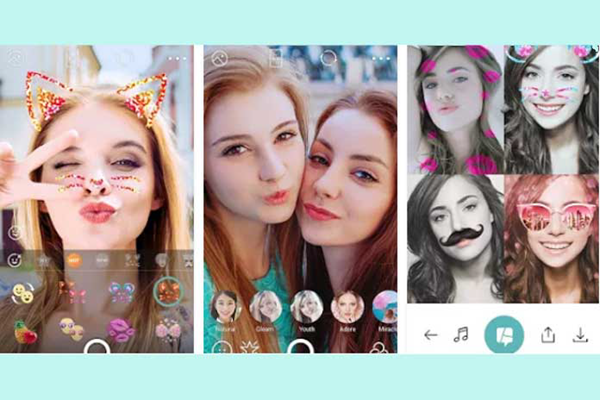 This is another famous app known for its simplicity and great customizations to your mobile camera. B612 features real-time beauty effects to get the perfect shot all at once. Also, it has a diverse range of AR stickers of about 1,500, which is by far the most that a single has offered until now.
Apart from selfies, this app features some of the best high quality filters perfect for selfies, food, landscapes, or any occasion. Another unique feature of the app is that you can create high quality music videos with the app itself.
Apart from all these like all other apps this one too has the much required photo editor, collage maker and a genius ability to make Boomerang videos.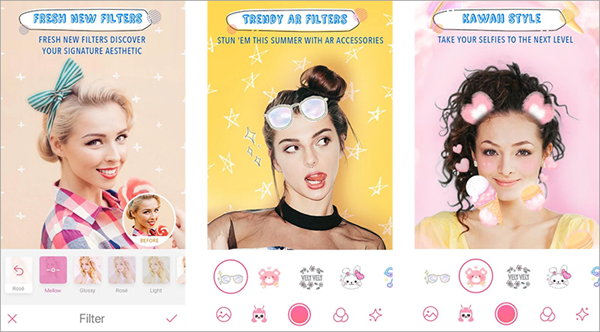 BeautyPlus is another trending camera app available at Play Store. It is an camera app that is simple and provide with you some best powerful photo editing tools to edit your images.
BeautyPlus has amazing artistic effects, a huge variety of augmented reality (AR) filters. You get filters according to your mood and also according to occasions. With BeautyPlus, clicking natural looking photo and video selfies just got easier. With the AI beauty the app can remove acne marks, smooth skin, brighten eyes, whiten teeth, and edit eye color as well. Also this app lets you take portrait selfies by making the background blur.
What is the best camera app for Android phones? It must be BeautyPlus! The app has huge amount of downloads this year and users seem to be very satisfied with the app, which has led the app to take the number 1 spot at the list.
Final Words
So, here were our top 10 free camera apps for Android, which you can download and click beautiful pics flawlessly. All the apps are available at Play Store and you can download them with just a tap.
Clicking amazing photos is a trend that has grown rapidly with years. Well, clicking photos is not just taking snaps randomly but with that you frame some of your life's precious moments and cherish them all throughout your life. So, go download your favorite app and click through some of your life's best moments.