Top 7 Best Superhero wallpaper Apps for Android 2019
Superhero movies have never gone out of fashion since the release of Zorro, which is believed to be the first superhero film ever made. Since then people are going gaga over superhero movies and superheroes comics. Just like this year, we saw Venom and The Avenger: Infinity War blew all the records. It won't be too much to say that you and your friends would like to set the best Superhero wallpaper for your Android phone and dress as your favorite superheroes in the Halloween party. Of course, you must save as much as superhero wallpapers on your phone, then we really recommend you to use some Best Android Gallery Apps to arrange your wallpapers.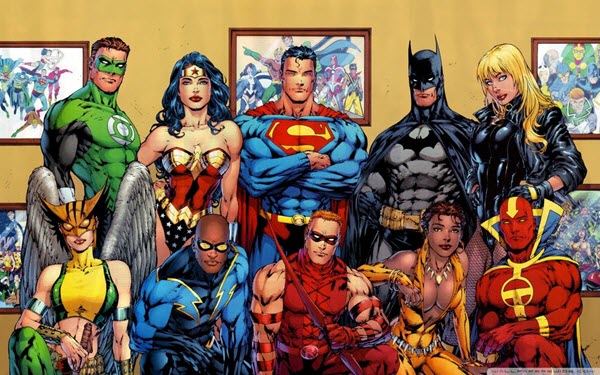 In our mind, we always strive to be like our best superheros. As psychology says if you keep your idols photo in front of your eyes, you are likely to be like them. So it's best to replace your usual Android wallpaper with your favorite and mightiest Starwars, DC & Marvel Superheroes' wallpaper and let your phone do the talking about personality. Here we are going to suggest you some of the best Android superheroes wallpaper apps (Most rated) available on Google Play Store.
1. 4K Superheroes Wallpapers – Live Wallpaper Changer
4K Superheroes Wallpapers is a free Android live wallpaper changer app that provides an enormous amount of wallpapers and backgrounds sorted across 60+ categories with large varieties of 4K as well as Full HD (High Definition) wallpapers Collection. It is best for those superhero fans who have more than one favorites, so they can have this live wallpaper feature where you can set time of automatic changing of wallpaper.
Main Features
Auto Wallpaper Changer.
Simple, Fast & light.
You can set your favorite wallpapers.
Consumes less battery & Resources.
Tip: If your Android phone is not charging or has any charging problem, you should fix it with these tricks.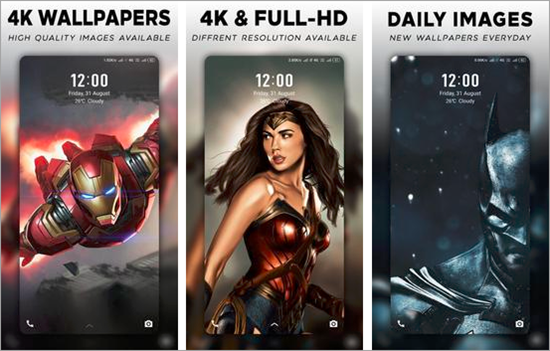 2. Superheroes Wallpapers | 4K Backgrounds
Superheroes Wallpapers is developed by HD Productions and is boxed with your favorite mightiest superheroes' wallpaper from the Marvel and DC Universe who are saving the world time to time in High Definition and Ultra HD. These 4K wallpapers and backgrounds must give your device a powerful &fantastic dimension.
This android app is compatible with most of the Android devices.
Main Features
Wallpapers in HD and excellent 4K quality.
Option to download wallpapers for offline use.
One-click to save/share wallpaper .
The entire collection is above 1000+ wallpapers. So you have a lot of superhero wallpapers to choose from.

3. Superheroes Wallpapers HD & 4K
This Android app is developed by Aphics that has tons of collection of the comic books' superheroes who are ready to take on the super villains. It offers a large collection of High Definition superhero wallpapers and backgrounds that give your device a powerful, fantastic dimension and make things much more cooler around you.
Main Features
10+ categories to choose from.
Minimal & beautiful user interface.
Beautiful layout with a material dark theme.
New high-quality superheroes wallpapers arrival.

4. Superhero Wallpapers by Xtreme App
Superhero Wallpaper, developed by Xtreme App, is a one-stop Android wallpaper app for all your favorite superheroes and supervillains wallpapers. It offers wallpapers of your best superheroes in high definition, and it is very handy and easy to use.
Main Features
Wallpaper can be saved on phone gallery.
Easy to share any superhero wallpapers with others.
Attractive user interface.

5. SuperHero Wallpapers HD by Team Avenger
The developer named Team Avengers creates this SuperHero Wallpapers HD. As their name suggests, these developers are also huge of these superheroes like us. So they have kept everything that a superfan needs in his phone. It has a feature that it can automatically change your best superheroes' wallpaper daily.
Main Features
New pictures and backgrounds added automatically.
Option to download wallpapers for offline use.
Automatically change your wallpaper every day with your favorite wallpapers.
Clean and neat user interface.

6. Superheroes Wallpapers QHD
This Android superhero wallpaper app is developed by AppKings Labs. It will give you the best personalized look that you want to get for your smartphone. What makes this app most awesome is that you can easily find high-resolution superhero images from the world of MCU and DCEU. It offers users the best feature to search wallpaper by the name of the superhero.
Main Features
Powerful search option.
The tap to zoom feature.
A vast collection of wallpapers with HD Quality.

7. Superheroes Wallpapers by Ozone Studio
This superhero wallpaper app for Android developed by Ozone Studio is in the market to offer you the super collection of earth's mightiest superheroes collection. It gives you the option to select the wallpapers from more than 30+ categories. All the wallpapers here are handpicked to amaze you in every possible way and to make your smartphone way cooler than before.
Main Features
Maintain your own Favorite wallpaper list.
Gallery view: You can easily swipe to change wallpapers.
Daily new HD superhero wallpapers arrival.
One-click wallpaper setup
So these are some of the most rated and best free superhero wallpaper apps for Android. So now put your idol superhero's photo as wallpaper on your phone and make it shine and fine just like your mightiest superhero.