5 Best Music Player for PC to Free Download 2019
Despite the popularity of streaming services, many audiophiles still prefer to look for some best free music players for Windows 10/8/7 to better organize and play their favorite music. Because we all know a major problem with most of these audio streaming services is low bite rates of online music. For average users, this may not be an issue. However it's not so satisfying for music enthusiasts committed to pursuing high-quality music.
Tips: Download Songs from Spotify with the Best Spotify Music Downloadeders 2019, Top 6 YouTube Music Download Apps for Android
There are many music players for PC to free download into Windows. In fact, Windows has seen many media players come and go since its inception, from old reliable relics to upcoming upstarts. So we have selected for you the best 5 media players for Windows 10/8/7.
1. MusicBee
MusicBee was developed and released by Stephen Amell back in 2008. Today it's found with not only a healthy user base but also a community constantly providing exchange of advice and ideas on its forums. MusicBee is not an open source, but Stephen has made the API available for developers to create and share their own plugins because of its pluggability.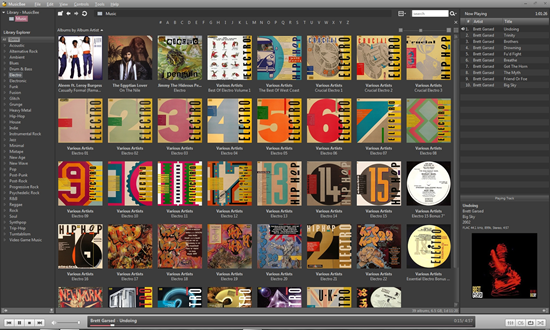 The most impressive feature of MusicBee is its clean and clear user interface, the inspiration of which is derived from the best parts of iTunes. From tagging to downloading large sets of comprehensive meta-data, MusicBee organizes music library for you in advance. It supports large numbers of streaming services, and you can download podcast from it. What's more, it provides you with conversion and encoding of nearly any audio format.
Certainly equalizer is necessary to audio player for the fine tune of music. MusicBee acting as a music player with equalizer for windows 10/8/7 offers you the option to use a 10 or 15 band solution with DSP effects. This best music player software for Windows also supports high-end audio cards with WASAPI and ASIO support. If you are a fan of Winamp, you will love MusicBee because it supports most plugins of Winamp.
Tips: Best 8 Equalizer and Bass Booster Apps for Android 2019
MusicBee is a highly customizable Windows media player to free download with improvements and updates being released almost quarterly. Although it can do all those things, it doesn't take up more system resources and spaces, which is a surprise for all users. Enjoy yourself with MusicBee equalizer!
2. AIMP
AIMP is one of the oldest music players for PC to free download. It was developed and initially released by Artem Izmaylov back in 2006. It comes with Windows and Android versions. AIMP is an award-winning freeware priding itself on its long legacy and consistency. It supports nearly all audio formats, from well-known ones like MP3, OGG, M4A and FLAC to lesser-known ones like TAK, APE, and WavPack.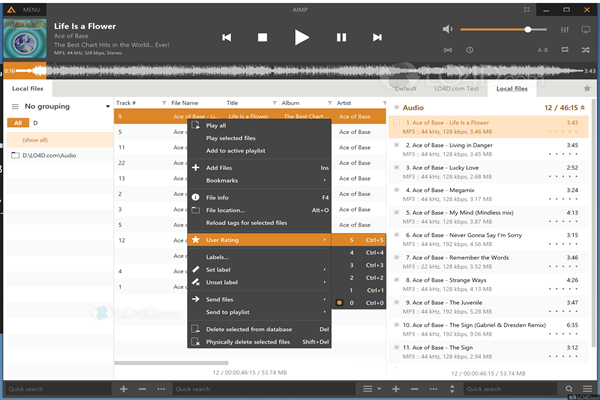 AIMP aims to offering users a simple but comprehensive music player. It supports high-end sound cards with ASIO, DirectSound and WASAPI (The Windows Audio Session API) audio interfaces.
You can bookmark and curate playlist on the fly. AIMP also comes with a long list of Add-ons and custom tools worth exploring. It has the feature of Internet radio stream capturing and it allows you to play media files of up to 250MB directly from RAM which makes for faster loading and playback.
3. foobar2000
This is the second oldest Windows media player free for you to download of this list. Foobar2000 was developed and initially released in 2002 by Peter Pawłowski. It seems like a very simple music player, but under the surface it's a very powerful tool which is dependant on the user's ability to customize it.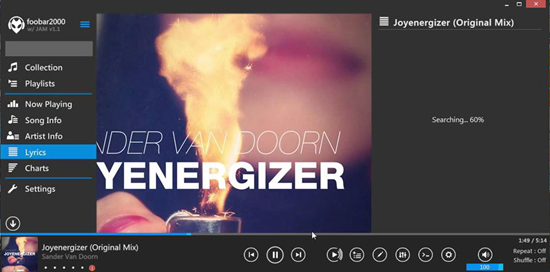 Without customization or downloading any other modules, it natively supports music formats ranging from MP1 to Opus. It has advanced tagging capabilities which can help you sort out and organize your music library. In addition, it can open and read inside archive folders such as ZIP, GZIP and RAR. It also comes with an encoder that can be used to make command-line conversions.
The only criticism we can hold against foobar2000 is that it is not so user-friendly that users who want a complete music player out of the box may not have the patience to build one with foobar2000.
4. JetAudio
If you want a lightweight and fast audio player with a long history and lineage, we recommend JetAudio. Like most media players, not only does it offer video and audio playback but it has organizational features like tagging and meta-data editing.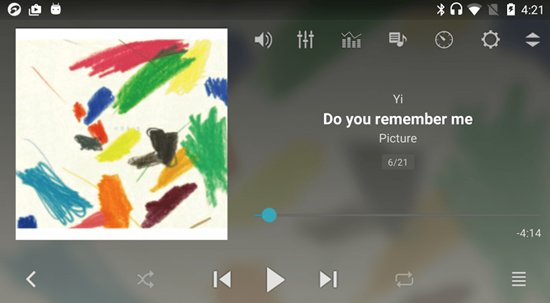 Tips: If you just like the background music of one video, then you can first download the video into your computer. Next, you can convert its format to other popular audio formats such as MP3, M4A, WMA, WAV, AC3, etc. with this Video Converter. Besides, it can convert videos to all popular SD and HD videos such as 3GP, AVI, FLV, MOV, MP4, M4V, MPEG, MKV, RMVB, TS, VOB, H.264, HD WMV, DivX, XviD, etc.
JetAudio comes with a large collection of built-in sound effects to help you enhance music playback. If you have old DVDs or CDs, JetAudio provides you with a function that allows you to rip and burn them. It supports nearly all music file formats. JetAudio allows you to download more skins from websites like DeviantArt. It comes with an external spectrum viewer and visualizer.
5. MediaMonkey
MediaMonkey is very similar to MusicBee. They both utilize a thematic iTunes-like user interface. MediaMonkey may not be as fast and lightweight as MusicBee but it's almost feature-rich, especially you purchase its premium version.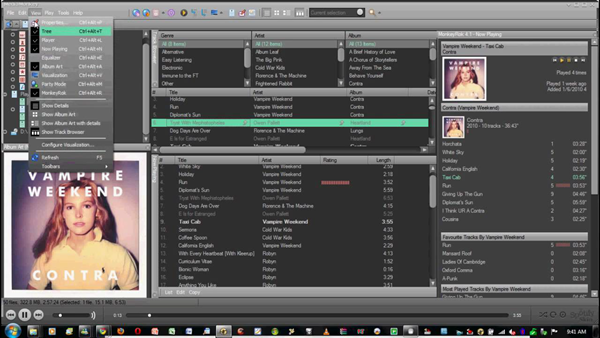 Not only does it support almost all formats of audio and video, but it also provide a music and movie manager to help you better organize the entire library. Meanwhile, it can sync between its iOS and Android counterparts so you can keep track of your playlist and play counts.
Other features include (but not limit to) an auto DJ and secure Jukebox, a tag editor, an integrated CD and DVD burner, a format converter and a file monitor. Besides, it comes with a podcatcher and media downloader to help you add more files to your library.
MediaMonkey is another beautifully feature-rich audio player that deserves your awareness. If not the Windows version, at least try their mobile versions.
Honorable Mentions:
Dopamine
Clementine
VLC
PotPlayer
Winamp
Conclusion
Having had a tough knowledge about these best music player softwares for Windows, I want to tell you that streaming doesn't mean the complete obsolescence of offline music players. Instead, it does mean developers need to find creative methods of integrating streaming music services into their softwares for both experiences to users.
Until all streaming services increase their quality and library, it seems there will always be the need for audio players such as the ones listed above. Sometimes, there are albums that were not meant to be listened to with headphones. Instead, they should be appreciated through a set of high fidelity speakers. As always, if you're unhappy with this list or would like to make your own recommendations, the comment section is always opened for you!