How to Share Private Home Videos with Family and Friends?
In today's society, when it becomes more and more common to disclose one's own life, some people are gradually inclined to share their private lives with their close people, mainly their families and friends. Given that it is very popular to upload videos to Youtube and other social platforms and download HD video from Youtube with Online Youtube Downloader, you can still find ways to share private home videos only with your family and friends. Next, you can have a look at the best 4 ways to share videos with family and friends.
Tips: Before you upload videos, you can edit your videos to make them personalized with this Video Converter. It can split one large video into smaller clips, and merge multiple video clips into one single file. Also you can use it to trim video into an ideal size, and crop the picture frame of video to remove unwanted areas. This tool also supports adding text or image as watermark, and applying artistic effects onto the video files.
1. How to Share a Private YouTube Video
Do you really know the practical functions which YouTube features? One of them related with private video sharing is that you can select the objects you want to share with. This service is built around the concept of community video sharing. So, you can follow steps we have listed for you below to share private videos on Youtube:
First of all, upload the video which you want to share. For this purpose, log into YouTube by your Google account and then click on the "Upload video" icon.
Under the Privacy section, you can select "Private" option if you just want to share private home videos with your family and friends.

You can clearly see in this picture that you have four options in all. But "Private" and "Unlisted" are of almost same use. There is a minor difference between the two options. Private means that you can invite people to watch your video and you can invite a maximum of 50 people per video. Anyone with this link can watch your video if he/she receives your invitation. But as for Unlisted, anyone who has the link of that video can watch even if you don't invite him/her at all. In both cases, your video won't be showed in the public YouTube search. So, it is up to you which feature you want to use.
After submission of your request to upload the video, it will automatically be uploaded in some time depending on the size of it.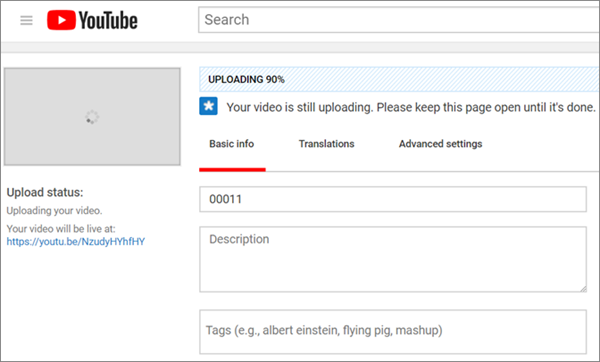 After uploading, click on the "Share" icon under the Privacy dropdown. You can enter the email addresses of people you want to share the video with. Now, you are all done. YouTube will automatically send the link of the uploaded video to related people.
Tips: How to Share YouTube Video at Specific Time on Mobile and PC?
2. How to Share Private Videos on Vimeo
Unlike YouTube, Vimeo offers some advanced privacy features to its users. You can set up a password of your uploaded video so that only the ones who know the password can access your shared video. Just mention briefly, if you are an iPhone owner, you can use some iPhone video editors apps to edit your videos before sharing.
When you upload a video on the Vimeo, you can see a Privacy dropdown box there. You can set your privacy there accordingly.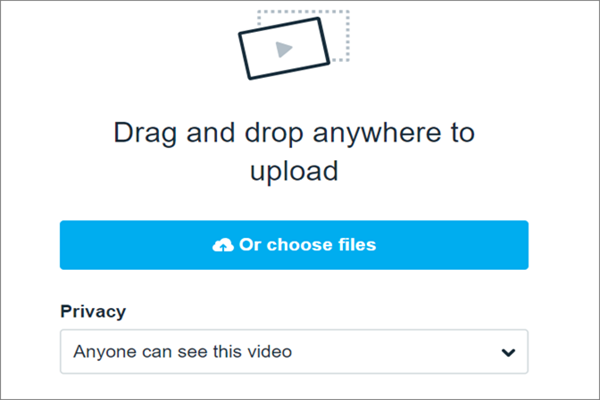 After dragging the dropdown box, you will be provided with four options in total, the two of which are almost of same meaning. One is "Only people with a password can see this video" and the other is "Only people I choose can see this video". You can select one option based on your privacy demands.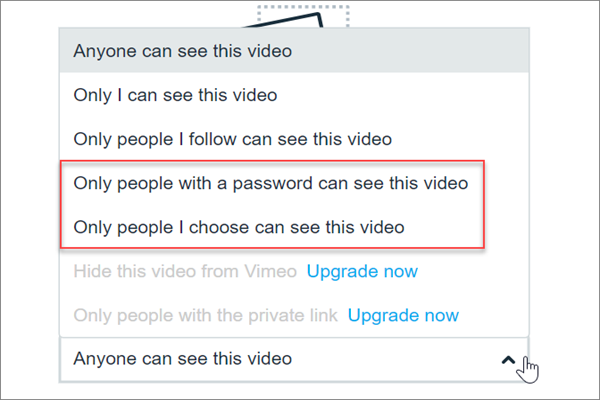 After uploading the video, you can set a password accordingly. The most friendly feature is that every video you upload has its multiple passwords, helping you control who has access to specific videos.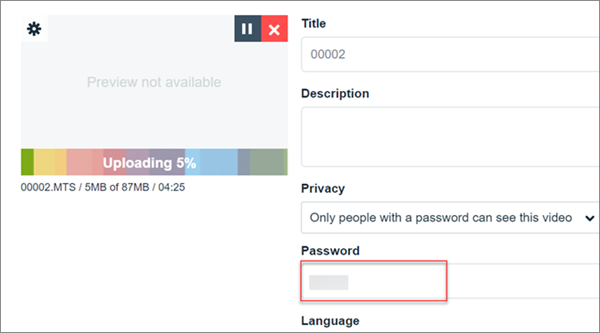 Besides, you can change your privacy setting anytime you want. The best part of using this app is that apart from setting password on the video, you can set multiple passwords on each video which helps you to control that who had access your video.
3. How to Share Private Videos on Facebook
Facebook is known to almost every user and majority of users use Facebook daily. So maybe it is the best private video sharing method for you to share private home videos with your family and friends.
Apart from YouTube, Facebook also provides some brilliant privacy settings when it comes to private video sharing. You can set your privacy to "Specific friends". After enabling this option, you can send videos to only those friends whom you want to share with.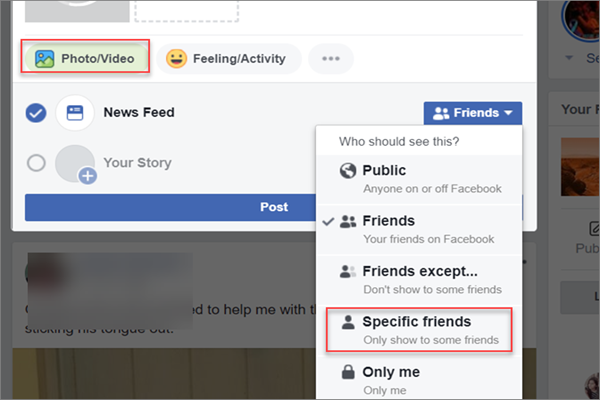 Apart from the method stated above, you can also make a Facebook group and add your family members and friends in it. It will provide you with the same privacy feature with an ease to share. Anyone added in the group can comment on the shared video.
4. How to Share Private Videos on Cloud Storage
The Cloud Storage offered by Google is also the best way to share private home videos with family and friends. We are talking about the Google Drive here. But Microsoft OneDrive is also brilliant for this task. You can use it directly if you have an account of Microsoft! As for Google Drive, our recommendation for you is to create one folder and set a privacy on it. That privacy will be the default for anything which will be added inside that folder.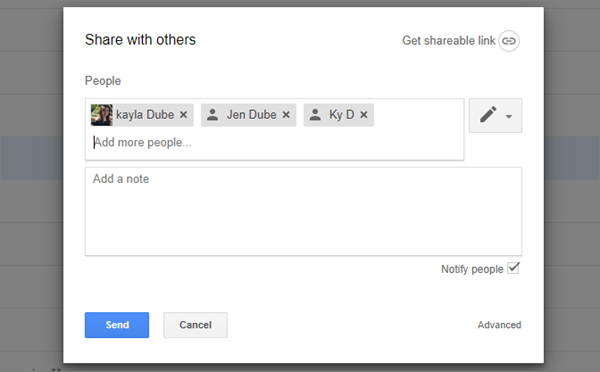 After uploading, you can access the "Share" option by right clicking on the video. And then you will get the link to share with your family and friends.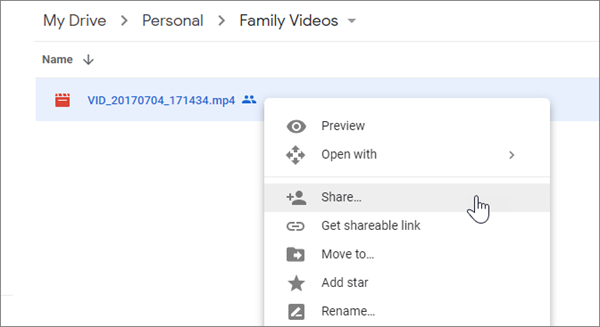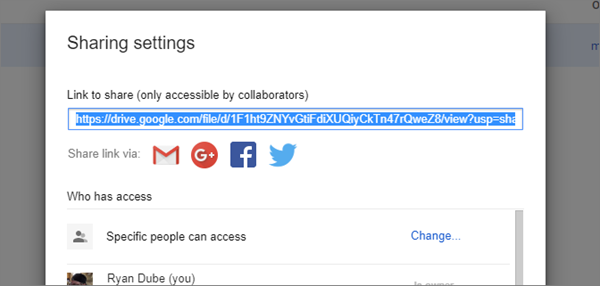 In the bottom of the share settings, you can advance privacy for example you can enable the option "Prevent editors from changing access and adding new people" or the option "Disable options to download, print, and copy for commenters and viewers".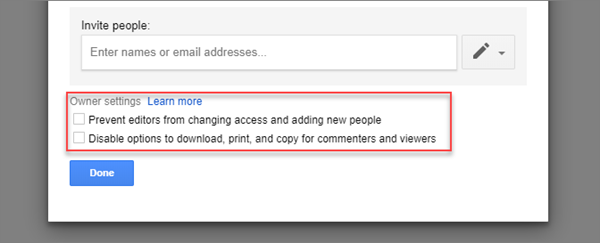 We hope that you have understood the privacy feature of Google Drive. Generally, it is not needed but if you are extra protective you can use these features stated above. Anyway, it entirely depends on you!