How to Share YouTube Video at Specific Time from Mobile App and PC
Shared joy is a double joy. That's why many people like sharing funny YouTube videos to their friends or family. However, how to make the receiver watch the shared video from the funny point? It's too troublesome to go back to the video, remember the specific minute and even second, and then send the time in another message. In this guide, we will talk about how to avoid wasting time in the start, end, ads and other meaningless parts of videos, and share YouTube video at certain time from app, web browser and computer. Don't forget to share this page to your friends so that you'll also watch YouTube videos shared by them in a more efficient manner.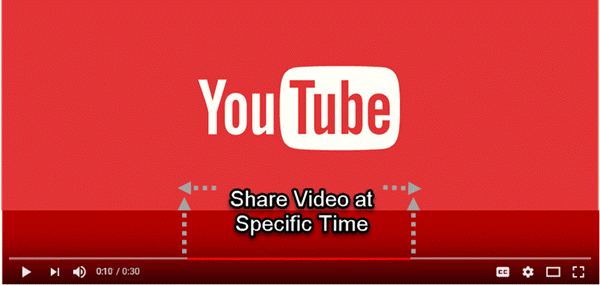 Before heading to the guide, we'd like to share another practical trick for YouTubers. In your own YouTube videos, you may have added many pictures or voice files which are lost after uploading the videos. You might find the quality unsatisfying if you choose to extract them from the videos. In this case, you can use Jihosoft Photo Recovery to recover deleted photos, videos and audio files from computer, external hard drive, SD card or USB flash stick.
Part 1. Link to A Specific Part of YouTube Video on PC and Mobile Browser
Method 1. Use the Start at option.
Step 1. Play a YouTube video on a mobile or PC browser.
Step 2. Pause the video at the time you want people to view.
Step 3. Click Share from the menu.
Step 4. On the pop-up window, check the "Start at" box under the link.

Step 5. Click any of the icons above the link to share the video via social platforms or email.
This method doesn't work on mobile browser since there is no such an option to choose start time.
Method 2. Copy video URL at current time
Another easy method for PC browser is to right click on the video and choose "Copy video URL at current time".
Step 1. Play the video on YouTube with a PC browser.
Step 2. Pause the video and right click over the play window with mouse.
Step 3. Choose "Copy video URL at current time".

Step 4. Paste and share the link to people.
Please note that this only work at youtube.com, not including embedded videos at third-party websites, and may not work on Firefox browser. This method doesn't work on mobile browser neither. Please keep reading to know the workaround for mobile browser.
Method 3. Add a query string to the share link
In Method 1, when we tick the Start at box, a string of punctuation marks, numbers and characters is added to the URL, like this: https://youtu.be/1jCOLYewTFc?t=2m9s
"?t=2m9s" is added as the format to specify the start time: 02:09. "t" for time, "m" for minutes and "s" for seconds. Therefore, we can also copy the link and share it out manually, so other people can start the video from the exact moment.
The link above is automatically shortened for share. Actually, when we play a YouTube video with a browser, the link in the address bar is the full URL. Like this: https://www.youtube.com/watch?v=1jCOLYewTFc
In order to link to a specific time of YouTube video, we can also add "&t=2m9s" to the full URL. The only difference from the shortened URL is replacing "?" with "&". https://www.youtube.com/watch?v=1jCOLYewTFc&t=2m9s
Finally, copy the modified link and share it to people. Both of the above two formats work on mobile and PC browser.
Though the above 3 methods have been proven working in most cases, it is possible that some people would have problem applying them in their videos. Feel free to tell us in the comment so that we would figure out solutions for your reference.
Tips: In addition to sharing YouTube videos by URL, you can also download YouTube videos for offline editing, then share them to your friends.
Part 2. Share YouTube Video at Specific Time from App
We have learned how to add timestamp to YouTube video with a browser. However, the mobile app of YouTube neither has the "Start at" option when sharing, nor an address bar to capture link from. How can we share YouTube video at a specific time from YouTube app? It is a little troublesome but still possible.
Step 1. Open YouTube app, and play the video you want to share.
Step 2. Pause the video at the time you want people to start viewing. Keep the timestamp in mind.
Step 3. Tap Share button under the video title.
Step 4. Choose Copy link.

Step 5. Manually open the app that you want to share the video on.
Step 6. Paste the URL in the input box, and then add a timestamp to the link as described in Method 3, Part 1.
Step 7. Confirm to share the YouTube video out.
Note: Please find how to open shared URL link with YouTube app instead of browser in Part 4.
When tap Share button, there are many options other than Copy link, such as Message, WhatsApp, Google +. Only some of apps, like Message, allow us to edit URL before sharing the link. That's why we choose Copy link to demonstrate this method. You may also try other options.
Part 3. Custom Start Time and End Time for YouTube Videos
All we talked above are about specific start time. We are going to include end time in this part as well. To share YouTube video at specific start and end time, we still need to add codes to the share link. For example, if we want the video to start at 02:09 and end at 03:59, then the link should be: https://www.youtube.com/embed/1jCOLYewTFc?start=129&end=239
Comparing with the original full link in Part 1, you should find that we replaced /watch?v= with /embed/, and added ?start=xxx&end=xxx to the end. The numbers are seconds converted from timestamp:
02:09 -> (2*60) + 9 = 129
03:59 -> (3*60) + 59 = 239
Share the link to your friends, and they will view the video within the time range.
Part 4. How to Open URL Link with YouTube App Instead of Browser
The link with timestamp also works on YouTube app, but you have to open the URL with the app directly. Normally, smartphones open link with browser by default, and now we need to make some changes to the setting. Following settings fit for Android mobile phone.
Step 1. Go to Settings > Applications> Default applications > Set as default (varies with devices).
Step 2. Scroll down to choose YouTube.
Step 3. Tap Go to supported URLs.
Step 4. Select "Via this app". On "Supported web addresses", you can see the supported web addresses.

This should work when you tap to open a YouTube URL in apps with Android System WebView. For example, in Facebook Messenger, after sending YouTube link, it generates a preview of the link, which will bring you to YouTube app.
Bottom Line
In this article, we have learnt several methods to link to a specific part of YouTube videos from app and computer, which could be very useful and efficient in daily life, work or classroom. If you find this tutorial helpful, please share it on Facebook or other social platforms. In case you have any questions, don't hesitate to leave a comment.