How to Convert Sony PMW-F55/F5 XAVC to AVI
If you have no idea what to do with the new XAVC format video recorded with your Sony PWM-F55/F5 cameras, you can convert XAVC to AVI format, which has many great advantages as follows:
High compatibility with main stream media players:
AVI files are high-quality video files that are widely compatible with a variety of devices and programs such as Windows Media Players, RealPlayer, VLC Media Player on Windows, Apple QuickTime Player, VLC Media Player, RealPlayer on Mac.
Working well on many video editing applications:
Windows Movie Maker and Windows Live Movie Maker, the freeware video editing software by Microsoft, have native support for AVI files. Other commercial video editing applications like Sony Vegas, Adobe After Effects and Adobe Premiere Pro can also import AVI file formats with no problem.
To Convert Sony XAVC to AVI, you can download Jihosoft Video Converter, which can perfectly input both 4K and 2K XAVC video from Sony PMW-F55 and Sony PMW-F5 cameras and convert them to AVI file format with various codecs such as Divx, Cinepak, Indeo, DV, MJPEG and uncompressed RGB or YUY2 to satisfy users with different needs.
Steps to convert Sony PMW-F5/F55 XAVC to AVI
1. Open XAVC to AVI Converter on your computer.
2. Import XAVC video footage from computer to the program.
3. Select to output your preferred AVI file format from "Profile" drop-down menu.
4. Hit right-bottom round "Start" button to carry out the XAVC to AVI conversion.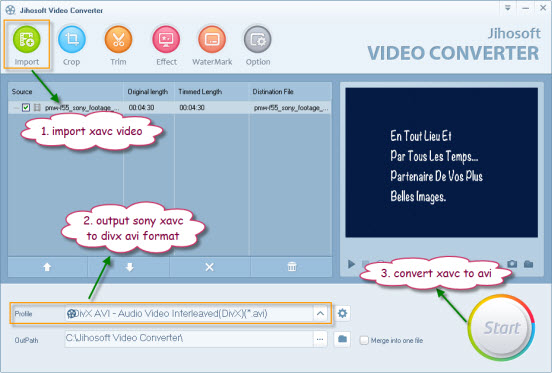 AVI file types imported by different devices and applications:
Windows Media Player: Audio Visual Interleave (.avi)
VLC Media Player: Divx, Xvid, Cinepak, MJPEG
RealPlayer: QuickTime encoded AVI files.
Adobe After Effects 4: video for Windows (AVI), implemented via QuickTime on Mac OS.
Adobe Premiere Pro CS4: Microsoft AVI (.avi)
Adobe Premiere Pro CS5/CS6: DV-AVI, Microsoft AVI type 1 and type 2