How to Get Avid Media Composer Working with XAVC Footage
Avid Media Composer is non-linear editing system. The program allows you for film editing, uncompressed standard definition (SD) video and high definition (HD) editing and finishing. After you take some XAVC footage with your Sony camcorder, do you want to import the videos into Avid for editing? Sony has released a XAVC plug-in for Avid which may help.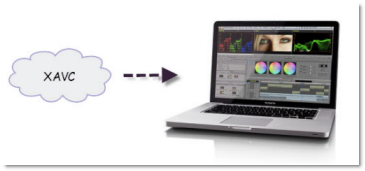 About XAVC/XDCAM Plug-in for Avid (PDZK-MA2)
This AMA plug-in provides support for XAVC and XDCAM/XDCAM EX files in Avid Media Composer, Symphony and NewsCutter products, allowing viewing and editing capability. You can import, export, play and edit XAVC HD and XDCAM (MXF) clips recorded on SxS memory cards, Professional Discs, XDCAM Station or stored on hard disks from within supported Avid NLE products.
I have installed the PDZK-MA2_v2.31_forMac driver for the footage onto my MC 6.5.0 and AMA imported it. However, when I load the XAVC footage into the source monitor it says: CORE CONSISTENCY CHECK FAILURE. Can anybody help me to solve the problem? Thanks for any help on this.
Although this plug-in can solve some people's confusion about importing XAVC to Avid MC for editing, it's not for all the cases. You may still encounter all kinds of troubles. The best way to import XAVC to Avid Media Composer is to convert the recorded videos into Avid supported codec such as DNxHD, MPEG-4 proxy, HDV, and DVCPRO.
Convert XAVC to Avid MC format on Mac & Windows
Jihosoft Video Converter (Video Converter for Mac) can help you convert Sony XAVC files to all kinds of popular video formats on PC and Mac. In simply few clicks, the conversion can be finished.
1. Import XAVC files from your Sony camcorder to the converter program
2. Select "Avid DNxHD" as the output profile and customize the output settings if necessary
3. Click "Start" to begin the conversion at once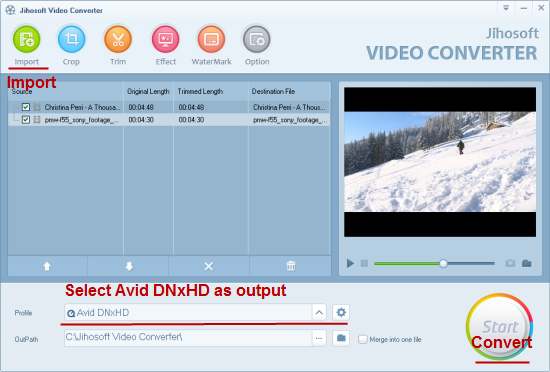 After the conversion, you can preview the converted files in the output folder. Import them to Avid MC, and you can edit XAVC in Avid with no compatibility issues.