SWF to YouTube – How to convert SWF to Upload to YouTube
YouTube is a video-sharing website uses Adobe Flash Video and HTML5 technology to display a wide variety of user-generated video content including movie clips, TV clips and music videos as well as amateur content such as video blogging, short original videos and educational videos.
Once officially registered as a member of YouTube, you can upload an unlimited number of videos. However, if you want to upload an SWF video to YouTube, you will need to convert it to a Flash video like FLV format, since YouTube does not support SWF. You can do so through some third-party SWF Conversion tools.
Jihosoft SWF to Video Converter has gained great popularity among SWF Conversion tools with its distinctive features and functions. It assists users to efficiently convert SWF to YouTube compatible formats such as MOV, MPEG-4, AVI, WMV, MPEG-PS, FLV, 3GPP, WebM with just few clicks. Once the file is converted, you can upload and share all your favorite flash games, movies or animations on YouTube with people world-around.
How to Convert SWF and Upload SWF to YouTube
Step one: Download, install and run Jihosoft SWF Converter.
To convert SWF to YouTube on Mac OS X, you can download Jihosoft SWF Converter for Mac. Here we take the Mac version as example to show you the conversion steps.
Step two: Add SWF file.
Click the "Source" icon and locate the SWF input file in the file selection window. Select the item and click the "Open" button and the SWF file will be loaded to the program.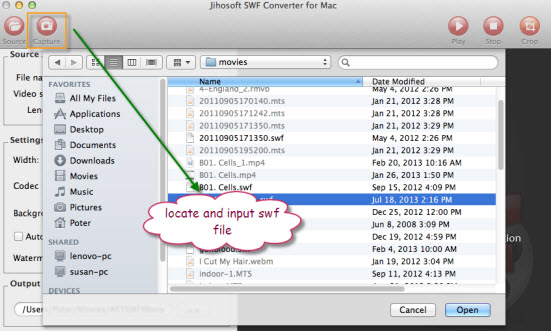 Step three: Select output file format.
Click the "Codec" drop-down menu and go to "Common Video" and select YouTube compatible file formats such as "Flash Video (*.flv)" as the output file format.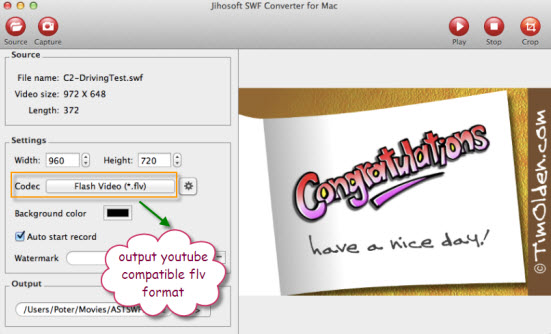 Step four: Convert SWF to YouTube.
Click the "Capture" icon to open the flash recording window. Start the flash conversion process by hitting "Start"->"Begin Record" and stop the conversion by clicking "End Record". After the conversion, log in to your YouTube account, and you will be able to upload the converted SWF to YouTube freely.