iPhone Storage Full? Here's How to Free Up Space on iPhone or iPad
Have you ever struggled with the problem of running out of space on your iPhone or iPad when trying to take new photos, download music, install apps, or upgrade to iOS 9? If you do, here is your right place. In this article, we'll share tips on how to free up space on iPhone/iPad.
Check Your iPhone/iPad Storage Usage
Before get into that, you need to find out exactly how much space capacity you have, and to see which apps are using the most. On your iPhone or iPad, go to Settings and navigate to General > Usage > Manage Storage. The device will display a list of apps and how much storage space each is using.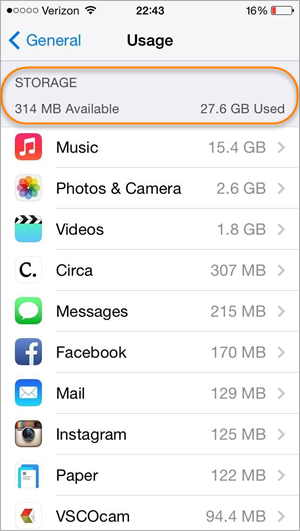 So now you know what is taking up the most space, but what can you do about it? Follow our tips below:
1.Move Photos to Computer or Cloud
For most iPhone users, photos constitute one of the biggest chunks of storage data. You can upload all your photos to your computer or back them up to a cloud service like iCloud, Google Photos, Dropbox, or Flicker. Once that is done, you can delete all the unnecessary photos to clear up space on iPhone or iPad.
2.Turn Off Photo Stream
If you have Photo Stream turned on, you will see photos you have taken on your iPhone and those you have uploaded to computer from your camera. You can turn off Photo Stream to save space on iPhone. Go to Settings > Photos & Camera and deselect My Photo Stream. This will delete your Photo Stream from your iPhone.
3.Don't Save Non-HDR Images
If you use your iPhone's HDR mode, your phone will automatically save two images: the HDR image and a regular one. To stop double-saving HDR photos, open the Settings app and go to Photos & Camera. Scroll down to the bottom and deselect Keep Normal Photo.
4.Delete the Videos You've Watched
You can free up space on iPhone/iPad by deleting unwanted videos. Go ahead to the Videos app, you will see all of your TV series and movies from iTunes. To remove a movie or entire series, just slide it to the left and hit Delete. If you want to delete multiple videos at once, tap the Edit button on the top.
5.Delete the Songs You Don't Listen To
You can delete unwanted songs to get more free space on your iPhone or iPad. To selectively delete songs, open the Music app and go to any song list view. Swipe from right to left on any song and tap Delete. To delete your entire music collection from iPhone, go to Settings > General > Usage > Manage Storage > Music, tap on the Edit then the red minus icon next to All songs, finally tap on Delete.
6.Set Messages to Auto-Delete
By default, your iPhone stores all of the text messages you send and received forever. To stop your phone from saving texts forever, open up the Settings app and tap Messages. Scroll down until you find Message History and tap Keep Messages. Change Forever to 30 Days or 1 year. A pop-up will ask you if you want to delete older messages. Just tap Delete to proceed.
7.Delete Unwanted Apps & Completed Games
If you have any apps you don't use or games you don't play anymore, simply delete them to free up storage on iPhone. Press on the app icon you need to delete and wait for it to start jiggling. Tap the X button that appears in the upper left corner. Then tap the Delete button to confirm the deletion.
8.Clear Safari Cache, Offline Reading List
Safari's cache and the offline reading list might end up occupying much more space than you expect. To clear Safari's browser cache, open up the Settings app and tap Safari, then scroll down and click Clear History and Website Data. To clear Safari's offline reading list, open up the Settings app and go to General > Usage > Manage Storage > Safari, click on the Offline Reading list and tap Delete.
9.Transfer iPhone Data to Other Device
Another workaround is using Phone Transfer to move photos, videos, music, messages, contacts and more from iPhone/iPad to another device, if you have one. Once the transfer is done, you can free up storage space on your iPhone or iPad without worry about mistaken deletion.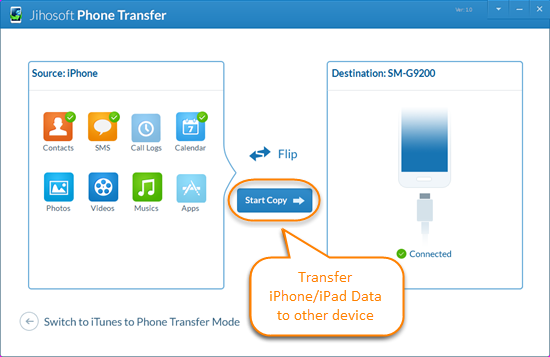 10.Remove Junk Files with PhoneClean
To free up space on iPhone/iPad and get more available storage, you can make use of another third-party tool, PhoneClean. It is designed to remove all kinds of junk files like app caches, cookies, temp files, crash logs, download temp files, and photo caches, etc. from iPhone or iPad.