3 Easy Ways to Recover Your Forgotten Apple ID and Password
It's a really tough thing when you lose access to your Apple ID, especially given how much importance the data it holds.
All in all, on the off chance that you happens to forgot your Apple ID or the related password and hence you lose access to your precious data like photos and notes, what is advisable for you to do? In the first place, don't panic. Apple gives numerous approaches to recover a lost or forgotten Apple ID and Password; and you can begin the recovery procedure either on an iPhone, iPad, or Mac, Windows PC with an internet browser.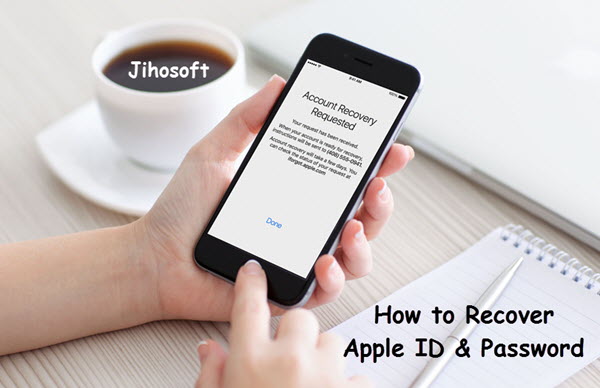 Bonus Tip: Messages and contacts are very important for us. If you ever lost any of them accidentally, Jihosoft iPhone Data Recovery will be the best solution for you to recover them back even without backup.
Part 1: Retrieve Your Apple ID with Email Id or Security Questions
The most simple and easiest way to recover an Apple ID is by using the registered email or security questions. If you do remember the email attached to your lost Apple ID, you can just follow the below steps to recover the forgotten password.
From any device go to the webpage of iforgot Apple id (iforgot.apple.com).
Enter your Apple Account ID, usually the email address registered as your Apple or iCloud account.
Choose "I have to Reset my Password" and click the "continue" option.
Select "Get an Email." Apple will send guidelines to the email address you give.

Open the email you get from Apple, and follow the guideline offered to reset a new password for your Apple ID. You can likewise choose to answer the "Security Questions" when you initially set up for your Apple ID, since both ways just are used to prove your ownership over the account. As for setting a new password of your Apple ID, just remember that besides the required length, Apple doesn't allow you to use the same password as ever before. (If you have too many passwords to remember, you'd better get yourself a good password manager to avoid annoying repeat of the above steps.
Part 2: Reset Apple ID's Password with Two-Factor Authentication
Two-factor authentication is an additional layer of security for your Apple ID to protect your ownership and guarantee your only access to your data no matter whether somebody knows your password. Once you enabled this feature, your Apple account can only be accessed on your trusted Apple device by your phone number and a 6-number digital verificiation code. This feature is quite helpful when someone is trying to steal your account with your password, as well as your attempt to recover the forgotten account without password.
A. How to Enable Two-factor Authentication on Your iPhone
For iPhone running iOS 10.3 or later: Go to Settings > [your name] > Password & Security > Tap 'Turn On Two-Factor Authentication' > Continue. (iOS 10.2 & prior: Settings > iCloud > Apple ID > Power & Security)
Enter and check your trusted phone number; choose text message or phone call for verifying.
Tap Next, and verify your phone number with the verification code send by Apple.
Two-factor authentication will be successfully turned on for your Apple ID.

B. Use Two-factor Authentication to Reset Apple ID' Password
Go to iforgot.apple.com and fill in you Apple ID, then click "Continue."
Enter your verified phone number and click on "Proceed".
Choose "Use Trusted Phone Number" and click on "Continue" to start the account recovery.

Part 3: How to Find Back A Forgotten Apple ID
There is also possibility that you totally forget your Apple ID, and you find no trace of what it should be. On this occasion, you can follow the below steps to get back your Apple ID.
Navigate to iforgot.apple.com and tap on "Forgot Apple ID".
Fill in your first name, last name, and the Email address as you originally set up for your Apple ID. Apple will utilize the data given to discover your Apple ID. When the ID has been discovered, click "Go to Your Account" to continue.

Final Thoughts:
Above all are the good ways to recover your Apple ID or its password; if none can help you, then Apple Support may be the last place to ask for support. If you have any question or suggestion, welcome to comment your idea down.