How to Permanently Delete Photos on Android Phone without Recovery
Recently, taking photos is the most common way that people often use to treasure their invaluable recollections. However, is there any photos you weary of and want to permanently delete? Or before selling your old android phone, you decide to erase all the data in your device, including the photos. An increasing number of people pay much attention to their personal info now, which is usually stored in their phones. All of us don't want our privacy falling into the wrong hands. Therefore, we need to delete photos or any private files permanently without recovery.
As known to most of us, there are lots of powerful Android data recovery software in the software market. They can easily recover the data we deleted with only a few clicks. The deleted photos actually are still stored in your Android phone with some specific formats until they are overwritten by the new data. So, is there any way to delete android pictures permanently? Of course! The following content will explain how to delete photos on Android phone permanently.
Part 1: Permanently Delete Photos from Android by Mobile Privacy Eraser
Jihosoft Mobile Privacy Eraser is strongly recommended. It only needs a few steps to complete its process. It is the best privacy eraser to help you permanently delete photos on Android phone. Besides, this software specializes in not only deleting photos, but also contacts, call logs, messages, videos and so forth.
Step 1. Install and run Jihosoft Mobile Privacy Eraser on your PC.
Step 2. Connect your Android device to computer via USB cable and enable the USB debugging.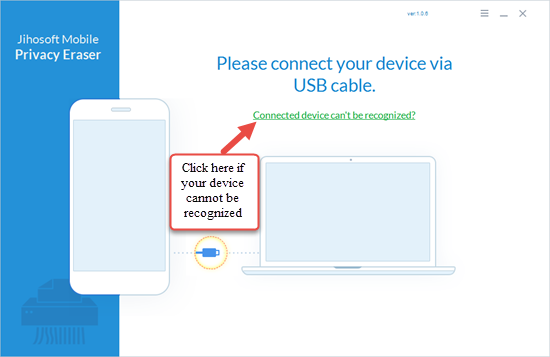 Step 3. Choose the erase type depending on your need. You can delete existing photos, and deleted photos as well, which means there is no chance to recover them.
Step 4. Mark the Photos and select the erasing algorithms you want to use.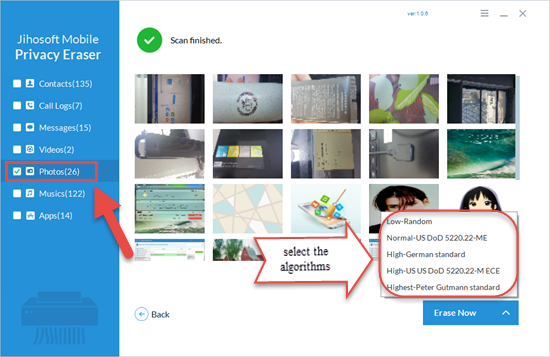 Note: The higher the level, the less chance you can find your photos back after deleting them.
Step 5. Type "Erase" in the blank to confirm the process of the deletion.
Simple and easy, huh? Your photos will be permanently deleted on Android phone while it finished. They cannot be restored anymore even though other people use some professional data recovery software. In addition, it's compatible perfectly with all Android devices and Android OS, which is effective and professional Android data eraser that you can take advantage of.
Part 2: Permanently Delete Photos from Android by Factory Reset
If you want to delete not only the pictures but also all the data on your Android phone, then the built-in Factory Reset will be a good help. Before doing the factory reset, you should encrypt your phone, which will decrease the opportunity of recovery.
Step 1. Go to the Settings app.
Step 2. Tap on security.
Step 3. At the bottom of the screen, you will see the option of Encrypt device. Tap on it and start encrypting your data.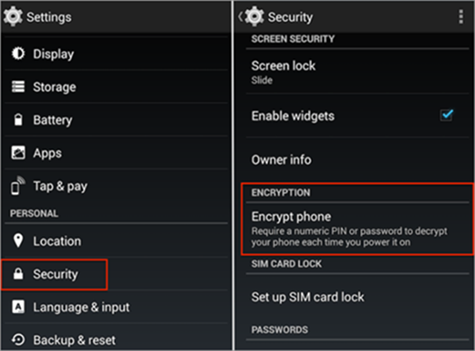 After encrypting, the next step is to do the factory reset.
Step 1. Go to the Settings app.
Step 2. Find and tap the Backup and reset.
Step 3. Scroll down and you will see the Factory data reset, tap it and it will erase all of the data on your device. If needed, enter your PIN.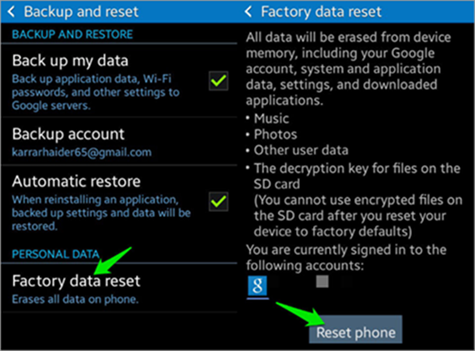 After it finished, the operating system will restart and perform in a clean state. And your photos are deleted permanently from the Android phone. If you still suspect, you can download the fake data as much as you can to fill the storage of the phone after factory reset. And then, repeat the steps above. As you like it, you can repeat these steps constantly until you feel safe of your phone. The new data will cover the older one, which is harder to get your real data.