How to Permanently Delete Photos and Videos from Samsung Mobile Phone
Why Do We Need To Erase Samsung Photos And Videos That Have Been Deleted Already?
Many people may get frustrated: "Why should I take care of the personal photos and videos, which have been deleted already?" or "What can they do with something that doesn't exist?" I will tell you that if you don't erase your phone data carefully, even the deleted data can be recovered, and worse still your private photos or videos can be retrieved by some recovery tools.
Because the deleted data will still exist on your device's storage, until it be overwritten by new data. So if you sell or throw your phone right after just simply delete or hard reset your phone without doing anything to overwrite the old data, then your deleted private photos and videos might face the dangers of being recovered by someone else. How do you feel about it? Horrible isn't it?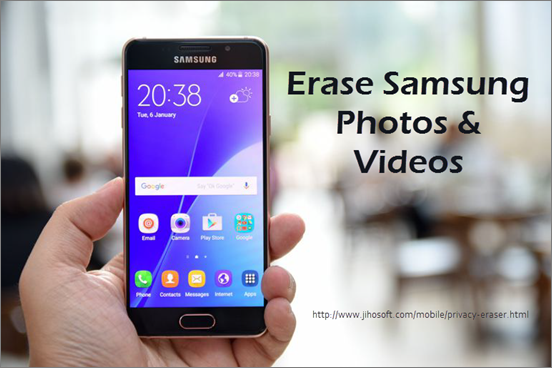 Protect The Deleted Photos/Videos On Samsung Device From Being Retrieving
The newly released Samsung Galaxy S8 definitely is the most popular phone in 2017. I believe many readers might want to change your old phone for this one. But you should note that when you sell or throw your phone right away after you delete all data or even perform a hard reset, the deleted data sill have great chance to be recovered. But don't worry, the following article will show how to erase your photos and videos on Samsung Galaxy phones and prevent them from being retrieving.
We all know the common way to overwrite the deleted data is to fill the phone storage with useless data. Honestly, it could be a very annoying and time-consuming job. So why don't you remove the deleted photos from Samsung completely by using a Samsung photo eraser tool?
Permanently Erase Photos And Videos On Samsung By Jihosoft Mobile Privacy Eraser
Jihosoft Mobile Privacy Eraser is a professional phone data cleaning software, which can help you delete the data on your Samsung Galaxy S8, S8+, S7, S7 Edge, S6, S6 Edge, S5, S4, Note 7, etc within a few simple operations. Because of its powerful data erasing algorithms, the software prevents the erased data being recovered by any recovery tool, so as to highly protect your privacy from leaking.
This Samsung Photo/Video Eraser has a very user-friendly interface, even if you are a computer newbie you still can use this software well. Next, I'll give you a very simple introduction:
Download and install this software on your computer.
Connect your phone to PC.
Select an erasing plan.

Choose photos and videos to erase.

Decide which erasing algorithm you want to use.

Confirm erasing your data by enter "Erase" (since you can't find the data back after erasing, so please think twice before you start):

Tips: You can watch the video to learn how to use the software more intuitively here: