Windows 7 File Recovery, How to Recover Deleted Files from Windows 7
In Windows 7, the operation of deleting files or folders is implemented in two particular ways: you can simply drag the selected files or folders to the recycle bin or right-click the Explorer window, choose the "Delete" command in the content drop-down menu and then confirm the deletion in a opened dialog. The two deleting options mentioned above do not remove objects from your hard drive, but instead move them to Windows Recycle Bin. A computer user can restore those files or folders to their original location at any time.
However, you can also perform permanent deletion of files or folders in Windows 7 by emptying the files from the recycle bin or using a "Shift+Delete" direct deletion command to directly remove the objects from your hard drive. Those files that are completely deleted from Windows 7 can only be restored with specialized data recovery software.
Jihosoft File Recovery, a advanced data recovery software specially designed to recover deleted files from Windows 7. It utilizes a normal scan mode to perform the simplest task of discovering directly deleted files (Shift+Delete) or files emptied from the recycle bin. The super fast scan speed helps find files deleted from Windows 7 hard disk drive in just few minutes. When the scan is completed, you can quickly and accurately locate the files that you want to recover with the beneficial file type search and file preview tools.
How to Recover Deleted Files on Windows 7 Step by Step
Note: Do not save any new files onto the hard disk drive where your files were deleted from, as it may result in overwriting of lost data and make the Windows 7 deleted file recovery become impossible.
Step one: Launch Jihosoft File Recovery on Windows 7 computer.
This Windows 7 file recovery software can help you recover deleted files including photos, music, video, documents, emails, etc from Windows 7 computer.
Step two: Choose scan partition and mode.
Select the partition you are going to recover deleted files and folders on Windows 7 in the left panel. Select the "Normal" or "Deep" scan mode, and then hit "Scan" in right-bottom to start scanning process.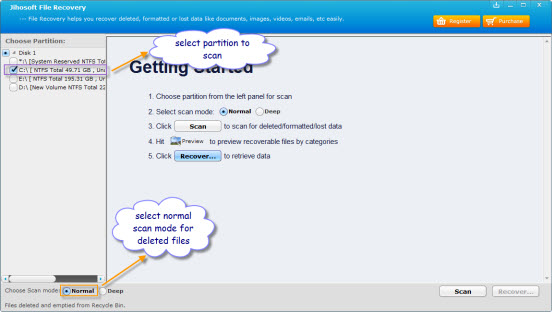 Step three: Search and preview scan results.
When the scan is over, all the recoverable files will be displayed in the left panel by folders, and the files deleted from the recycle bin are stored in a different Recycle Bin folder. You can use the file type search and file content preview tool to locate the files you want to recover.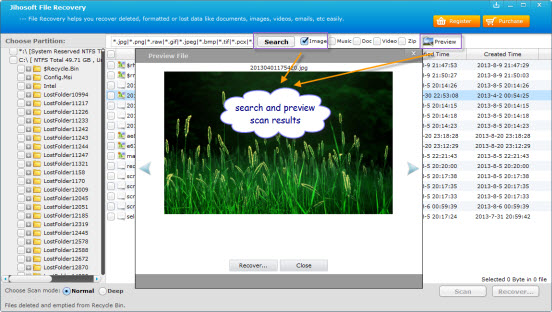 Step four: Recover Windows 7 Deleted Files.
Select and check the files you want to recover, click "Recover" to save them to your Windows 7 computer.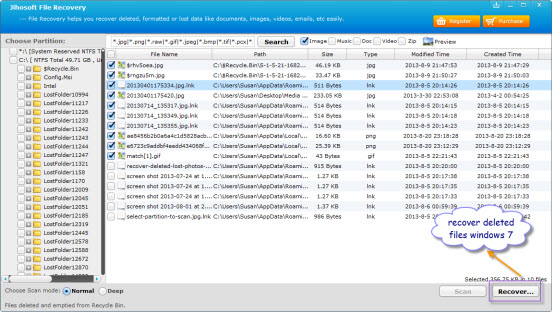 Video Guide about how to recover deleted files from Windows 7
Related Articles