8 Best To-do List Apps on Mac to Easily Manage Your Tasks in 2019
The present life is full of hustle and bustle making people difficult to remember all their plans, parties, meetings and daily notes. It is often seen that people forget their house related stuff being busy with their office work and vice-versa. For better managing stuff and set reminders for each to-do thing, here we select the best 8 Task Management Applications for you, so that you can do things faster, better and easier on your Mac. With the help of these applications, you can manage your tasks in MAC and complete them on time one by one.
To save more time or to keep all documents safe resulting in simpler life, below you can check the list of best task management apps for macOS in 2019.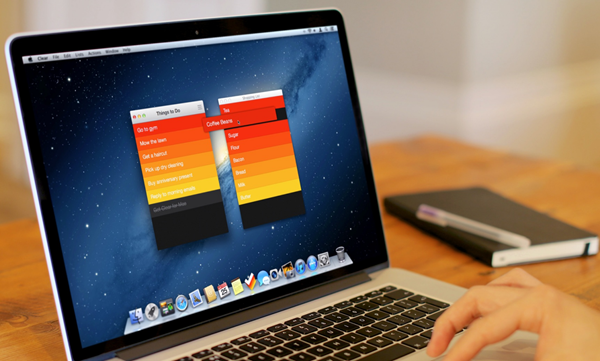 Tips: if you lost any significant Reminders or Notes from your iPhone, you can always use Jihosoft iPhone Data Recovery to get back deleted data from iOS device even without any backup.
1. Wunderlist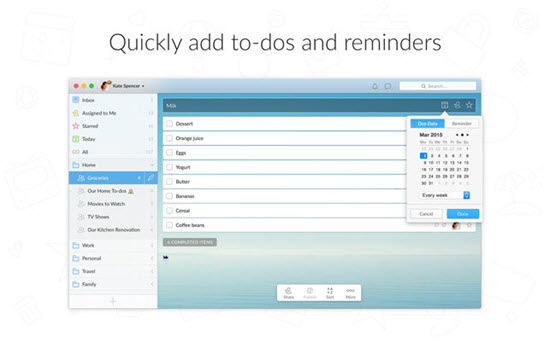 This is the best task managing application for your Mac with rich features. This app easily lets you add, organize and schedule your to-dos. You can also create to-do lists and share them among phone, tablet or computer. You can also attach photos, videos, with your list to make them look interesting, or even share with your friends too. It also supports several languages such as English, Spanish, Italian, French, German, Japanese and more.
Price: Free
Download: Wunderlist
2. Microsoft OneNote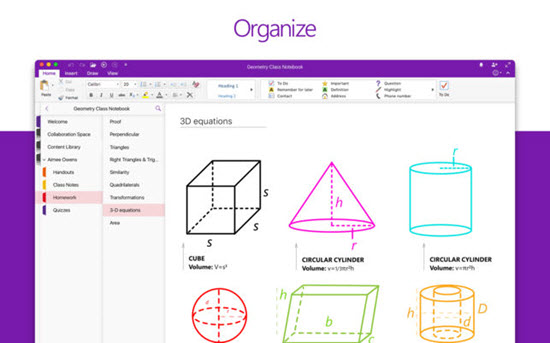 As per the functionality concerned, "Microsoft OneNote "is best in the business application for creating and managing tasks, to-dos, and notes, offering the best features to its users.
It gives you a feature to add pictures,PowerPoint documents, links, and web articles to your notes.
You can tag your tasks to access them easily and also track all the things which matter a lot. It also sync your files with OneDrive, OneDrive for Business, and SharePoint so that you can access from everywhere.
Price: Free
Download: OneNote
3. Things 3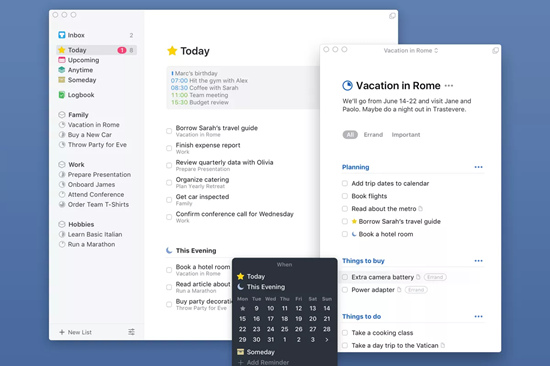 With the help of this to-do list application on Mac, one can create a project for their goals and also add the following steps accordingly.
This application provides you the function of creating to-do reminders for things. And it also supports Touch Bar, Today Widget, Calendars, Siri & Reminders, Share Extension, Handoff, AppleScript, and so on, which you can use to completely control your tasks. You can also create a group for your projects by areas of responsibility like "Family", "Work", or "Health".
This application supports different languages like English, French, German, Italian, Japanese, Russian, Chinese, Spanish and so forth.
Price: $49.99
Download: Things
4. GoodTask 3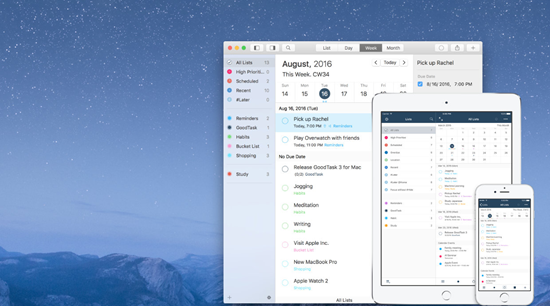 GoodTask 3 is a fully featured to-do list app and it is used to manage the projects for Mac. This app has an inbuilt Calendar where you can manage your work with ease. The users can easily edit and delete tasks, change the due dates and add the tags to easily access each and every task. This app also has the inbuilt feature of the dark theme for you to use it easily at night time. You can also track your every task very conveniently.
Price: $19.99
Download: GoodTask 3
5. OmniFocus 2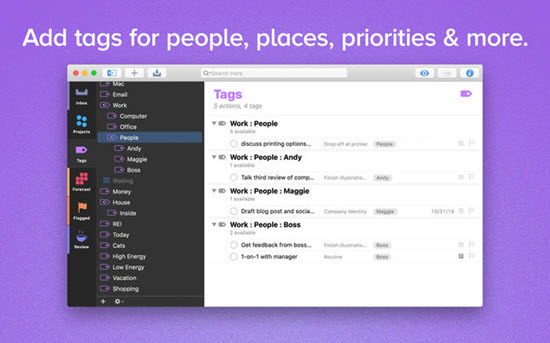 OmniFocus 2 provides you with the adequate flexibility so you can easily compete with impending tasks. By using this application you can do more work in less time, you can keep all of your to-dos in one list and use multiple folders to keep everything in the right order. Its user-interface is clean and clear. You can also check the due items by using forecast perspective. This app supports several languages such as English, French, German, Spanish, Italian, Japanese and etc.
Price: $39.99
Download: OmniFocus 2
6. Todoist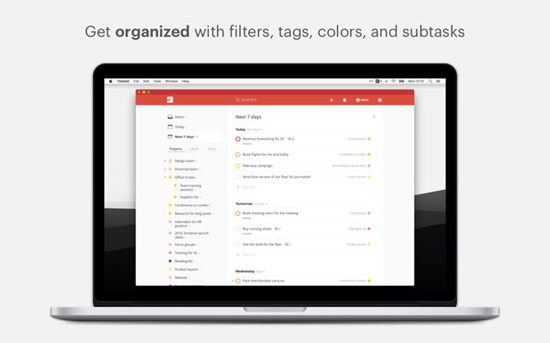 With the help of this app, you can easily manage your task, sub-tasks, projects and sub-projects on Mac. To-do list offers a neat user interface primed for task management. You can easily manage your tasks for a day or week. Users can also keep an eye to the deadlines with the due dates and the recurring dates. In this application, you can perform multiple tasks.
Price: Free
Download: Todoist
7. Clear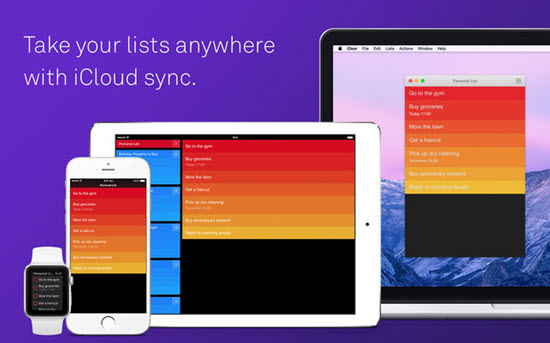 Clear is a quite simple application for your Mac. Using it, users can make their own separate lists to keep everything safe and well-organized. To customize your list you can also take advantage of various different themes and tools. You can set the reminders to carry out the necessary and to-do important things at a time. You can sync your data across macOS and iOS devices with the help of iCloud integration.
Price: You can get this app for only $9.99.
Download: Clear
8. Any.do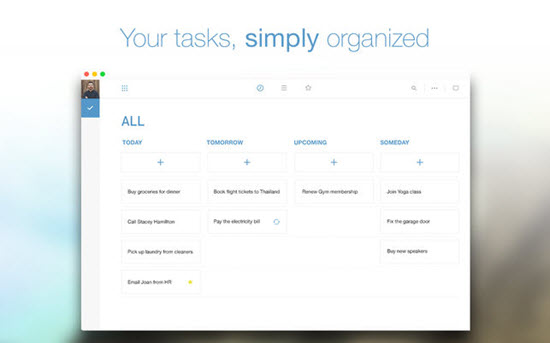 The task management application is free on Mac. You can upgrades it to the premium version for more features, where you get unlimited access to all the important features like themes, files, and collaboration only for $2.99 a month or $26.99 a year.
You can print, export and share your lists with friends, as well as sync your files with cloud services to keep them safe.
The application gives a clean and fast interface to its users.
Price: Free
Download: Any.do
These are the best apps for managing tasks on your Mac. These all applications support Mac and are specially designed for business purposes. All these applications have a clean, clear and smart user interface. You can then use any of them without getting disturbed. By using these applications you can set reminders, goals, and much more to improve your efficiency and also track your business from any place. Please comment down your favorite one from above or questions related in comment section.