Top 7 Sites to Send Anonymous Text Messages from Computer
Are you planning to prank along with your friend? Then you'll be able to try some websites which may offer you a chance to send an anonymous text message to your friends. Sending prank text to friends seems pleasing at times, because you remains anonymous to them which also adds fun to it. These messaging sites supply you with free services and even they do not have any demand for registration. These websites additionally hide your IP and location. With these services, you'll be able to send SMS right from your laptop or PC and even you do not need your mobile phone.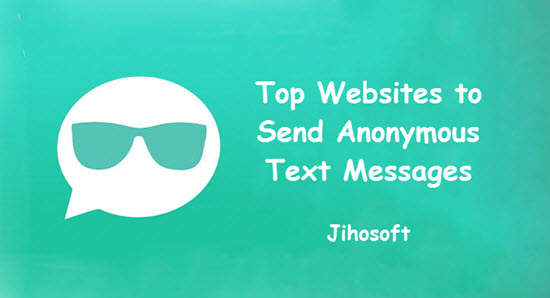 Tips: If you accidently deleted any important text from your iPhone, you can always use Jihosoft iPhone Data Recovery to get them back easily even without backup.
How to Send an Anonymous Text?
Sending anonymous text messages to anyone may be a terribly easy practice. However, before you proceed with a specific website, you ought to fastidiously browse their terms of service and rules to avoid any discrepancy.
To send an anonymous text message, you need to choose the website service according to your need and type your message. Opt for your most well-liked location (if choices are provided) and enter the quantity of people whom you wish to text. Then pass the CAPTCHA provided and send the message. It'll be delivered in short intervals from your computer anonymously.
Remember that the anonymous text message communication sites are used for fun purpose only, and any bootleg actions like threats or abuses should be avoided. If you send an associate ineligible message, your IP address will still be tracked. Here are top 7 sites to send anonymous text messages with your friends.
7 Best Sites to Send Anonymous Text Messages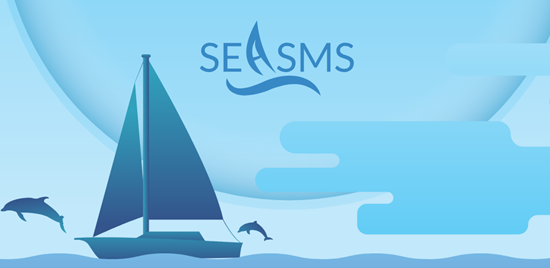 It is one of the most famous free websites for its kind of services. With this site, you can send SMS and MMS both. You can send anonymous text, picture, video, document over 250 countries. Even they are ready to give bulk SMS service with starting of $20.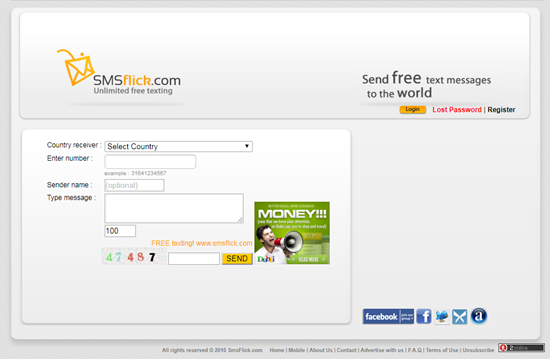 SMSflick is a very simple text messaging platform. It keeps your ID hidden so that you can not be tracked by the receiver. You can send a message anonymously to anyone in the world. You can even create a premium or super account to send a message to many people at the same time with its bulk messaging service.
SMS advertising to unknown customers can also be done via SMSflick globally. So, for a particular product of your business to reach your target audience, SMSflick is the most welcome website.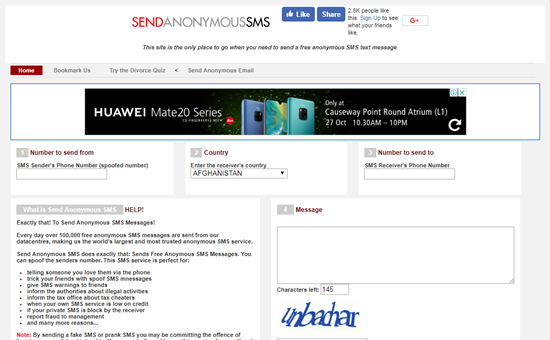 Like others, SendAnonymousSMS is also one of the best sites on the internet to send an anonymous text message. This site is highly trusted by users. It gives service globally even you can choose your fake location here. In each day over 100,000 SMS are sent worldwide which proves its most popularity for anonymous SMS service.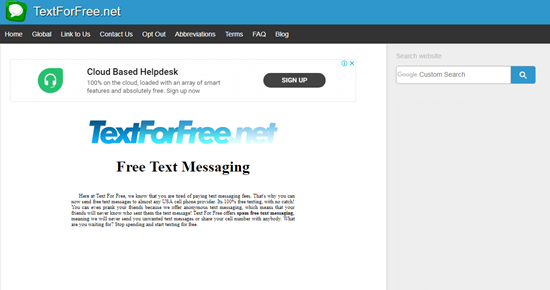 TextForFree is one of the famous "anonymous texting" sites that offers free messaging to any cell phone provider in the USA. Much like others, things are pretty straightforward here.
At first you need to enter the number of the person whom you want to send the message and then write a subject of the message. After typing the whole message, tap the send button and it will gets delivered.
The site is absolutely free and supports up to 140 characters per SMS in plain text.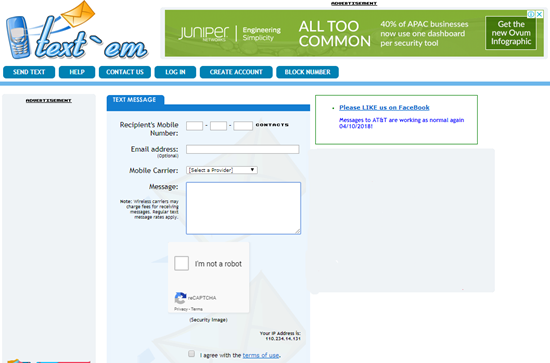 Textem is another anonymous text messaging service that enables you to select your most liked carrier from the US for messaging anyone. The site enables you to block their number just in case you receive any offensive text. Textem may be a free website from wherever you can send unlimited messages with a limitless variety of characters.
Another anonymous text sending website TxtDrop supports free text message communication to anyone. It supports texting for those users who stay within the America and North American nations.
TxtDrop instantly delivers your messages to the recipient. Only you need to enter your email address, the recipient's mobile number, and your message to send it.
The major advantage of TxtDrop is that it even can be integrated with your own website to allow users to send SMS directly from their web pages as well.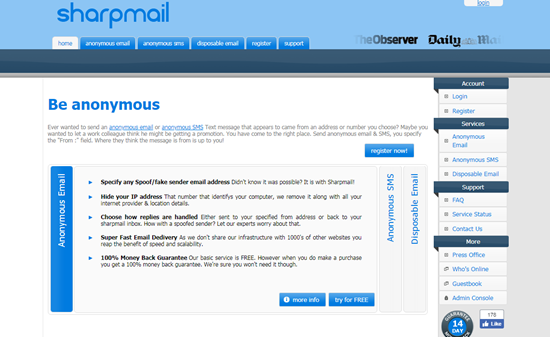 Sharpmail supports world SMS coverage and sends spoof text message. It is very easy to use, users are allowed to create an address book from which they can send anonymous messages.
Sharpmail even allows you to store a history of your messages. The messages sent by you get instantly delivered. After that, you even get a delivery report indicating the recipient had indeed received the message.
You'll be able to send SMS to any kind of international numbers. The delivery reports get periodically updated.
Conclusion
Here we've got the best sites among all the numerous websites that permit you to send free text message anonymously. Now, the major advantage of these sites is that they support texting message anonymously worldwide. This helps you to prank anyone in any corner of the world. All these sites mentioned above is for having fun, and we do not encourage the usage of them for any illegal purposes.
Play with these websites and tell us which one you liked the most. Do not forget to share your funny prank moments with us.
Have fun!