Tutorial on How to Merge Subtitles (SRT) with Video (MP4)
Subtitles are one of the necessary conditions for us to watch videos or movies, because they can help us better understand the content of videos, especially when we cannot understand the original language of the video sounds or can only watch videos in silent mode. However, when we download videos from youtube, the videos and subtitle files are usually separated, so we need to manually merge subtitles with videos. If you don't know how to do it, here's a detailed tutorial to share with you.
The Best Tool to Use – Jihosoft 4K Video Downloader
First of all, you need to download video and subtitle files from YouTube or other websites. Here, we recommend you to use Jihosoft 4K Video Downloader, this is a versatile YouTube video downloader that integrates download, conversion, merge, and many other functions in One. Using it, you can not only download YouTube videos and full-length movies, but also download their subtitles together and save them as SRT and VTT files. In addition, it has a built-in conversion function that allows you to merge subtitles (.srt) with video (.mp4) in the form of "Burn-in" or "Softcode", which is very convenient. The following are the simple steps to use it:
Step 1. Download and install the 4K Video Downloader on your PC or Mac, then copy-paste the video URL into the program and select "Download subtitles" in the pop-up window after the link is parsed. Next, tap the "Download" button and wait for the download process is completed.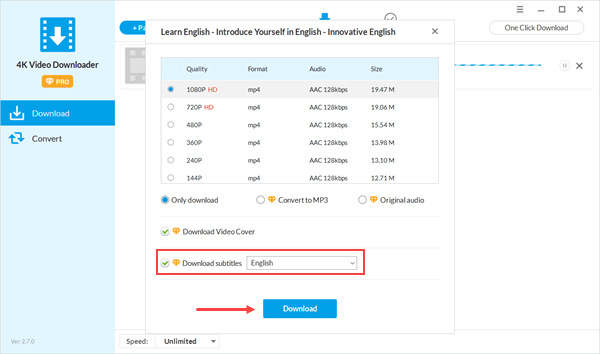 Step 2. Click the conversion icon next to the video on the "Finished" page, and you will be taken to the conversion interface. To merge subtitles with video, you only need to click the "Add Subtitle" button below the video to add the SRT file corresponding to the video, then select " Burn-in "or " Softcode ", and finally click on the "Convert" button to wait for completion.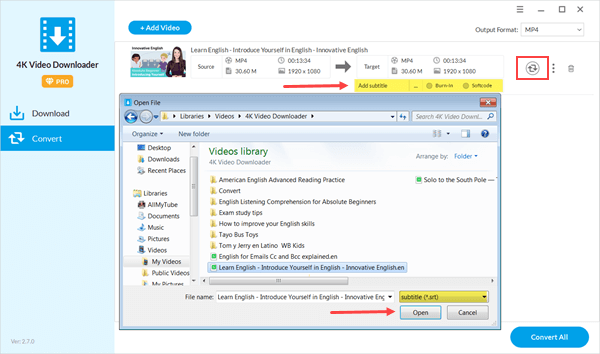 Note: If you choose the "Burn-in" format, the video and subtitles will be merged into a whole, which is permanent and indivisible. If you choose the "Softcode" format, the subtitles will only be displayed if you turn on "Sub Track" when playing videos via the player.
Step 3. Open the folder and find the .mp4 file then double-click to play it. At this point, you will see the subtitles have been merged into the video. If you selected the "Softcode" mode before, you only need to pause the playback first, then right-click the video, select "Subtitle", and enable "Sub Track", then the subtitles will be displayed.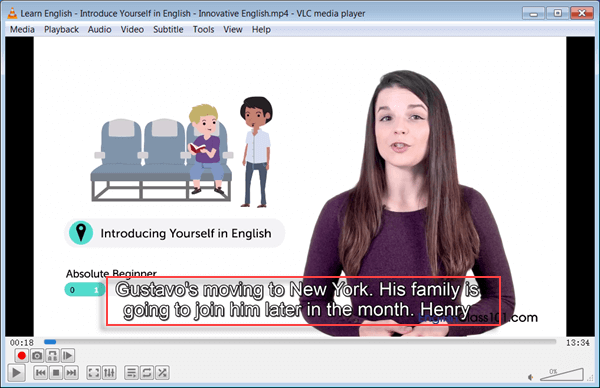 More Features of Jihosoft 4K Video Downloader
Actually, in addition to what we've mentioned, the 4K Video Downloader also has many other powerful features. If you are interested, here is the extended introduction:
Supports 100+ video sharing sites: you can not only download videos from YouTube but also save anything you want from Facebook, Twitter, Instagram, Vimeo, Dailymotion, etc.
Features with the most advanced download algorithm: you can save 1080P, 4K & 8K UHD, 360°, VR 180, 3D, and 60FPS videos in original quality.
Allows to convert YouTube videos to MP3 and download original audio: you can easily download your favorite music from YouTube to listen offline anytime, anywhere.
No restrictions on the length and size of the video: you can download full-length movies without any obstacles and watch them smoothly.
Able to download Twitch clips and highlights: you can easily share the wonderful moments when you play the game to your social media platform.
The above are the three simple steps for merging subtitles with video and the introduction of the main tool used. Have you learned? If you find this tutorial useful, please share it with your friends and family. For more video-related tips and tricks, please follow Jihosoft's blog, we'll regularly share articles to help you solve all kind of issues encountered in your daily life.