3 Most Popular YouTube Audio Downloaders in 2022
YouTube has rich music resources. Many famous artists and musicians such as Taylor Swift, Katy Perry, Justin Bieber, Marshmello, Ed Sheeran, Lady Gaga, BLACKPINK, etc. have created their own channels here and released a large number of albums and singles. Unfortunately, we can only listen to them online in the form of watching videos, which is very inconvenient and consumes a lot of data. For this reason, more and more people want to download YouTube video to audio for offline listening anytime, anywhere.
There are many software and online websites designed specifically for this on the market. To save your time, we have carefully selected three of the best YouTube video to audio downloaders and converters for you to choose from. Continue reading to see the details, and then choose the appropriate one to try.
1.Jihosoft 4K Video Downloader
The first YouTube audio downloader we are going to introduce is 4K Video Downloader developed by the famous software company Jihosoft. The program has advanced technology and powerful algorithm, which can quickly download videos, playlists, channels, subtitles and thumbnails from youtube and other websites such as Vimeo, Dailymotion, Naver TV, Twitch, BiliBili, Facebook, Instagram, etc. In addition to being a video downloader, it can be an excellent converter that allows you to easily convert YouTube video to MP3 or download original YouTube audio and save it in M4A format. The following is a full guide on how to use it:
Step 1. First, click the download button below to download the 4K Video Downloader, and then install it on your computer according to the prompts given. This software has been tested by authoritative tools such as McAfee and Norton, so it is very safe and without any virus. After installation, run it. Then click the buy now button in the prompt box to get the registration code to activate the software.
Step 2. Visit the YouTube website in your Chrome browser, search for the video from which you want to extract audio, and then right-click the cover of the video to copy its link address. Next, click the "+Paste URL(s)" button on the main interface of the program and wait for the link to be resolved.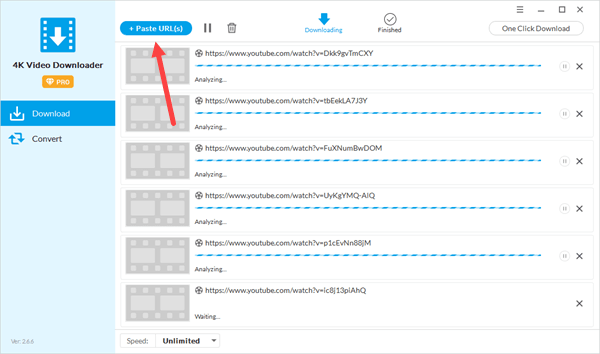 Step 3. After the link resolution is successful, a new window will pop up on the software interface, where you can choose to download the video directly, convert it to MP3, download the original audio, etc. At this time, please select "Convert to MP3" or "Download original audio", and then click "Download".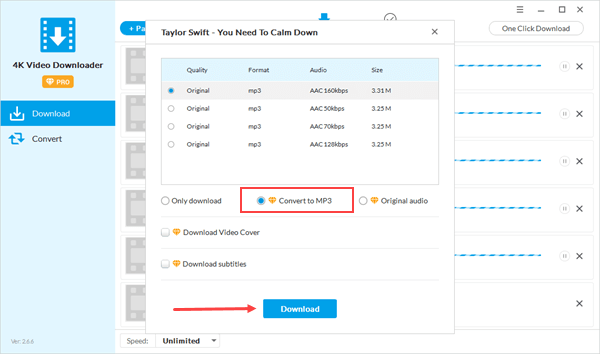 Step 4. Finally, the software will automatically download or convert the YouTube video to MP3 or M4A format according to your choice and save it to the "Finished" interface, which can be directly listened to or transferred to other platforms.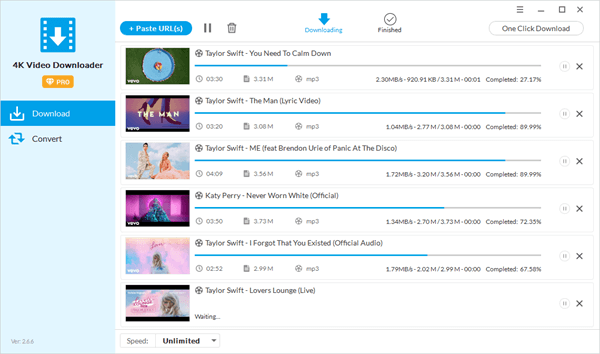 Tips: Jihosoft 4K Video Downloader also supports batch downloading and converting YouTube videos or playlist to audio. To improve efficiency, it is equipped with a one-click download mode. As long as you enable it in advance, and select "MP3" in the format drop-down list, then click the "OK" button, all videos will be automatically downloaded as audio, without letting you repeatedly set preferences after pasting multiple URLs.
2.YtMp3
YtMP3 is an excellent online YouTube audio downloader which can be regarded as a great choice for those who want to download YouTube videos to audio. It can easily convert YouTube videos to MP3 (audio) or MP4 (video )file. The biggest advantage is that it is completely free, does not require any software or registration, and is suitable for computers, tablets and mobile devices. The downside is that YtMP3 can only convert up to one hour of video, and only supports one video to audio conversion at a time, which is very inconvenient. If you don't mind it, here is a detailed introduction on how to use it:
Step 1. Open any browser on your mobile phone or computer to access YtMP3's official website.
Step 2. Go to YouTube, find and copy the link address of the video containing the audio you want.
Step 3. Paste the link into the blank box provided on the YtMP3 website, then select the MP3 format and click Convert.
Step 4. Wait for the conversion to complete, click the download button provided to save the audio to your device.

3.Y2Mate
Y2Mate is a popular online YouTube video downloader which is mainly used to help users download videos from YouTube and other websites and save them in MP4, M4V, WMV, FLV, WEBM or other formats. Aside from this, it also has a conversion function that can quickly convert YouTube videos to MP3 or directly download them to audio. The best part of this tool is that you can use it for free and without registration. However, due to frequent updates of the YouTube algorithm, it becomes unstable.
To use Y2mate, you can insert "pp" directly after the word "youtube" in the link after opening the video, or copy the video link in the address bar, then paste it into the blank box of the website and click to start parsing. After that, you only need to select your desired format from the list and then tap the "Download" button to save the audio to your device.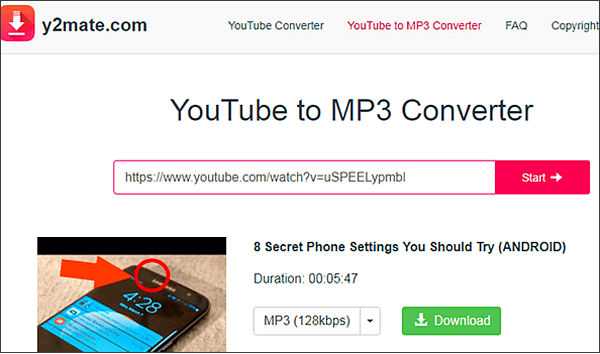 The above are the three most recommended YouTube audio downloaders for 2020. They have all been professionally tested and tested, so you can use them with confidence. If you like our article, please share it to your social platform. For more useful tutorials, please visit our Video Downloader Blog, we will update it regularly.