How to Download 60FPS YouTube Videos
On October 30, 2014, YouTube announced support for video playback at 60 frames per second, making videos look smoother and more detailed than 30 and 48 frames. Currently, 60 fps is widely used in gaming and sports videos because it provides high-detailed images and incredibly smooth motion, giving users a completely different viewing experience. However, watching videos online at 60fps is often unsatisfactory due to network instability and advertising nuisance. So in most cases, you may want to enjoy them offline. Since most YouTube video downloaders on the market only support downloading 30 frames of video, to download 60fps YouTube videos would be a bit hassle. If you have no idea how to do it, here is an effective method recommended to you.
The tool we are going to use here is 4K Video Downloader, it is a professional YouTube video downloader, suitable for Windows 10, 8, 7, 2000, XP, Vista and Mac operating systems, supporting 100+ video sharing platforms like YouTube, Facebook, Instagram, Twitter, Reddit, Twitch, Vimeo, etc . With it, you can quickly download 60FPS, 4K & 8K UHD, and 360° VR videos from YouTube and other websites. In addition to downloading a single video, it also supports batch downloads, allowing you to download an entire YouTube playlist or channel at once. While downloading the video, you can also get the cover of the video and its own, system translated or automatically generated subtitles.
More importantly, apart from downloading videos, it also supports downloading music directly from SoundCloud, MixCloud, Vevo and other websites or converting online videos to MP3 or M4A audio. It has a built-in one-click download mode, so you can avoid repeating the steps whether you are downloading multiple videos or audio. To get started with the 4K Video Downloader to download 60FPS YouTube videos, you can refer to the following steps:
Step 1. Download and install 4K YouTube Video Downloader to your PC or Mac computer. The program can be downloaded directly from Jihosoft's official website or other mainstream download sites such as CNET, SoftPedia, Informer, Soft32, Firehorse, etc. It is very secure and does not carry any viruses or plugins.
Step 2. Go to YouTube, find the 60fps video you want to download (the quality of these videos is usually 720p60, 1080p60, 1440p60, or 2160p60), and then copy the link address. The 4k video downloader supports batch download, so you can copy the links of multiple videos at once to download if you need it.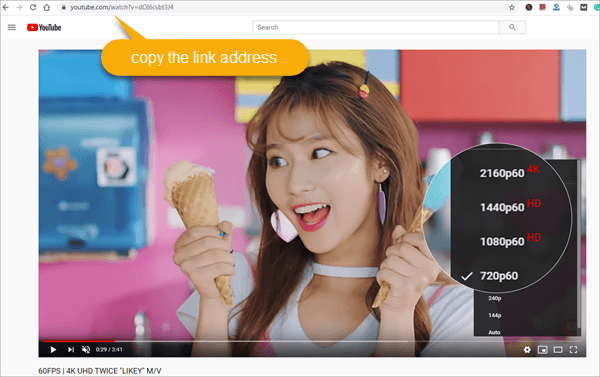 Step 3. Open the software and you will find the interface is very clean without any ads. When you see a prominent "+Paste URL(s)" button, click on it to paste the copied video link into the program. After a few seconds, a window will pop up, you can choose the video resolution and whether to download subtitles, video cover, and other options. After confirming, click the Download button.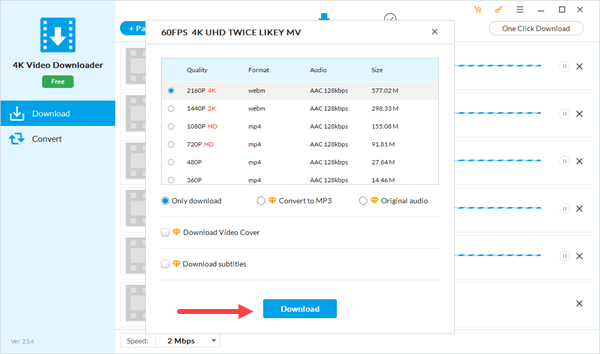 Step 4. At this point, the software will automatically help you download the 60fps video you want. There will be a clear progress bar. After all the videos are downloaded, they will be saved to the "Finished" interface, at which time you can watch them directly or add them to iTunes to sync to your phone or share them elsewhere.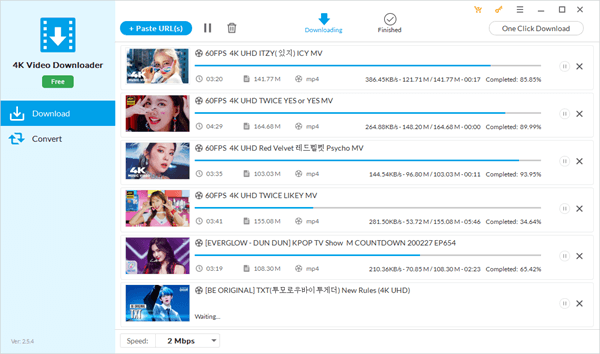 The steps to download 60fps YouTube videos are pretty easy, right? It's time to download and install this free YouTube video downloader on your computer to try it for yourself. This all-in-one tool can meet all your needs for video download.
Note: If you need to download multiple videos at the same time, it is suggested to enable the one-click download mode in the upper right of the software in advance. By doing so, there will not pop up multiple windows after the link is analyzed and let you make repeated selections, which is very time-saving!
After downloading 60fps videos from YouTube to your computer, you will definitely want to watch it immediately. However, not all video players support 60 frames. It can be troublesome if the video is not compatible with the player. At this point, if you have VLC installed, everything will be simple. VLC is a free, open-source, cross-platform multimedia player and framework with great compatibility, which can play 60 frames of video smoothly. The media player supports most video formats such as MPEG-2, MPEG-4, H.264, MKV, WebM, WMV, AVI, and more.