5 Best Free Ways to Download Pinterest Videos in 2022
Pinterest is the most popular online photo and video sharing platform. Whether you like photography, design, wallpaper, fashion, memes, quotes, food, music, architecture, or even games, you can find the content that suits your appetite here. The platform adopts a waterfall layout, and there is no need to turn pages, the latest images and video clips are automatically loaded at the bottom, which is very convenient. The downside is that there is no direct way to download videos from Pinterest. If you come across a favorite video and want to save it, it will be a bit of a hassle.
Fortunately, there are many third-party applications and online services designed for this purpose. Just like downloading YouTube videos, you only need to paste the link to save your favorite videos directly from Pinterest to your device. Keep reading, we will give you some options to help you achieve this.
Method 1. Use Pinterest Video Downloader
A free tool offered by Expertsphp , pinterest video downloader allows you to easily download any pinterest videos and GIFs online and save them to your desktop, laptop, PC, tablet, or Android phone. With it, you can save pinterest videos in various formats like mp4, mp3, 720P, and more. It's easy to use, you just need to copy and paste the URL link of the pinterest video into the box provided and click the "Download" button. If you use a mobile phone and want to download pinterest videos, the steps will be slightly different, here are the details:
Step 1. First, open the pinterest.com website in your phone, then search for "videos" in the search box provided by it, and then the website will load various types of videos for you.
Step 2. Click on any video you like to open it, and then click the "Send" button, a window will pop up, select the copy link option.
Step 3. Open the expertsphp website in your mobile browser to find the pinterest video downloader product, then paste the link you just copied into the box and click "Download"
Step 4. After a few seconds, the video is parsed and you will get a download link. Click on it and choose "Save the video as…", then you can easily download the video from here.

Method 2. Use Keepsaveit
Keepsaveit is an all-in-one online video downloader that supports downloading videos from TikTok, Pinterest, Facebook, Instagram, Vimeo, Twitter, Flickr, Vlive, LiveLeak, and 50+ video sharing sites. The tool is simple to use and compatible with all major browsers, including Google Chrome, Firefox, Safari, Internet Explorer, Microsoft Edge, and more. Whether you use a mobile phone or tablet, you can easily download pinterest videos to your device and save them in different formats. The website is rich-featured and well-designed, eliminating the need to register and download software. It enables you to save videos in SD and HD quality and convert online videos to MP3 without losing quality.
The process of downloading videos from Pinterest using Keepsaveitis is quite easy. If you have the video link that you want to download from, all you need to do is copy it and then paste it into the required box. After you paste the link, click the download button, you will get the video downloaded and saved it to your Android, iPhone, PC, Mac immediately.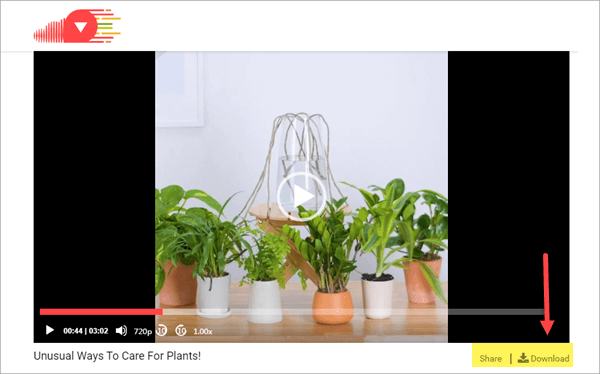 Method 3. Use ForDownloader
ForDownloader is another online tool that can be used to download videos and photos from pinterest. Aside from Pinterest, it also enables you to download video clips, pictures, and music from websites like Break, Instagram, Facebook, SoundCloud, Tumblr, OpenLoad, Puhutv, Reddit, etc. The site is very intuitive and has a separate downloader for each video site. After entering the website, you can directly select the corresponding Pinterest Video Downloader to download videos. The following are the specific steps:
Step 1. Open your browser and visit Fordownloader's official website on your phone or computer, and select Pinterest Video Downloader from the list provided on its website.
Step 2. Enter a valid pinterest URL into the input box, and tap "Download"
Step 3. The website will analyze the video and generate download link.fordownloader-pinterest.png
Method 4. Use Video Downloader for Pinterest
As its name implies, this is an app that specially designed to help users download Pinterest videos. Video Downloader for Pinterest is an Android application that can be downloaded directly from the Google Store and is very secure. With this tool, you can save any videos you like for offline viewing in just three steps. Here's how to do:
Step 1. Download and install the Pinterest video download app from the Google Store.
Step 2. Open your favorite Pinterest video and click Send Pin to copy its link address.
Step 3. Open the downloader, paste the copied video link into it, and wait for the video to start downloading automatically.
Step 4. After downloading, all videos will be saved in the Album, you can directly open, share, or delete it.video-
Method 5. Record the screen
This method is not recommended but still worth mentioning. Although there are many online Pinterest video downloaders available, no one can guarantee that they will always work. These online websites are usually unstable and full of ads and viruses. If you find that the above tools have stopped working one day, screen recording will be the only practical method, because it is available on Android, iOS, Windows, and Mac devices. The only drawback is that the quality of the video may be reduced as a result. Next, I'll take the Android device as an example to show you how to download Pinterest videos via screen recording.
Step 1. Find your favorite pinterest video and open it.
Step 2. Turn on the screen recording function of your mobile phone. If your phone does not have this feature, you can go to Google Store to download a screen recorder.
Step 3. Play the video, then adjust the ratio to start recording it. After the recording is complete, the video will automatically save your album.
Conclusion
The above are the five effective ways to download Pinterest videos. Three of them are using online websites, which are simple and practical. The second is using the application, which is mainly applicable to Android phones. The last is screen recording. Although it is applicable to all devices, it is not practical. Of all the methods, you can choose the best one according to your needs and get started.