How to Remove Audio From YouTube Video 2020?
Part 1. How to remove audio from uploaded YouTube video?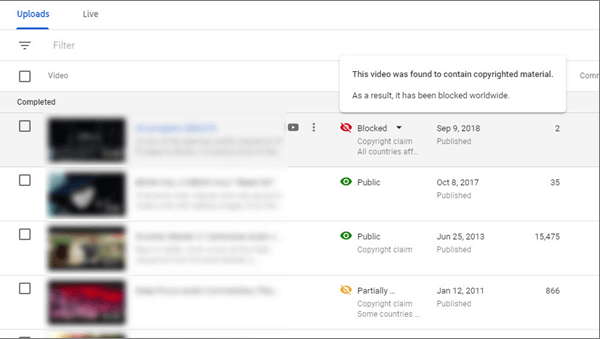 If you add your own music to YouTube video, you are likely to get a copyright claim from YouTube especially when you use a very pop music in your video. Once that happen, your video might be blocked in some area or it might be restricted to monetize. So, to remove those restrictions, you can try muting the copyrighted music used in your video. If you don't know how to make it, follow the steps below:
Step 1. Make sure your YouTube account is logged in and go to YouTube Studio;
Step 2. Click Videos from the left menu;
Step 3. Find the video you wish to remove the audio from, beneath the 'Restrictions' column, hover over 'Copyright claim' and click SEE DETAILS.
Step 4. Click SELECT ACTION and then Mute song.

Step 5. Choose how you'd like to mute your video: 'Mute all sound when song plays'/ 'Mute song only (beta)'
Step 6. Click CONTINU > MUTE. The edit will now start processing.
Part 2. How to mute a video before uploading to YouTube?
The YouTube editor allows you to add music to a video after uploading. Still, the original video sound might interfere the new added song. Therefore, some people would like to mute a video before uploading to YouTube. There are desktop programs as well as online editors for you to mute a video. In this part, we will suggest the top video background music removers for you.
If you like to remove audio from video on Windows 10, things would be much more easier if you use Jihosoft Audio Remover. This third-party program supports a variety of video file format and it is compatible with Windows 10, Windows 8, Windows 7, Windows XP. This program is very easy to use so you can get a muted video by a few steps.
Step 1. Download Jihosoft Audio Remover on your PC;
Step 2. Run the program, click 'Add Media Files' to import a video to the program and the video appear in the app's timeline;
Step 3. Right-click the clip then select 'Detach audio'.
Step 4. Right-click the sound track under the video in the timeline and choose 'Delete';
Step 5. Click the 'Export' button to save the muted video;
Adobe Premiere Pro is another excellent tool for muting videos. However, the steps to remove audio from a video is rather complex. If you are good at video editing, using Adobe Premiere Pro is a piece of cake. If you are rookies, Jihosoft Audio Remover is undoubtedly the better choice.
iMovie
If your device is a Mac computer, iMovie is definitely the right one for remove audio from video on Mac. This powerful video editing software allows you to remove audio from video on Mac with 3 easy steps like this:
Step 1. Start iMovie on Mac, click 'Projects' > 'Create New';
Step 2. Drag the video to the program's timeline, right-click the video and select 'Detach Audio';

Step 3. Now the sound track is detached from the video, click the audio track on the timeline and press 'Delete' on your keyboard;
If you don't like iMovie, surely the QuickTime Player is the best alternative. It is a media player but it allows you to simply edit your video like rotating, flipping, removing/adding audio, splitting/trimming video. Here's what you will do to mute your video with the QuickTime Player.
Step 1. Open a video file with the QuickTime Player;
Step 2. Choose 'Edit' then 'Remove Audio';

Now, the audio is removed from your video.
AudioRemover
If you don't need much edit on your video sound, you only want to simply remove the video sound, then it is unnecessary to download and install a software on your PC/ Mac. Instead, online services will be a better choice and AudioRemover is here for you.
Step 1. Visit https://www.audioremover.com/
Step 2. Click 'Browse', choose a video (less than 500MB) from your computer, click 'Upload Video';

Step 3. Click 'Download File' to save the muted video on computer;
There are other online tools similar to Audioremover, if you are interested, you can also try Kapwing, Clideo, Wofox, MP4COMPRESS, FileConverto, etc.