What Is IDP.Generic and How to Fix Avast Infection Alert
A lot of Windows users with Avast or AVG antivirus installed have been alerted for an infection on their PCs, which is named as IDP.Generic. What exactly is the strange item? Does it mean that your computer has been infected by virus? Possible, but not necessarily. More often than not, it could be a false positive of Avast or other antivirus tools. In order to clarify the issue and relief your concerns, we are going to explain what is IDP.Generic, and how to deal with the alert in this article.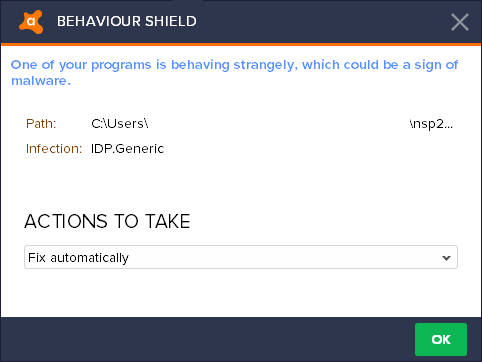 What is IDP.Generic?
IDP.Generic is nothing but the identity attached to a certain existing file which may be regarded as virus or malware by an antivirus app. In simple words, IDP.Generic, which is identified by the antivirus software on your PC, is like a flag. Basing on some criteria, your antivirus software would mark the files that trigger the identification with the flag. Therefore, when IDP.Generic infection is detected, then it means that at least your antivirus program regards the target file a threat.
IDP.Generic is detected by the Identity Protection Detection component of your Antivirus software. It could be related to files of gaming folder, documents folder, downloads folder or anywhere else. As a result, the file will be locked and inaccessible. For example, it may stop you from executing a game or program.
Interestingly, most of the IDP.Generic reports are from Avast antivirus tool, and that's why many people think it is just a false positive, which should be ignored.
Is Ignoring IDP.Generic a Good choice?
Surely not. Crucial lessons have been learnt by a lot of people from virus attack. It sounds like a false positive, but IDP.Generic should be double-checked with other antivirus or virus detecting tools.
Moreover, even if you believe the detected file is absolutely safe and clean, it is still inaccessible with IDP.Generic alert existing.
Warm tip: Virus attack could cause heavy damage to users' computer and personal data. In case of data loss due to virus ransomware infection, you're suggested recover important files back as soon as possible with Jihosoft File Recovery Software.
As we mentioned, you can try some other options to check whether that file is really infected or it is just a misunderstanding. In majority of cases, it has been seen that this issue has come out to be the false positive which really motivates the users to ignore this issue. But we don't suggest you to ignore it because if your Antivirus software is giving you warning, then there is something behind it for sure.
If there is no another antivirus software available for you to run full PC scan, then we recommend you to use VirusTotal. It is an online tool which will run the scan process on those files and will create a report in which you can see that if there any suspicious file is present or not. If there is no suspicious file found, then you can use that files hassle free on your PC. If there is same detection involved, then please delete that files permanently from your PC. Moreover, you can also update your Avast antivirus software in case it is a false positive exclusive for this program.
Why is IDP.Generic Detected if not a Malware?
The answer of this query is somewhat fluctuating from one antivirus software to another antivirus software. It depends on the functioning of Antivirus that what file it considers as suspicious or not. You can confirm this statement by running a full PC scan with two or more different free Antivirus software for Windows. In one case, you will find it to be a positive false and, in another case, you will find some complications.
Avast Antivirus itself is very powerful. However, if the IDP.Generic infection report on your PC was from this program, then you may install another one. There are some more good quality antivirus software present on the internet for temporary using. If it turns out that it is just a false positive repost of Avast, then we are going to tell you how to fix IDP.Generic alert in Avast and get access to the file.
IDP.Generic is also detected by Antivirus software if it is outdated, which will happen when there is a new kind of file created. As a sake of responsibility, antivirus software has been made very sensitive towards this perspective. Upgrading your antivirus to the latest version will possibly avoid this problem.
How to Fix IDP.Generic Alert if It is a False Positive?
If you have checked with another antivirus app, and the IDP.Generic infection is proven to be a false positive, then you will need to unlock the file from the original antivirus program in order to access it. Here we take Avast Antivirus as an example.
Step 1. Launch your Avast Antivirus software from the desktop icon.
Step 2. On the left side of the interface, click on the "Protection" icon to proceed.
Step 3. On Protection tab, locate and find the option of "Virus Chest".

Step 4. Right-click on the file detected with IDP.Generic, then choose "Restore and add to exclusion".
Click on that given option and your file will get unlocked and restored to the original location. Different antivirus apps have different steps which only varies a little bit. But the main steps will remain same as it is mentioned above. Feel free to tell us if you have any issue completing the task.
Here you are all done with this method. Actually, it would best if IDP.Generic detection disappears after updating Antivirus software to latest version. Otherwise, you may need to add the file to white list in case the alarm occurs again.
Final Words
We hope that all the concepts and complexities regarding the IDP.Generic are now cleared in your mind. There is no need of panic if the Antivirus has detected this file in the scan reports. Instead, you can have a thorough look on all the files before choosing to delete that file or unlock it from the detection.
Suggestions and personal experiences are welcomed in the comments section below. And in case if you have some additional information regarding this issue, then please let us know in the discussions. All your responses are truly welcomed. We will be happy to update the information contained in this article for you.