What is 4K TV? The Ultimate Guide to 4K Ultra HD TV
Do you really know the hottest topic right now in television – 4K Ultra HD? If not, here is an ultimate guide to it, gets you up to 4K TV and 4K content, take a look at the benefits of 4K TVs and popular 4K Ultra HD TVs on the market, and how to get 4K videos. Also, you can learn a simple way to enjoy movies on 4K Ultra HD TVs. So read on to learn more about 4K Ultra HD.
Part One: What is 4K TV?
4K TV is definitely the future of high-resolution television. The term 4K is derived from the movie industry designation for the professional format of 4096 x 2160 pixels. Consumer electronics equipment uses a slightly lower resolution than 4K, known as Ultra HD or UHD. 4K Ultra HD TVs measures 3840 x 2160 pixels and offers exactly four times the picture resolution of 1080 Full HD, the current standard of high-resolution television.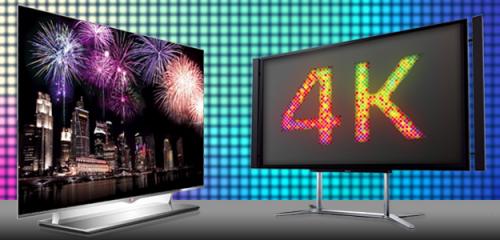 Part Two: What's the benefit of 4K TVs?
There are many benefits of 4K TVs that should make you rethink your next TV purchase. New technology is being implemented to perfect 4K Ultra HD TVs which have the potential to display TV and film with more clarity, finer detail and greater texture, making the images smoother and life-like.
1.4K/UHD technology results in smaller pixels compared to HD screens of the same size, which means you'll see a more detailed picture when sitting up close.
2.A large screen 4K panel delivers a smoother looking image than an equivalent Full HD screen because the pixel density is four times greater.
3.All 4K TVs upscale regular 1080p HD content for an Ultra HD viewing experience. So all Full HD video sources should look better on a 4K screen.
4.4K Ultra HD supports faster frame rates, insane contrast dynamics and extended colors.
5.A 4K TV with Ultra High Definition JPEG playback will reveal four times the picture information.

Part Three: List of Popular 4K Ultra HD TVs:
Many 4K Ultra HD televisions are hitting the market this year. We have now seen 4K TVs from big-name vendors like Sony, Samsung, LG and Panasonic, plus a number of budget 4K TVs.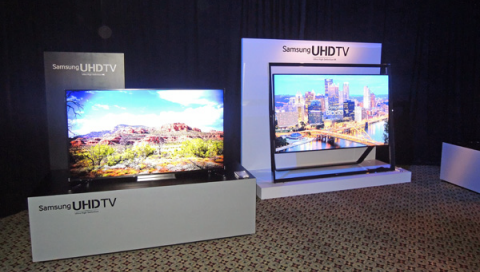 Sony 4K Ultra HD TVs: Sony XBR-55X850A, Sony XBR-55X900A, Sony XBR-65X850A, Sony XBR-65X900A, Sony XBR-65X900A.
Samsung 4K Ultra HD TVs: Samsung UN65F9000AF, Samsung UN55F9000AF, Samsung UN85S9AFXZA, Samsung UN85S9VF.
LG 4K Ultra HD TVs: LG UB8500, LG UB9500, LG UB9800, LG 84LM9600, LG 84LA9800, LG 65LA9700, LG 65LA9650, LG 55LA9700, LG 55LA9650.

Part Four: 4K TV Resolution
Officially 4K Resolution is 4096 x 2160 pixels. However, in order to shoe-horn this higher resolution video on to a normal 16:9 picture format for a TV, the resolution has been altered to 3840 x 2160 – still four times the total number of pixels on a Full HD 1080p screen (1920 x 1080). In order to take full advantage of 4K Ultra HD you will of course need a compatible TV source and the necessary content packing those all-important extra pixels.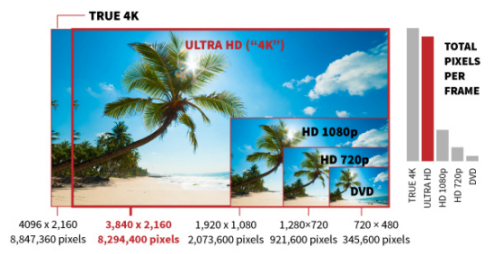 Part Five: 4K Content – How & Where to Get 4K Videos?
4K Camcorder Footage – Shoot 4K Video with Digital Camcorders
While 4K video availability remains relatively limited, even you may be an important 4K content provider in 2014. Two upcoming dedicated cameras targeted at the consumer market will shoot in 4K: the $1,700 Panasonic Lumix GH4 and the $2,000 Sony FDR-AX100. Either camera will provide budding filmmakers a way to create 4K content to watch on their 4K computers or televisions. For athletic types, the $400 GoPro Hero3+ Black camera can also film in 4K. Besides, several Android phones will also be able to take videos in 4K, for example, The Acer Liquid 32, the Samsung Galaxy Note 3, the new LG G Pro 2, and Sony Xperia Z2 can shoot 4K video.
Steaming 4K Video from Netflix, Amazon, YouTube, Vimeo, etc.
Streaming services, like Netflix and Amazon, will soon make 4K content easily accessible. Netflix filmed Season 2 of its original show "House of Cards" in 4K, After that, Netflix will film other originals in 4K as well. Similarly, Amazon has announced that it will begin filming all of its original content in 4K. YouTube and Vimeo already stream 4K content. Google recently announced plans to make a much larger selection of 4K video available on YouTube, using its new compression technology, called VP9.
Sony 4K Ultra HD Media Player – Your Source for 4K Content
Sony offers the world's first and most developed way, the FMP-X1 Media Player, to give you access to a regular updated library of full length 4K Ultra HD feature films and TV shows from right in your living room. You can download over 70 Ultra HD movie titles for rental or purchase from its Video Unlimited 4K online service. And you can store your 4K favorites on the FMP-X1's built-in 2TB hard drive.

Part Six: How to Play Videos on 4K Ultra HD TVs?
"I have created a number of 4K movies in different formats but they will not play on the Samsung AU55F900MAXXY. Any solutions?"
"I have a Samsung UHD F900 Curve 4K TV and would like to convert some video files to view on it. Is it possible?"
Have you ever run into the same problem? If so, here is the answer. Jihosoft now releases Ultra HD TV Converter to help users convert any SD, HD, and 4K videos to Ultra HD TV supported formats. The new created videos are playable on all popular 4K Ultra HD TVs produced by Sony, Samsung, LG, Panasonic, Toshiba, etc. The conversion is quite simple. You can do it within three simple steps: Import Video > Set Profile > Convert Video.