How to Play Video on LG Ultra HD 4K TV
LG 4K Ultra HD TV: Ultra Clarity & Ultra Reality
4K Ultra HD provides new standard of high definition, and undoubtedly be the future of TV resolution. As a major TV manufacturer, LG is working hard toward being the leader in the 4K TV industry by providing a good number of impressive Ultra High Definition TVs. With a stunning 8.3 million pixels, you can enjoy the incredibly vivid and flawless picture quality of Ultra HD TV from LG. Everything is bigger, richer, and in more detail than ever in stunning 4K.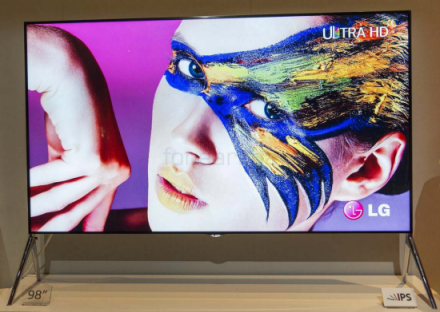 More Features of LG Ultra HD 4K TV
– Unique sliding sound bar provides sound quality that complements the impressive 4K resolution of LG Ultra HD TVs.
– State-of-the-art screen panel provides a wide viewing angle that makes every location the best seat in the house.
– Intuitive Magic Remote provides simple and fun way to pick and choose what you want to watch.
– LED Plus technology provides even greater control of brightness to deliver better contrast, amazing clarity and color detail.
How to Play Video on LG 4K Ultra HD TV
How to enjoy videos on LG Ultra HD 4K TV? Don't worry. LG is making its best effort to let you enjoy the benefit of 4K resolution on their Ultra HD TVs.
1. LG 4K TVs are the only sets currently on the market to include a high efficiency video codec (HEVC) also known as H.265 for streaming UHD content via the Smart TV interface.
2. LG's Tru-Ultra HD Engine upscales the picture through a 4-step data analysis that enhances the details of all broadcasts and movies, giving the viewing experience you expect from an Ultra HD 4K TV.
3. LG connects you to the premium 4K content providers like Hulu Plus, Netfix and YouTube direct on the Ultra HD TV.
Besides, LG allows you browse and share files from your external storage devices on the 4K Ultra HD TV via HD cable or Wi-Fi connection. However, it is very likely to encounter video format/codec incompatibility problem. In that case, a third-party 4K TV Converter is needed.
Jihosoft Studio currently developed LG Ultra HD TV Video Converter to solve the problem. This Ultra 4K TV Converter is able to convert any video to LG Ultra HD 4K TV format. You can freely play video taken by camcorders, cameras, and mobile phones on all LG 4K TVs, including LG 84UB980V, 79UB980V, 65UB980V, 65UB950V 55UB950V, 55UB850V, 49UB850V, 65LA970W, 55LA970W, 65LA965W, 55LA965W, 84LM960V. Just download the Ultra HD TV Converter and follow the steps below to perform the conversion.
Import Video: Click Import to add SD, HD or 4K videos to LG Ultra HD TV Converter.
Set Output Format: Choose HDTV > Samsung 4K Ultra HD TV Video (*.mp4*.mp4sub) from the drop-down list of Profile.
Convert Video: Click Convert to convert video to LG 4K Ultra HD TV supported file format.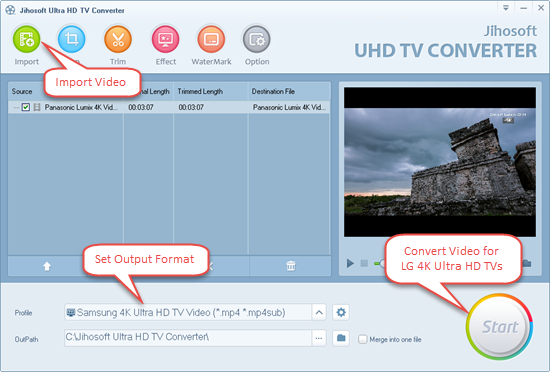 After conversion, you can freely enjoy common SD, Full HD, or high-quality 4K videos on your LG 4K Ultra HD TV. Also, the converted video can be played on Sony XBR 4K Ultra HD TVs, as well as Samsung, Toshiba, Seiki, Hisense, etc.