Convert Video to 4K Ultra HD for Playing on Samsung, Sony, LG, Toshiba, Hisense, Seiki 4K UHD TVs
Many consumer TVs now on sale are offering Ultra High Definition support of 4K videos. While 4K movies and TV shows still remains relatively limited. Can 4K UHD TVs play ordinary SD or HD videos? The answer is yes. To help consumers experience the best digital entertainment content on 4K Ultra HD TVs, Jihosoft Studio recently introduced Ultra HD TV Converter, which includes amazing features to convert video to 4K Ultra HD for paying on Samsung, Sony, LG, Toshiba, Hisense, Seiki 4K UHD TVs.
4K UHDTV is 3840 pixels wide by 2160 pixels tall, which is four times as current 1080p HDTV (1920 x 1080). In order for an Ultra HD TV to display SD, or HD content, that content must first be up-converted. Jihosoft UHD TV Converter will convert SD, HD, and 4K video files into Ultra HD resolution to faultlessly fit 4K Ultra HD TVs. The output content will contain 4 UHD files (the format is QFHD) and can be played on Samsung, Sony, LG, Toshiba, Hisense and Seiki 4K UHD TVs without any problem.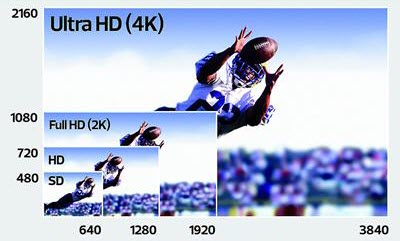 Key Features of Jihosoft Ultra HD TV Converter
– Convert common SD, Full HD content, as well as 4K video files into high-quality 4K Ultra HD resolution.
– Designed to convert video for all 4K UHD TVs, including Samsung, Sony, LG, Toshiba, Hisense, Seiki, etc.
– Support to convert videos taken by professional camcorders, digital cameras, mobile phones or tablets.
– Combine powerful performance with a simple and user-friendly design. 4K video conversion can be done within few simple clicks.
Convert SD, HD and 4K Video for Playback on All Popular 4K UHD TVs
Samsung: UN65HU8550F, UN55HU8550F, UN65HU9000F, UN55HU9000F, UN85S9VF, UN65F9000AF, UN55F900AF, UN85S9AFXZA;
How to Convert Video for Samsung 65" F9000 4K UHD TV
Sony: XBR-55X900A, XBR-65X850A, XBR-65X950B, XBR-49X850B, XBR-65X850B, XBR-65X900A, XBR-55X850A, XBR-79X900B, XBR-70X850B, XBR-65X900B, XBR-55X850B, XBR-55X900B, XBR-85X950B, VPL-VW600ES, VPL-VW1100ES;
How to Convert Video for Playing on Sony XBR 4K Ultra HD TVs
LG: 84LM9600, 65LA9650, 65LA9700, 55LA9650, 55LA9700, 84LA9800, UB8500, UB9500, UB9800;
How to Play Video on LG Ultra HD 4K TV
Toshiba: 58L9300U, 65L9300U, 84L9300U;
Hisense: 50XT880G3DU, 58XT880G3DU, 65XT880G3DU, 65XT900, 84XT900, 110XT900;
Seiki: SE39UY04, SE50UY04, SE65UY04;
Others: Panasonic TC-L65WT600, Sharp LC-70UD1U, TCL LE50UHDE5691, Philips 84PFL9708, VIZIO XVT701d, etc.