How to Convert Video for Samsung 65" F9000 4K UHD TV
Samsung UN65F9000AF: Take TV Viewing Experience to a New Level
The hottest topic in television this year was 4K Ultra HD displays, which has changed the industry standard for TV resolution. Earlier in the year, Samsung released their 65" F9000 TV with a 4K resolution display, four times the resolution of a Full HD TV, ensuring a truly immersive viewing experience for all your favorite blockbuster movies and TV shows. It's a very attractive TV. Many amazing features are presented like Smart Touch Remote Control, Smart Hub, S-Recommendation, Smart Evolution Kit, etc.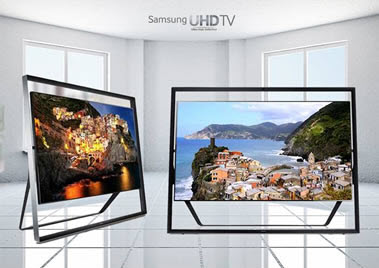 Features of Samsung 65" F9000 4K Ultra HD TV:
– 4K picture quality provides a new form of fulfillment and an immersive viewing experience.
– The Smart Evolution Kit always upgrades the TV with new software and technology that will improve your TV performance.
– The new Smart Hub allows you to seamlessly navigate through live TV, movies, streaming content, social networks, apps and more.
– Speaking into the built-in microphone on the Smart Touch Remote Control or use hand gestures to control your TV in new and unexpected ways.
– Built-in Wi-Fi connects the TV with an existing wireless router in your home network and start browsing the web.
However, like the early days of HD, a big issue of Samsung 4K Ultra HD TV right now is the lack of 4K content:
"We have only had the TV for a few weeks. The picture quality on this TV is unbelievable. All programs are sharper, clearer, and amazing. But I am finding it difficult to locate 4K UHD content that is readily available."
If you buy Samsung 65" F9000 4K Ultra HD TV, and can't wait to enjoy your favorite videos on this great television, you'd better get Jihosoft Ultra HD TV Converter. This Samsung UHD TV Converter provides an efficient way to convert SD, HD and 4K video to Samsung UN65F9000AF 4K TV format. You can convert video files taken by 4K camcorders, digital cameras, mobile phones or tablets. The created video will keep 4K resolution (3840 x 2160 or 4096 x 2160) and can be played on Samsung UN65F9000AF as well as other 4K Ultra HD TVs.
How to Convert Video for Samsung UN65F9000AF 4K Ultra HD TV?
1.Click "Import" to add SD, HD, or 4K videos to the Samsung Ultra HD TV Converter.
2.Choose output format: Profile > HDTV > Samsung UN65F9000AF 4K TV Video (*.mp4*.mp4sub).
3.Click "Start" to convert video to Samsung 65 F9000 4K Ultra HD TV supported format.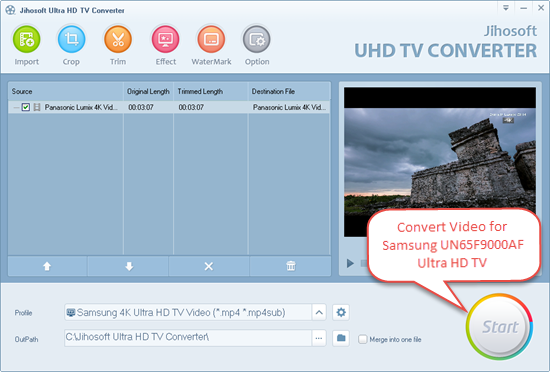 All Popular 4K Ultra HD TVs are supported:
Samsung: Samsung UN55F9000AF, Samsung UN85S9AFXZA, Samsung UN85S9VF; Sony: Sony XBR-55X850A, Sony XBR-55X900A, Sony XBR-65X850A, Sony XBR-65X900A, Sony XBR-65X900A;
LG: LG UB8500, LG UB9500, LG UB9800, LG 84LM9600, LG 84LA9800, LG 65LA9700, LG 65LA9650, LG 55LA9700, LG 55LA9650;
Panasonic: Panasonic TC-58AX800U, Panasonic TC-L65WT600;
Others: Sharp LC-70UD1U, Toshiba 84L9300U, Vizio P Series.