How to Convert Video for Playing on Sony XBR 4K Ultra HD TVs
Sony XBR 4K Ultra HD TV Overview
Currently we have seen plenty of 4K Ultra HD TVs hitting the market from major TV manufactures like Sony, Samsung, LG, Panasonic, Toshiba, etc. Undoubtedly, Sony is the leader in 4K entertainment. It is among the first major TV makers to sell 4K Ultra HD televisions. Sony's high-performance XBR series of 4K TVs are known for their powerful video process. They enhance picture quality by analyzing and correcting images, resulting in impressively natural detail and color.
Sony XBR Series of 4K TVs including: the existing XBR-55X900A, XBR-65X850A, XBR-49X850B, XBR-65X900A, XBR-55X850A, XBR-79X900B, XBR-85X950B, and the upcoming XBR-65X950B, XBR-65X850B, XBR-70X850B, XBR-65X900B, XBR-55X850B, XBR-55X900B.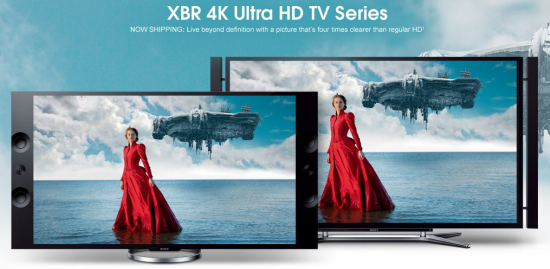 Where to Get 4K Content for Enjoying with Sony XBR 4K Ultra HD TVs?
With all these 4K TVs hitting the market, you may wonder where exactly to find content to support this new eye-piercing resolution. Sony has the answer. It has launched the world's first and only 4K Ultra HD Media Player, which lets you access a library of full-length 4K Ultra HD feature films and TV shows from your living room. However, currently Sony FMP-X1 only works with Sony XBR-55X900A, XBR-65X900A, XBR-55X850A, and XBR-65X850A. Besides, the Video Unlimited 4K service provided isn't cheap, costing more than what consumers pay for Full HD content.
Play SD, HD & 4K Videos on Sony XBR 4K Ultra HD TV with Ultra HD TV Converter
If the 4K Media Player don't compatible with your 4K TV, don't be disappointed. Here we will share another way to enjoy a theater-like 4K viewing experience at home. You can use Jihosoft Ultra HD TV Converter and convert SD, HD, and 4K video files to Ultra HD TV formats. The output videos can be played on all Sony XBR 4K UHD TVs.
Three Simple Steps to Convert Videos to Sony XBR 4K UHD TV
Import Videos: Run the Ultra HD TV Converter. Click "Import" to add videos that you want play on your Sony XBR 4K Ultra HD TV.
Set Output Profile: Set the output format as 4K Ultra HD TV Video (*.mp4*mp4sub) from the drop-down menu of "Profile".
Convert Videos: Click "Convert" to convert the imported videos to Ultra HD TV format for playback on Sony XBR 4K UHD TVs.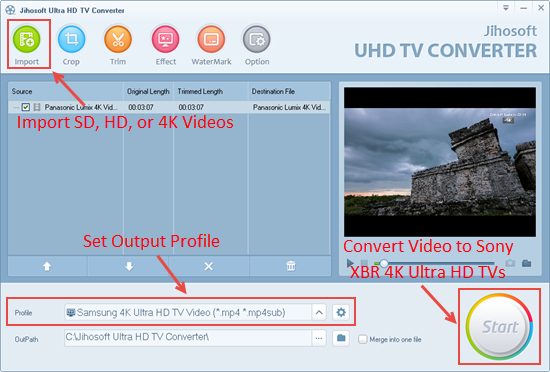 In addition, this Sony XBR Ultra HD TV Converter also lets you convert video for Samsung , LG, Toshiba, Panasonic, Hisense, Seiki, and more 4K Ultra HD TVs.