How to Back Up and Recover Data from TCL Alcatel OneTouch Phones
TCL Alcatel OneTouch Overview
The owner of the Alcatel OneTouch brand, Chinese consumer electronics company TCL, has positioned the brand image of Alcatel OneTouch as "My World in One Touch". Though, TCL Alcatel phone may be not the best smartphone, it is one of the most cost-effective android phones in the market. That's why Alcatel gains its large amount of fans all around the world. According to Strategy Analytic, TCL Alcatel OneTouch became the world's fifth-largest mobile phone vendor for the first time ever during Q4 2013.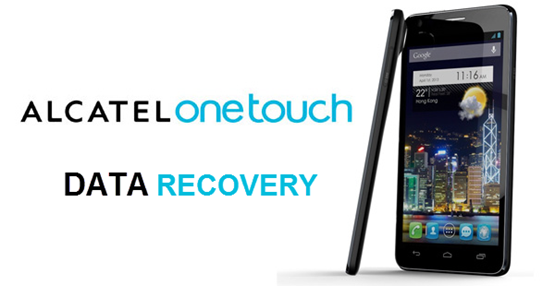 (Issues) Data Loss on TCL Alcatel
Many reasons could cause data loss, such as deleting files intentionally and unintentionally, hardware failure, system update, virus attack, OS corruption, software crash/freeze, etc. According to a report, most of TCL alcatel users encountered data loss, and over 50% of them don't back up their cell phone and around 20% of them never get their data back. Some Alcatel OneTouch users even don't know how to back up data on Alcatel phones. If you are the one who need to back up or recover data from Alcatel OneTouch, read on this post to get the easy way.
Back Up and Recover Data from Alcatel OneTouch
Back up TCL Alcatel data:
Backing up data on Alcatel OneTouch is the first step to keep your data safe and avoid unnecessary data loss. You can back up Alcatel data by: Navigating to "Settings", tap the button "Backup & reset", then click "Back up my data". In this way, all data on your Alcatel OneTouch will be backed up, but you should note that the backup file is saved on your cellphone. If you want to export backup files, you can use a 3-rd party backup apps. In addition, you can back up using some cloud services like Box.com or Dropbox.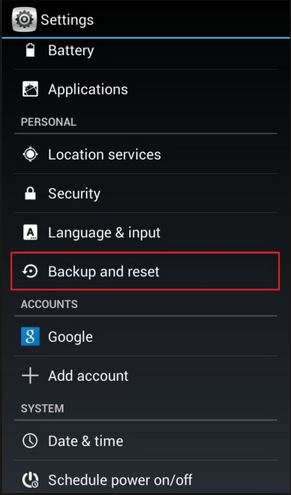 Retrieve deleted data from alcatel phones:
Many Alcatel users don't have available backups and don't know how to get the lost data back in a proper way. Besides, Alcatel backup files are not stored on external memory of cellphone, it is not easy to recover data from Alcatel OneTouch by syncing with backups. In these cases, we recommend a great software to you: Android Data Recovery program.
Android Data Recovery is a powerful TCL Alcatel data recovery tool, which can retrieve deleted/lost photos, contacts, SMS, WhasApp chat histories, videos, audios, and files on TCL Alcatel phones in a few steps. Simply download, install and run the Android Data Recovery, then follow the wizard step by step to recover data from both internal memory and external SD card of your Alcatel phone.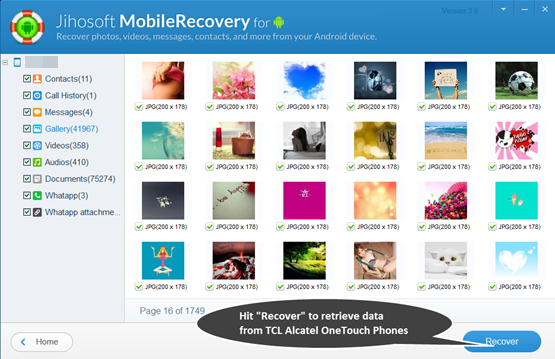 Warming Tips:
Don't use your Alcatel OneTouch once you lost data to avoid data overwriting. Otherwise, the lost data may be unrecoverable.
If you don't know how to use android data recovery program, please refer to the detailed tutorial: Android Data Recovery User Guide, or contact us via email: support@jihosoft.com