How to Backup and Restore LINE Chat Messages on Android
LINE is originally designed as a mobile application for Android and iOS smart phones. Now it is available for more smart phone devices (Windows Phone, BlackBerry, and Nokia and even your PC). LINE users can send free one-on-one and group texts or make calls with friends and family anytime and anywhere.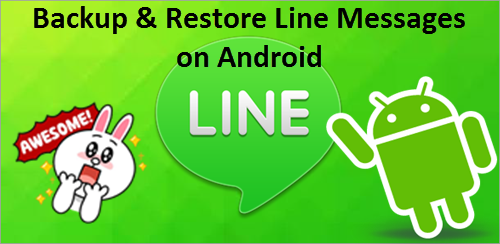 Backup and Restore LINE Chats from Android with Official Support
Backing up is always seen as the most safe way to prevent data loss. Luckily the official LINE can help you in backing up and restoring LINE chat history on Android.
Part 1: Guide to Backup LINE Messages on Android
Choose the chat room which contains the chat you need backup from Chats Tab.
Select "Chats Settings" from the top-right menu option.
Tap "Backup Chat History" and choose "Backup as a Text File" or "Backup All".
Confirm to send the backup file to an email address.
Enter your email address and click "Send" to finish the backup process.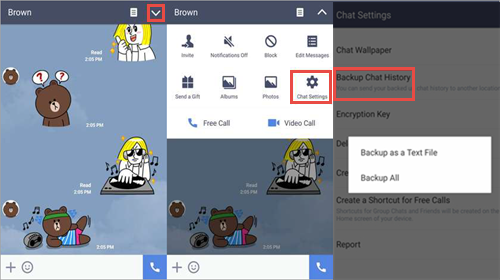 Notes:
This will only backup the individual conversation. That means you need to do these steps for each individual conversation you want to backup.
The backup file will be automatically stored on SD card or on your Android device, so make sure there is enough free space before backing up the Line messages.
If you select "Backup as a Text File", things such as stickers, photos, videos, and voice messages will not be saved and cannot be restored.
You need to select "Backup All" from the "Backup Chat History" option beforehand if you want to restore them later.
Part 2: Guide to Restore LINE Messages on Android
LINE also shows how to recover messages from backup to satisfy your needs. If you save your LINE messages in your SD card, you need insert it first. Then open the chat room which you want to restore messages to. Click menu option, choose "Chats Settings" and press "Import Chat history".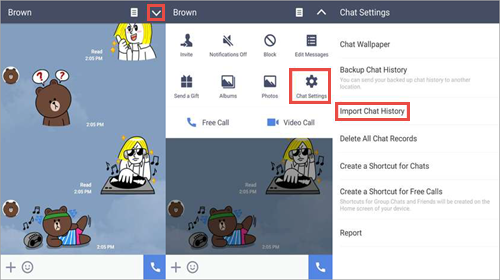 If you do not use an SD card, you need manually save the backup file to "LINE_backup" folder on your Android by file managing app or connecting your device directly to PC. Then continue the above steps to import backed up LINE messages.
Backup and Restore LINE Messages on Android with Data Recovery Tool
There are many Android data recovery tools in the software market. For now they can not help you in recovering LINE messages on Android without backup. However, they are specialized in recovering messages from Android, especially WhatsApp messages, Viber messages and text messages. Here is the recommendation – Jihosoft Android Data Recovery. As for the support of Line messages, be patient to wait. The technical team is working on it.