How to Backup and Restore Kik Messages on Android
Kik is a popular instant messenger and you can use it to send messages, photos, videos and other data just after registering a user name. Users may lose their messages, photos or other contents on Kik because of accidental deletion, software upgrade or other reasons. For example:
"Is there any way to get my Kik messages back from my Android phone? I didn't mean to delete them and I need them back!"
If you encounter with the similar problem, don't worry about that. Follow the instructions below and it will help to backup and recover Kik messages on your Android.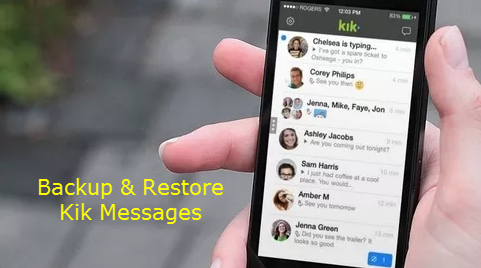 Part 1. Ways to Recover Deleted Kik Messages on Android
Option 1: Get Kik Messages back from Your Friends
This way contains no technical skills. It cannot get your Kik messages back to your Kik Messenger app. It just helps you review the chat history in texts or screenshots.
It is quite possible that your friends still have the chatting history with you, so you can ask them them to send the conversations or screen shots of the chat to you. However, if they lose their Kik messages at the same time, you need try the second method.
Option 2: Restore Kik Messages on Android with GT Recovery
GT Recovery is an app allows you to retrieve Kik messages to your Kik app. Before you install this software, you need to root your Android phone to ensure the steps can go smoothly.
1. Search "GT Recovery" in Google Play, choose "GT Recovery- Undelete, Restore" to install.
2. Open the app and select "Recover Kik" from "Recover File" to start scanning.
3. Retrieve the recoverable Kik messages once the scanning finished.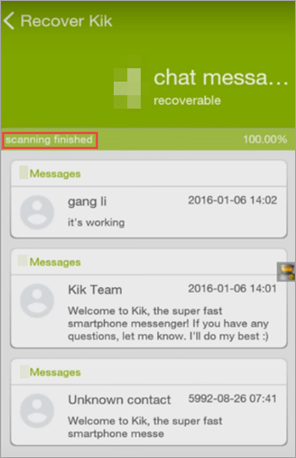 Part 2. Ways to Backup Your Kik Messages on Android
Option 1: Backup Kik Messages by Kik Itself
Kik will "auto-save" the last 600 of your messages in a conversation for at most 48 hours and 200 of your messages that exist for more than two days. Here the messages mean both sent messages and received messages. If this doesn't satisfy your need, you can try the second way.
Option 2: Backup Kik Messages by Backuptrans Android Kik Transfer
This is a way that can backup your Kik messages from Android to computer and no root is required.
1.Run this software, connect your Android phone to PC, and enable the USB debugging.
2. Push the "Back up my data" button without entering password and click "OK" to continue, then view the Kik messages on this software.
3.Right click your Android in Devices list and then choose "Backup Messages" to a destination on your computer. This will backup all your Kik messages.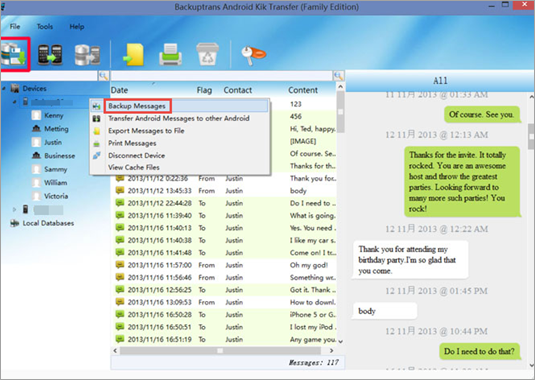 Note:
1. This software will backup only Kik messages on your Android phone.
2. Skip the second step if your Android is rooted.
3. In the third step, if you don't need to backup all the Kik messages, you can right click the specific contact and choose "Backup Messages with this Contact".