Stuck in Android System Recovery? Tips to Fix & Recover Lost Data
If your android phone or tablet is getting stuck in the Android system recovery <3e> screen and it refuses to power on properly, then you have came to the right place. This post describes why this happen, how to fix android system recovery 3e and the best way to restore lost data.
About Android System Recovery
Android system recovery is a feature on android devices that allows you reboot system, apply update from ADB, apply update from external storage, wipe data/factory reset, wipe cache partition and apply update from cache. Commonly, you can boot into the Android system recovery screen by powering off your device, then simultaneously press and hold specific key combination (Volume Up key, Home key, and the Power key) on your android device.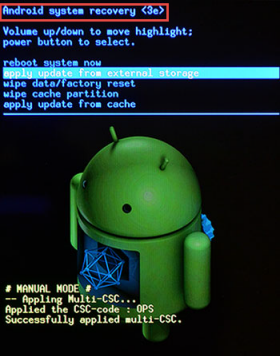 Stuck in Android System Recovery? How to Fix?
Sometimes, the android device stuck on Android system recovery screen and it just doesn't work for unknown reasons. One of the most common causes is that one (or more) of the buttons used to access android system recovery is defective, is being pressed down, or is malfunctioning. To get out of android system recovery, the first thing you should do is checking if the physical buttons are responding properly, especially the volume buttons.
– Press down on your keys a few times and loosen them up if they are stuck or press in, so that the keys will be in a proper position.
– Try to power the device on once you have pressed down on the keys for a bit. See if it will boot-up.
– Power the device off and then back on to make sure its booting up properly now.
– If you failed in above steps, try to remove the battery, wait a couple of minutes, then put the battery back in to see if it will work.
Note: Once your device is able to power on, immediately back up your data, just in case unnecessary data loss.
Still not Working?
If the device stuck at system recovery randomly for no particular reason, it is more likely to be a hardware issue. Double check for physical and liquid damage as well. Besides, to rule out the slight possibility of this issue being software related you can consider tapping the "wipe data/factory reset" option on the recovery screen to reset your device. But you should note that all existing user data from your android device will be removed. If all options mentioned above can do nothing with it, then you will most likely need to look into your repair or replacement.
Data Lost During the Process?
It is risky to directly "wipe data/factory reset" your android device without any available backups. If by any chance that you lost any important data during the process of getting out of android system recovery, Jihosoft Android data recovery program can help you. With it, files including contacts, messages, call logs, videos, musics, documents and more on your Android device can be retrieved in a few clicks.
If you still don't know how to get out of android system recovery and recover data after factory reset, feel free to contact us through email support@jihosoft.com. We are always here to help.