Top 12 Best Free Anime Streaming Websites to Watch Anime Online
Anime, derived from the word 'animation' is not only the choice of kids but also of people belonging to different age groups. Emerged from Japan, anime videos have gained popularity in almost all parts of the world. Basically, the reason for its popularity is wonderful graphics with hand-drawn and computer-generated characters. The plot of animes is amazing and interesting, which attracts the viewers more towards it. Moreover, there are lots of anime series that have evolved from the stories of the manga. This portion has attracted the Manga lovers towards animes. Since we are living in a completely digital world, so people are more likely to watch the story through video than to read the texts of comics.
As people's demand for anime increases, the anime streaming website is also spreading. If you are an anime lover but haven't found a suitable website to watch your favorite anime online, then there are 12 best free anime streaming websites recommended for you.
Crunchyroll is known for its anime videos collection with full series and latest episodes updates. It is not any torrent site containing pirated videos. All of its content is legal and verified, which makes it the first choice of anime lovers. The anime streaming site comes in a paid and free version, with a community forum where people can share their comics and anime love.
Crunchyroll can also be accessed through a mobile application, which can be installed from the Play Store directly. It offers HD and SD video, allowing users to experience the wonderful world of anime. The interface of this anime streaming website is clear and concise, and all videos are classified under different types. To play all your videos and the full series, you'll need to buy its premium subscription plan. You can take a free trial before going for premium membership by simply registering with your email. This website is not for anime movies. You can only watch anime series here. You will not find any ads on this website as well.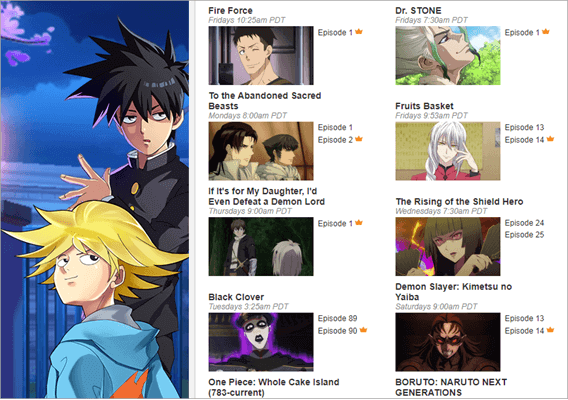 Masteranime is a large anime database that covers almost everything anime lovers want. It has a user-friendly interface where users can watch anime videos, movies, and series for free online. In addition to Japanese, Masteranime also provides users with both English dubbed and subbed videos adding aid to the non-Japanese viewers, which is very convenient.
Furthermore, access to Masteranime is seamless, and you don't need to sign up to watch your favorite anime on this site. The only thing you need is a strong network.
KissAnime is known as one of the best sites to watch anime online for free. It has a big library of anime videos and movies both in the original and dubbed versions. You will get the videos in various video quality options to be watched as per the user's choice. You can also download the video to watch it offline, but you need to get yourself registered to the website for doing so. You will see ads in between the videos if you are accessing the free and open version of this website.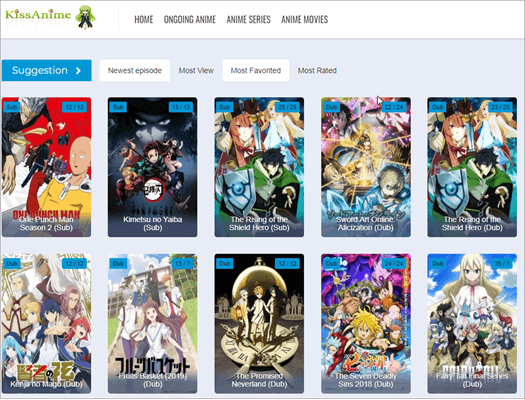 GoGoAnime is a well-organized anime streaming website where users can watch anime online from any part of the world. It has an extensive database that provides a variety of Animes, from the rarest to the latest and most popular. The anime series is alphabetized so you can easily watch and find the one you like. Also, it lets you watch all the anime episodes that are in the Japanese language with English subtitles. It has all the videos of popular anime, such as Dragon Ball, Naruto, Fairy Tail, and many more. Apart from animes, you can also watch cartoon movies and serials on this website.
Imagine a website providing all the anime videos and movies for free with a hassle-free interface. If you want such a website, then simply go for AnimeHeros, which delivers free anime content without any ads. Along with that, you can find high-definition videos with 720p and 1080p quality here. Moreover, this free anime streaming website also has anime videos, both dubbed and subbed in English. Overall, this website has everything that one can expect.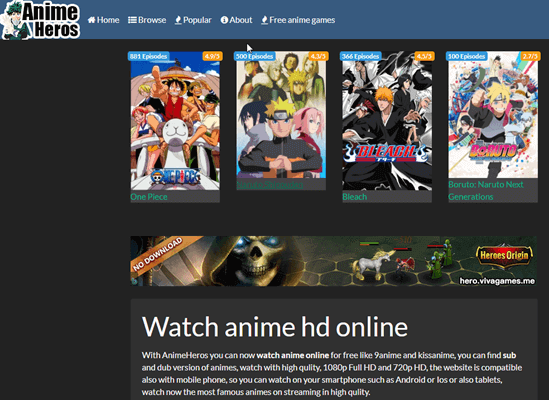 Netflix is a highly popular site for streaming movies and other types of videos. It is compatible with computer, smart TV, and mobile phones. It is a free website with in-app purchases. You need to purchase its subscription plan to get access to AL its content. You can also get a 30-days free trial before buying it. It contains anime video in crisp and HD video quality without any ads. You can go for its mobile apps for quick access to its videos. You can use this website for fast loading and smooth running of the website. You can easily download the videos to watch offline as well. However, it doesn't have a large collection of anime videos.
Anime Karma is another video streaming website having a great number of anime videos and movies. It offers all its content to its users for free. You can get high-definition video quality with different playing options. You can quickly look for the videos using the genres and years of release. If you are not finding any episode or series on this anime streaming site, then you can connect to the developer and let them know about it. They will add the video soon once notified.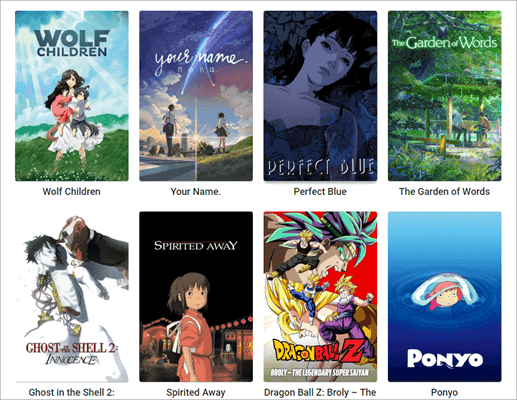 KuroAni is not only known for online streaming of animes but also cartoon videos and movies for free. You need not get yourself registered to this website to access its video contents. It has both a collection of anime and cartoon series and movies. It is a safe website site to watch animes and cartoons online. It also offers the user to download the videos for offline watching. The videos are available on the site with English subtitles as well.
9Anime.to is a well-known anime streaming site for satisfying all the needs of anime lovers. With thousands of videos and movies, it is a one-stop destination to watch animes online free. You can watch videos here without getting interrupted by any ads or pop-ups. You can watch all the latest episodes and series of smiles here with English subtitles. It also offers HD videos and different picture quality options. Owing to all these features, it is considered as one of the best anime sites.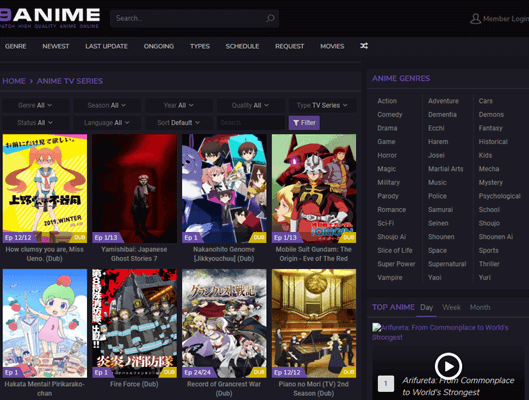 Mobianime is one of the most popular websites for streaming anime videos online. It also allows the user to download the videos quickly with different video quality options. You can find your favorite anime by using its genres like drama, action, thriller, romance, war, mystery, crime, and many others. Moreover, you will find all the latest episodes added on its home page. It has both English dubbed and subbed videos making it useful for viewers from all around the world.
AnimeFrenzy is a simple website offering the latest and trending anime series and movies to be watched online. You can also find cartoons series and movies on this free anime streaming website. You can watch English subbed and dubbed videos from here if you are hot familiar with the Japanese language. This website offers live chat support creating a platform for the interaction of anime and cartoon lovers from all around the globe. It is a wonderful website to watch Yuri on Ice, Seven Deadly Sins, Golden Kamuy, and other videos online in HD quality. It offers 480p, 720p, and 1080p quality of the video.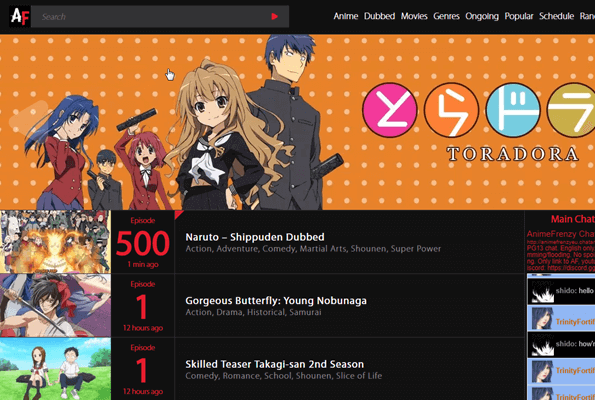 As one of the world's largest video hosting services, YouTube is all-encompassing. From this platform, you can find not only fantastic TV shows, movies, short films, documentaries, and trailers, but also various types of anime videos. By subscribing to relevant YouTube channels, such as Funimation, The Anime Man, Lolweapon, Anime Bancho, Nozomi Entertainment, Daisuki, etc. you can easily watch the missed and latest anime episodes online for free.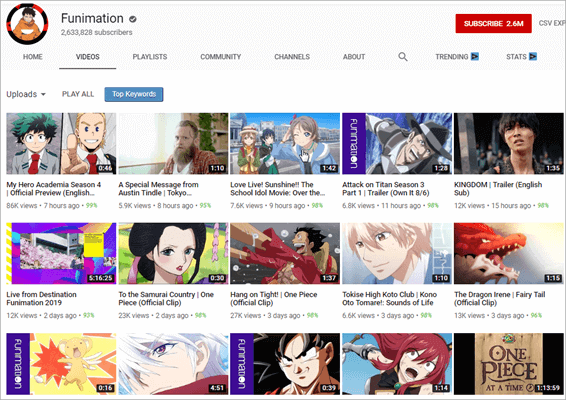 Tip: If you want to save your favorite anime or other types of videos to your computer for offline viewing, this free YouTube video downloader will make your job easier. Download now!
After reaching this line, you have seen all of the best free anime streaming sites we have listed. You can go for any of these websites to watch your favorite animes online for free. If you have any queries, please leave your comments in the below section.