19 Best Alternatives to Streamcomando for Online Sports Streaming
Streamcomando is a versatile site that you can navigate to watch move matches online and enjoyable experience in all kinds of sports. It enables the user to watch live streaming of all types of tournaments and leagues through different sports TV channels. You can view all the popular sports channels in HD quality using this site.
However, you will find some ads while streaming the online live sports website. But, it will not create much difference as compared to its services. The best part of this website is that you can enjoy all its services without any cost. The site is very smooth and easy to use. So, you will love this website for all your demands of sports like Hockey, Football, Basketball, Golf, Ice Hockey, Volleyball, Boxing and many others.
Top 19 Streamcomando Alternatives in 2019
If you want to explore other sites for fantastic quality videos and streaming options, then go through this website which contains the top 19 best alternatives to Streamcomando. These sites will give you an incredible experience of online sports streaming.
StopStream is the one-stop destination of all the online live sports streaming. You can enjoy unlimited sports using its interactive and clean interface. All the matches and upcoming events are well-organized, and it brings a large number of sports channels and matches together. The website is not limited to any area or country. One can use it from anywhere at any time. The site looks attractive with a more incredible background. It is easy to navigate and use for regular sports streaming.
One of the best alternatives to Streamcomando, SportLemon is an entertainment-based website which is capable of delivering both sports and entertainment to its users. It is free to use and is featured with many easy to access tabs. You can easily watch the live telecast of sports like Football, Hockey, Tennis, Basketball, Baseball, US Football, and Boxing. However, it is not an independent website. It depends on other sources for the links and streams of live matches. Apart from this, the website is perfect for watching sports almost all the time.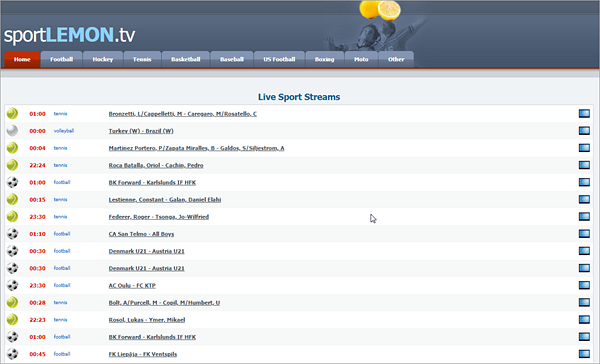 If you want to watch sports events and DVR of delivering online, then you must go for fuboTV. It's a great Streamcomando alternative for live sports streaming. You can watch all the TV channels like FOX, FS1, FS2, CSN, ETN, Nat Geo Wild, FX and many others. It is a viral website in the United States. You can enjoy all categories of spo, ts like Football, Soccer, Basketball, Volleyball, Golf, and many others along with its news and updates. fuboTV is a nice website serving all the features for free online sports streaming and internet TV.
goATDee is a wonderful website for the basic demands of sports. It is not much technically advanced but has all the features for sports streaming and live telecast popular sport channels. So, if you are viral of accessing the other sites available, then you can go for this goATDee website. It contains both entertainment and news apart from sports streaming which you can enjoy online.
Streaming sports and games online is great fun. MamaHD is a popular similar site like Streamcomando, which you can use for the wonderful experience of online live sports streaming. It is a highly compatible site which you can access using all type of devices like PC, mobile phones and tablets of any version. Moreover, there is no browser or location restriction to access it. So, you can enjoy all types of sports like Hockey, MotoGP, Soccer, Football, Cricket, Boxing, and Racing.
LAOLA1 is a spectacular website that you can explore for private TV channels and all your favorite tournaments and leagues. It has a large database of popular sports channels and categories of sports. So, you can enjoy all your favorite sports using a single website. The best part of this Streamcomando alternative site is that you can enjoy multiple videos of the same sports event well-organized on the website. So, you can use it for all your sports demands.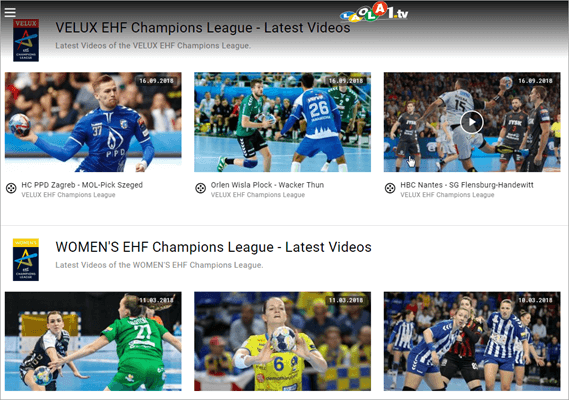 As the name suggests, this website has sports videos for all kinds of sports lovers. No matter what you like, you will get all types of sports here for sure. It gives live access to all your sports TV channels and tournaments. Apart from videos, you can also check the live score and sports-related news on this site without any hassle. However, you need to register on this website. Otherwise, you will not be able to access any of its content.
One of the most popular Streamcomando alternatives in the market, BossCast.net has everything that you may need for watching your favourite sport. The site is powered with over 130 streaming channels and gives its live access to users. It can be accessed using any device from anywhere. It has a huge library of all types of sports along with tournaments and leagues. You will love this site for its simplicity and deliverability.
Many people don't want to use streaming sites because they ask for registration or sign up. They do not want to share their personal information with anyone so they go for the traditional means of entertainment and sports. StrikeOut is a completely different alternative to Streamcomando which offers all its services for free and without any subscription, sign up or registration. So, enjoy all your favourite sports here free without paying any amount.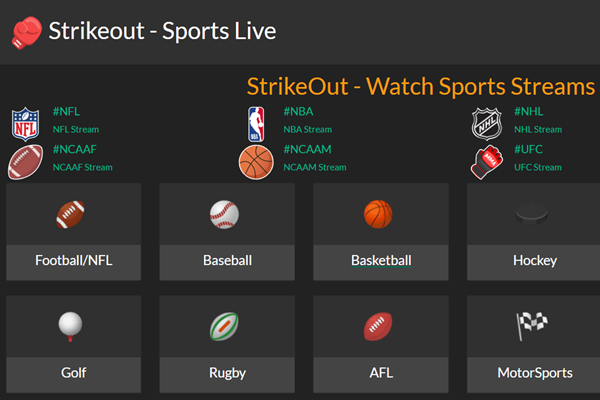 FOX Sports Go is more likely the best alternative to Streamcomando to watch all the FOX sports channels. It is a free service that rendered both options for live streaming and plays games. Those people who like to watch matches on the Fox sports channel must go for this site. You just need to subscribe to this website and get started with its services. You can watch all the Fox sports channel from any part of the world.
VipBoxTV has everything that a sports lover mag needs. So, this website is delighted with all types of sports and games. This website has a special category for Football live streaming. It suits all the demands of sports in the US and UK especially. So, one can use this website anytime for all live matches, highlights and replay. The free online sports streaming site is completely updated and you can find all types of interesting games as well on this site. It adds new games and features regularly, making it more reliable and suitable for all the users.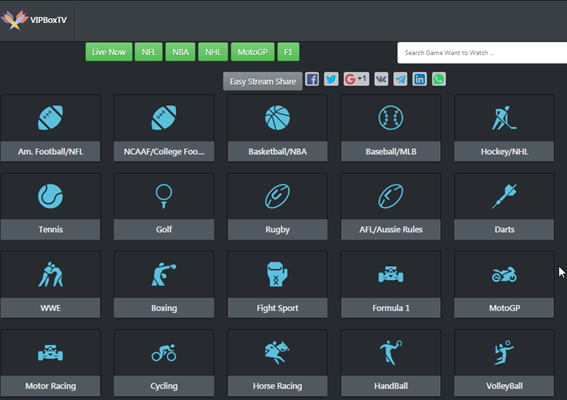 Are you looking for online TV and want to explore in the simplest way, then go straight to Streamiptvonline.com which will help you to satisfy all your sports needs. It is a well-categorized Streamcomando alternative website that you can use anytime and enjoy streaming. This live sports streaming website has some purchase options as well. However, the majority of its services are free and available to all users.
Myp2pguide.com is a well-featured website which gives access to unlimited streaming of live TV and sports altogether. It was well organized and categorized website where you can easily find all the options and services you need. You can also acquire a brief introduction about the tournament or league during streaming. It enables the user to chat easily with other sports lovers using the Forum option of this site.
MyP2P is somehow similar to the Myp2pguide.com website. It has a similar interface and layout. So, if you are not much satisfied with the speed and loading capacity of Myp2pguide.com, then you can go for Myp2 categorized experience high-quality streaming using this site and enjoy watching multiple sports events of Football Hockey, Basketball, MotoGP, Formula 1, Soccer, Baseball, Boxing, etc.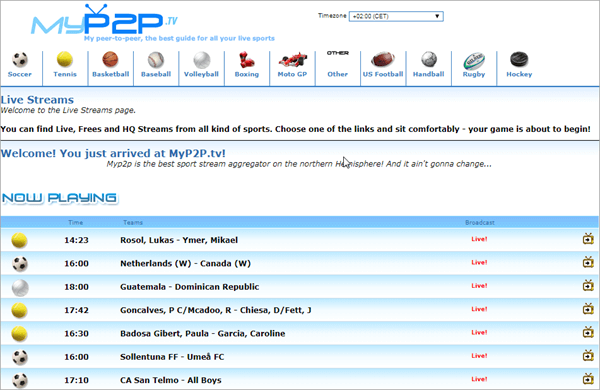 RedstreamSport is a wonderful Streamcomando alternative which you can use to watch all types of sports and live TV channels. You can enjoy all categories of sports like Football, Volleyball, Basketball, Boxing, Racing, Moto GP and many others on this site easily and quickly. However, it depends on another site for its streaming services. You can get direct access to all the content of the streaming service provider known as Rojadirecta for free using this site. It has a simple and intuitive interface that will help you in all manner to explore the site.
FirstRow Sports can be used as the best alternative to Streamcomando for all types of your streaming demands. This site is well designed and organized with a beautiful black theme and layout. If you are a Football lover and want to stream a website specialized with all its matches and tournaments, then go for FirstRow Sports directly. This free online live sports streaming website has all the Football and Soccer content and videos available. You can access them easily using the quick access tabs present on the homepage. It offers all the services for free and without any subscription.
StreamHunter is another similar site like Streamcomando with all the exclusive and specialized videos and live streaming links of all the popular sports. You can use this website as a perfect alternative to Streamcomando without any confusion or doubt. You can look for the latest news, live score and many other updates on this site without any hassle. The site features an advanced search tool which you can use to find your favorite match using sports or competition. You can avail of all the latest and modern features on this live sports streaming site. It is both safe and easy to use with its clean and intuitive interface.
StreamWoop is popular among sports lovers owing to its world's biggest sports index. It is a perfect website for live streams and live score. It is a multi-linguistic website so you can use this website from any region of the world. Moreover, you can subscribe to this website for email alerts of top sports events and sports-related news. Apart from live sports streaming, you can use this website to watch replays and highlights. Also, you can unlock other features and services on this site after registration. It renders all its services for free.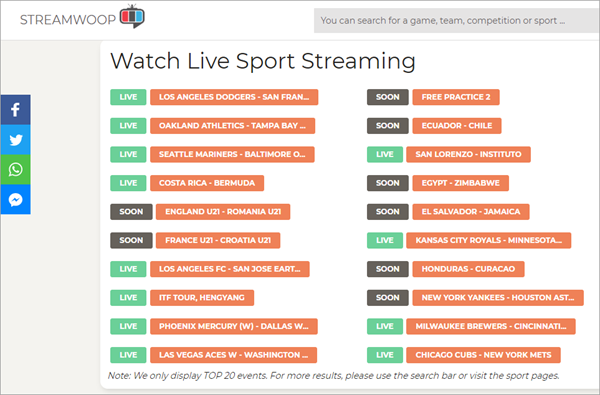 Rojadirecta is another similar site like Streamcomando which you can use to stream all the categories of sports online. It has many tools and features that help the user to explore sports and games in a completely different manner. It renders platform where users can easily interact and communicate with people having a similar interest in sports. Moreover, it supports multiple languages and downloads of matches and software. It is a globally popular website so you can use it from any part of the world. You can easily keep track of ongoing and upcoming sports events using this site. The site is well categorized and has options for all kinds of sports demands.
Best of All – The YouTube Platform
As one of the world's largest video streaming sites, YouTube is all-encompassing. When you surf YouTube, you will find a lot of channels with fantastic sports videos included. Not only can you watch these videos online, but you can also download them to your computer for watching over and over again. If you don't know how to download YouTube videos, here are the 12 best YouTube video downloaders recommended for you.
The Bottom Line
You have seen the widespread and trusted Streamcomando alternative website for sports streaming. You can use them anytime from anywhere without any restriction. This list is helpful for all the sports lovers from every part of the world. You can use this site for continuous online sports streaming and live TV channels without any interruption. The majority of these websites offer their services without any sign-up or registration. So, go for them fearlessly and enjoy unlimited regular sports. In case of queries, write to us using the comments section.