XAVC to FCP, How to Import Sony PMW-F5/F55 XAVC to Final Cut Pro
The Sony XAVC format complies with H.264 level 5.2, which video essence is encapsulated in an industry standard MXF OP-1a wrapper, accompanied by audio and meta-data elements. The primary objective in adopting the XAVC format is to develop a family of professional production tools that can economically handle High-Frame-Rate (HFR) HD and 4K imaging formats.
Shoot with Sony's hottest CineAlta 4K Digital Motion Picture cameras, the PMW-F5 and PMW-F55, and want to import your XAVC files whether HD, up to 4K into Final Cut Pro X for smoothly editing work-flow?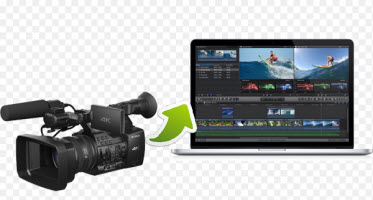 To be able to import Sony XAVC into Final Cut Pro X, you'll first need to download and install the XAVC Plug-in for Apple (PDZK-LT2) provided by Sony, which provides support for XAVC files shot on Sony SxS card, allowing viewing and editing capability in Final Cut Pro X.
Tips: This plug-in requires Final Cut Pro X 10.0.8 or higher for XAVC format.
After the XAVC Plug-in are successfully installed, you can then start to ingest XAVC video with Final Cut Pro. Alternatively, since Final Cut Pro does not have native editing support for XAVC footage, you can transcode XAVC format to Apple Prores codec, which has been designed to work especially well as high-quality, high performance editing codecs for Final Cut Pro.
The codec transcoding process can be done with some third-party application such as Jihosoft Video Converter for Mac. It can convert Sony XAVC to Final Cut Pro X/7/6 preferable editing codec-Apple Prores Codec including Apple Prores 4444, Apple Prores 422 (HQ), Apple Prores 422, Apple Prores 422 (LT) and Apple Prores 422 (Proxy).
Note: To edit XAVC with Final Cut Pro, it is ideal for you to select Apple Prores 422, which supports full-width, 4:2:2 video source at 10-bit pixel depths, while remaining visually lossless through many generations of decoding and recoding.
Step by step to import XAVC to Final Cut Pro on Mac OS X
1. Start Jihosoft Video Converter for Mac on your computer.
2. Hit top-left "Import" button to load XAVC files to the application.
3. Click "Profile" drop-down menu, go to Final Cut Pro and select "Apple Prores 422 (*.mov)" as the output file format.
4. Hit right-bottom round "Start" button to convert Sony PMW-F55/F5 XAVC to Apple Prores Codec.