How to Convert MTS to MP4 on Mac/Win
The MTS file type is a video file that allows digital video cameras to record high-definition video without taking large amounts of storage space directly onto optical disc, hard drives and flash memory cards. MP4 is a common video format that can be used on many players on the computer and also on many portable devices such as iPod. If you want to watch your MTS file on your computer or an MP4 player, you must convert MTS files to MP4 format first.

To Convert MTS files to MP4, you can download Jihosoft Video Converter, which is the professional and simple to use video conversion application to comprehensively convert Sony/Canon/Panasonic/JVC MTS files to MP4 format to play on computer with Windows Media Player, QuickTime, iTunes, VLC Media Player or transfer to watch on MP4 players like iPod, iPhone, iPad, PSP, PS3, Mobile Phone, etc.
How to Convert Sony/Canon/Panasonic/JVC MTS to MP4?
1. Get started MTS to MP4 Converter on your computer.
Note: to convert MTS to MP4 on Mac OS X, please select Jihosoft Video Converter for Mac.
2. Click "Import" button to add MTS files to the program.
3. Select "MPEG-4 Movie (*.mp4)" as the output format from profile drop-down list.
4. Hit right-bottom "Start" button to convert MTS to MP4.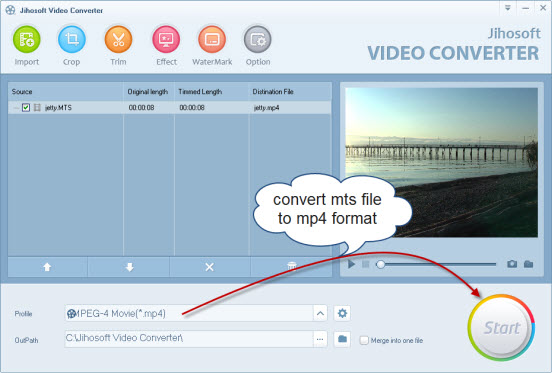 Tips about Converting MTS to MP4
1. Copying MTS files to computer
The MTS files reside within a specific folder structure, this highly structured system of folders tells the appropriate software on the computer exactly what the file contains and how to best utilize it. When attempting to copy .MTS files to computer, it is important to retain the folder structure in which they are contained. By copying the main folder rather than just the individual .MTS file, the transition to video editing or viewing software will be smoother.
2. Software that can view or edit MTS files.
VLC Media player exists on Mac OS, Windows and Linux is the simplest way to view video shot and recorded in MTS file format. For editing, the choices are much broader, such as Apple's Final Cut and iMovie, Sony Vegas, Adobe's Premiere, etc.