How to Transcode JVC Everio MOD Footage to Apple ProRes for FCP
JVC Everio Camcorders Review
JVC Everio camcorders offer full HD image quality, provide most people with everything they need from a high-definition camcorder. You can record native 1920×1080 resolution videos regardless of the model you choose. All models feature A.I.S (Advanced Image Stabilizer) technology for effective camera-shake compensation, especially in the wide-angle range.
Problem: JVC Everio camcorders enable you to create video memories of people or events virtually anywhere. They usually record videos in .mod format for standard definition. However, when you want to import the MOD footage to FCP to edit your own movie, the problem occurs, for example:
"I've bought a JVC Everio GZ-HD500BUS and recorded a lot of videos, but when I tried to import these .mod clips from camcorder to FCP it didn't work. Please help!!"
Solution: Well, anyone who wants to edit their JVC Everio MOD footage with FCP will meet the similar importing problem. It is because that MOD is not the format accepted by Final Cut Pro. Here we recommend an easy-to-use Video Converter for Mac to you. It offers all-in-one solution for JVC Everio MOD video importing, with which you can convert JVC Everio MOD to Apple ProRes MOV for further editing in FCP X/7/6.
Get Started: Get MOD Videos from JVC Everio Camcorder to Mac
For JVC Everio series, there're mainly two mediums, namely hard disk drive and flash memory. You can connect camcorder with Mac computer using a USB line, and turn on the camcorder. You computer will recognize the camcorder as a usual plug-in media device and get MOD videos from camcorder. Or you can pull out the flash memory card from the camcorder and insert it to computer with a card reader to get MOD videos.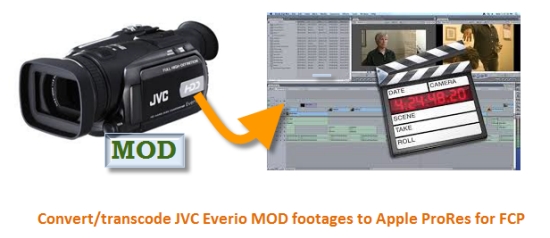 How to Transcode JVC Everio MOD to Apple ProRes on Mac OS
1. Free download the trial version of Mac JVC Everio MOD to ProRes Converter, install and run it.
2. Load the JVC Everio MOD footage to the software. If necessary, you can preview the imported videos.
3. Select Apple ProRes 422 (*.mov) as the output format from the list of Profile and set the output folder.
4. Now start converting your JVC Everio MOD footage to Apple ProRes MOV on Mac for FCP editing.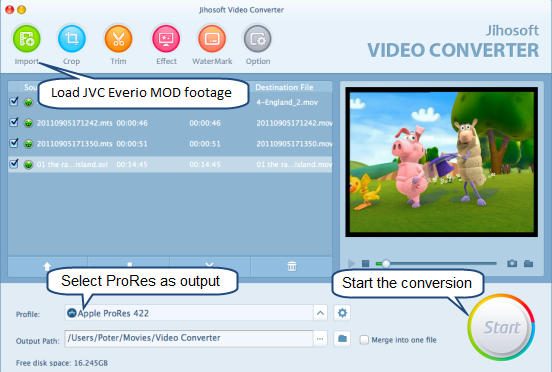 All Models of JVC Everio Camcorders are Supported
JVC Everio: GZ-MG750BUS, GZ-MS250BUS, GZ230BUS, GZ110BUS, GZ-HM30US, GZ-HM50US, GZ-HM550BUS, GZ-HM1SUS, GZ-HM440US, GZ-HM450US, GZ-HM650BUS, GZ-HM670BUS, GZ-HM690BUS, GZ-HM300BUS, GZ-HM320BUS, GZ-HM340BUS;
JVC HD Everio: GZ-HD520BUS, GZ-HD500BUS, GZ-HD620BUS, GC-PX100B, GZ-VX815B, GZ-EX555B, GZ-EX515B, GZ-E505B, GZ-EX355B, GZ-EX310, GZ-E300, GZ-E100, GZ-GX1BUS, GZ-VX700BUS, GZ-V500BUS, GZ-EX250BUS, GZ-EX210, GZ-E200, GZ-E10;
JVC 3D Everio: GS-TD1BUS, GZ-HM960BUS.