How to Add Image Watermark to Flash SWF File
An image watermark can be added to a flash swf video to add security, specify information or simply give the video a more polished and professional appearance. If you are looking for a program that has the option to add image watermark to swf file, you can download Jihosoft SWF to Video Converter, which can finish the process in just few simple steps.
Instructions to add image watermark to SWF file on Mac
Note: There are both Windows and Mac versions of this product, and here we will take the Mac version to complete the SWF watermarking process. Mac users can opt to Jihosoft SWF Converter for Mac to watermark SWF file on Mac OS X.
Step one: Locate and load flash swf file.
Initiate Jihosoft SWF Converter for Mac on your computer. Click the "Source" button, locate and select your preferred SWF file in the opened file selection window to add to the program.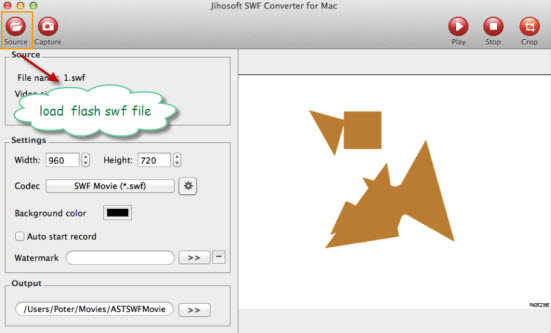 Step two: Define output file format.
In the "Codec" drop down menu, you can set the output format the same as the original file format or choose to output the swf file to another different file format you want.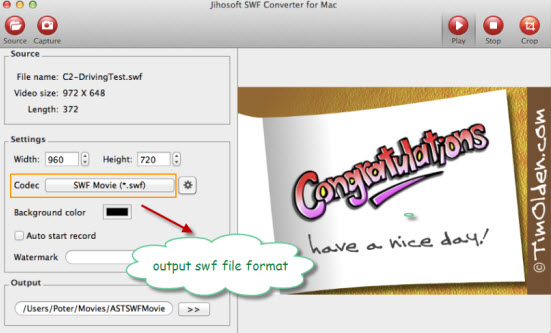 Step three: Add Image Watermark to flash.
Click the ">>" icon besides Watermark to have one of your favorite image applied to the swf video. You can drag the image to change its position or crop its file size.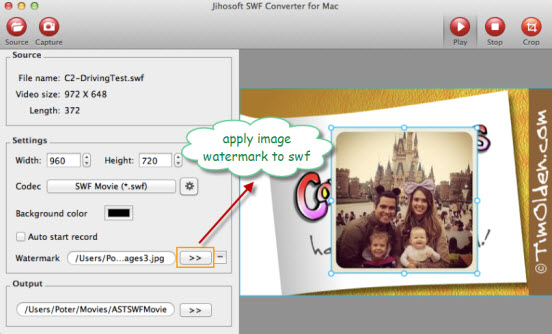 Step four: Start SWF image watermarking process.
Hit the "Capture" button to open the flash recording window, hit "Start"->"Begin Record" to start the image watermarking process, and click "End Record" will finish the process. When the conversion is done, you will get a flash SWF video with your favorite image watermark.